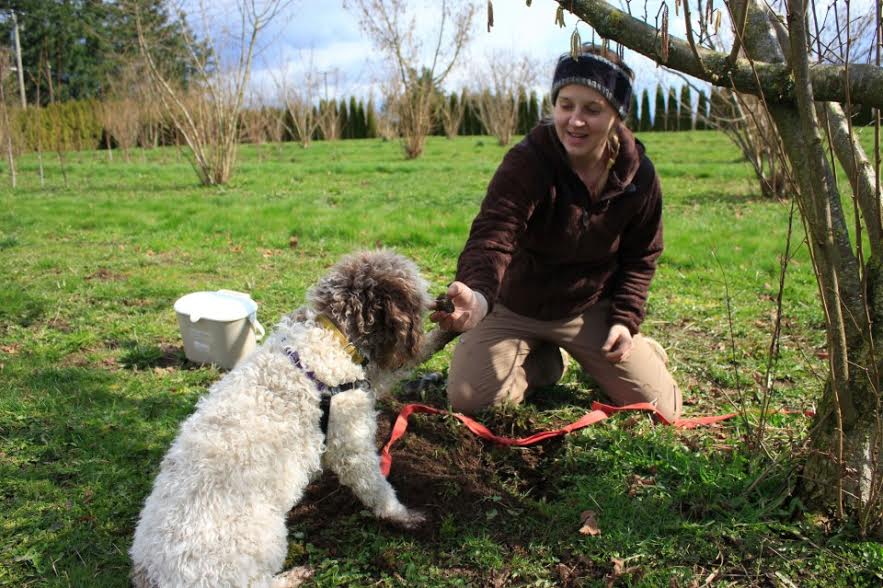 This week, hit the slopes at the the Beaver Creek Food & Wine Festival, then enjoy home-cooked meals from some of nation's top chefs. At the Oregon Truffle Festival, guests train their dogs to mine for culinary gold on the famous trails. All this, plus the oyster-lover, pork aficionado and Southern foodie can find sanctuary at the Lowcountry Oyster Festival, Cochon 555 in New Pork City and Chelsea Market's Art of Alabama Food event. Comfort food on the couch can only satisfy you for so long.
Beaver Creek Food and Wine
Beaver Creek, CO
Jan. 23-26
The only thing better than a guided snowshoeing tour along Beaver Creek's secluded trails is a snowshoeing tour followed by a gourmet lunch prepared by Top Chef star Fabio Viviani. Food & Wine is taking over Colorado's beautiful Beaver Creek ski resort to host four days of culinary festivities including cooking demos, wine and spirits events and wine pairing dinners. In between ski runs, learn about the craftsmanship of Pinot Noir from winemaker James MacPhail and take an open-air sleigh ride to an under-the-stars dinner with Food & Wine Best New Chef Gavin Kaysen. On Sunday, see how celebrity chefs do outside the heat of the kitchen at the Celebrity Chef Ski Race & Brunch.
Oregon Truffle Festival
Eugene, OR
Jan. 24-26
The Oregon Truffle Festival, the first of its kind in North America, celebrates Oregon's bounty of wild truffles at the peak of their season. This year's festival offers a truffle dog seminar, where you can teach your dog a command infinitely more useful than "go fetch." There's also a "Foraged Foods and Fine Fermentations" Grand Tasting Dine-Around with eight featured chefs; and a truffle-centric cooking class at the Willamette Valley cooking school Cook's Pots and Tabletops. Best of all (besides the truffles), each event offers an extensive selection of Oregon craft beers and spirits.
Lowcountry Oyster Festival
Charleston, SC
Jan. 26
The world's largest oyster festival takes place January 26 at Charleston's Boone Hall Plantation in Mount Pleasant. Named one of the "top 20 events in the Southeast" by the Southeastern Tourism Society, the festival offers oyster-shucking and oyster-eating contests, live music and a food court outfitted with the area's best seafood restaurants. There's also plenty of booze to wash down the mollusks — Budweiser's "Build-a-Bar" trailer transforms into a full bar complete with a big-screen TV and fixed barstools.
Cochon 555: New York
New York, NY
Jan. 26
The 6th annual "Epic Porc Feast" kicks off its 14-city tour in New York this Sunday. Cochon 555 celebrates the best heritage pork that local family farms have to offer by bringing world-renowned chefs together to serve up swine. The New York City (make that New Porc City) event will feature chefs Frank Langello of Babbo Ristorante e Enoteca, Michael Toscano of Perla, Seamus Mullen of Tertulia, Lauren Hirschberg of Craftbar and David Standridge of Market Table, who will create six dishes from one whole heritage breed pig to be judged by a panel of judges led by Host Chef James Dangler of the Ritz-Carlton in Battery Park. Along with the whole-hog cooking challenge, guests can look forward to vintage ale and foie gras pairings, prosciutto tastings and a live butchering demonstration at the Pop-Up Butcher Shop.
Art of Alabama Food
New York, NY
Jan. 30
With sub-zero temperatures and sidewalks coated in wintry mix, it's about time the Northeast got a taste of the South. Thursday, January 30, the Alabama Tourism Department's exhibit "The Art of Alabama Food" debuts at Chelsea Market. The exhibit showcases 36 photographs selected from "100 Dishes to Eat in Alabama Before You Die" and gives guests a chance to do just that in an interactive tailgate event that feeds all five senses. Southern guest chefs including Nick Pihakis of Jim 'n Nick's BBQ Restaurant and Wesley True of Montgomery's James Beard Award-winning TRUE Restaurant will serve up a display of iconic dishes that complement the art in the most delicious way possible.