Cookshop's Marc Meyer Fell For The Steamed Squid While Kickboxing In Thailand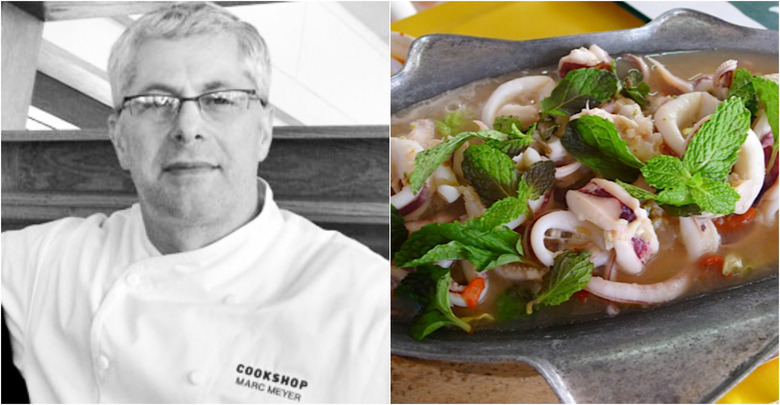 Chefs love to travel — for inspiration, to experience the cuisines of other cultures or just to get away from the heat of their own kitchens. When they return, we hit them with some questions — where'd they stay, what'd they do and WHAT DID THEY EAT?!
Marc Meyer's career has been full of impressive influences. A stint as a chef in Italy laid the foundation for his culinary philosphy and style, while working under legendary American chef Larry Forgione exposed Meyer to the intricacies involved in running a successful restaurant. The chef credits San Francisco's famed Chez Panisse and Zuni Café as "the largest American influences on my cooking today;" an influence that is very much visible in his food at Five Points and Cookshop in New York City, where he currently serves as Executive Chef and Co-Owner. We caught up with him to talk about his recent trip to Thailand, where he kickboxed and, you guessed it, brought back Thai cooking inspiration.
Where are you just back from?
Lampang, Thailand. The city is located in the northwest part of the country, about 350 miles from Bangkok.
Why did you plan this trip?
I kickbox, and my trainers here at Academy Five Points are two pro Muay Thai fighters who have been traveling to Thailand for years. We've had some visiting fighters and masters from Thailand, so I became intrigued by the idea of going to the country. If I was going to go, I wanted to learn the food. I knew there were programs, but I wondered, "Why can't I learn in an off-the-radar way?" My trainer here recommended someone there to study with and the wife of the trainer, Mrs. Pook, has a stand in a nighttime market — it seemed like a great opportunity.
How often do you travel for inspiration?
There's some kind of inspiration wherever you go. Last year I went to Greece, Mexico, London, San Francisco — all inspiring in a culinary way. I definitely plan trips where I think I'll be inspired. I wouldn't choose to go to Dallas, but if were ever there I could probably still find something delicious to eat.
What was the highlight of your trip?
The very first morning, when I dropped my bags off and went downstairs to the open air room right on the street. I had this steamed squid in a broth with a big handful of mint and a little bowl of chili on the side. Things get so overwrought, especially for New York cooks. Aroma, flavor and beautiful in appearance — it was so simple, but it had it all.
Lowlight?
The traveling was the most difficult. I seem to find myself in the nursery section on every flight.
What airline(s) did you fly and how was it?
Emirates, which I found very professional.
Where'd you stay and what's your mini-review of the place?
I stayed at "The Palace" in Lampang – it was the antithesis of luxury. Let's just say that I haven't had to shower squatting for a while.
What was your best meal on the trip?
I can't name one in particular because everything was so great. "Hot Basil" was great — vegetarian or with ground pork, chili, garlic, intense soy, fish sauce, "morning glory" (which is a kind of cress) and a big handful of Thai basil. It's a mainstay, served on the street.
Will you incorporate anything from your trip on your restaurant menu?
The trip was just a personal thing. But I might be inclined to use kaffir lime and thai galangal ginger more. The subtlety of spice and chili was enlightening.
Do you have a recipe from your trip you can share?
Green Papaya Salad
3 cups green papaya, julienned
1/4 cup toasted peanuts
2 tablespoons dried shrimp
5 green beans, broken
4 medium cloves garlic
3 Thai chiles
1 tablespoon shrimp paste
1 tablespoon coconut sugar
1 tablespoon fish sauce
3 cherry tomatoes
1/4 cup lime juice
Directions:
Using a wooden mortar and pestle crush the peanuts, garlic, dried shrimp and Thai chile to a coarse consistency.
Add the coconut sugar, shrimp paste and fish sauce. Combine to form a coarse paste. Add the julienne green papaya and tomatoes. Slightly mash the tomatoes, but leave intact.
Using a spoon, add the lime juice and mix. Add string beans and mix with spoon. Serve garnished with additional peanuts sprinkled over the top.
Read more Just Back From columns on Food Republic: