Celebrate National Beer Can Appreciation Day With 5 Awesome New Cans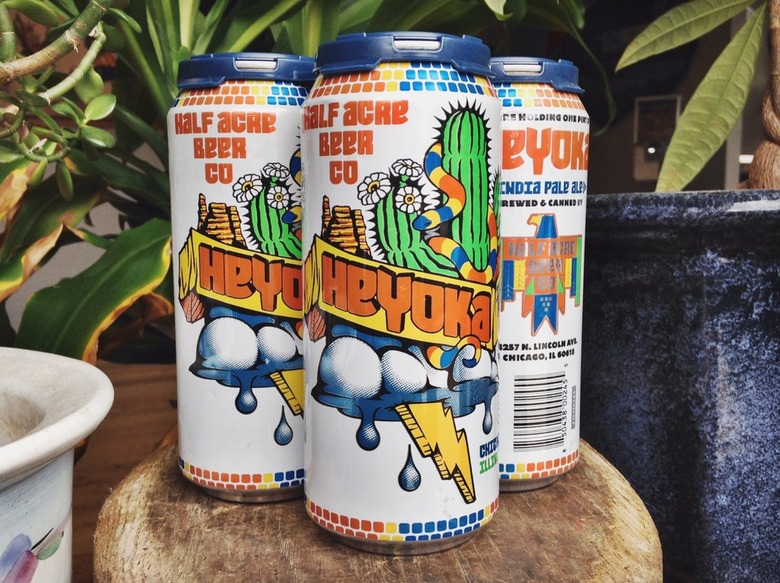 canned craft beers photo
We at Food Republic are into canned beer. Sure, drinking out of cans may bring to mind the cheap stuff your grandpa used to drink, but make no mistake, today's cans are on the cutting edge of flavor and technology. While cannovation for macro breweries has revolved around a colder product and smoother pour, none of these advancements has done anything to improve what's inside. Modern cans actually offer a lot to beer in terms of showcasing taste, as they do a great job of preserving flavor. They also offer excellent protection, they're environmentally friendly and best of all, they're highly portable, so you can take your favorite beer anywhere.
Make no mistake: I put emphasis on your favorite beer. It's becoming more and more common for the best craft beers in the country to end up in cans. Just in the past year, staples like Ballast Point's Sculpin, Deschutes' Mirror Pond Pale Ale and Founders Centennial IPA found their way into metal casing. The sheer diversity of styles was also amazing, like the much-praised (i.e. I love this beer) Westbrook's Gose, the sour German style quickly becoming a darling of the craft beer industry. With so many great new canned options to explore, I've hand-picked 5 new favorites to help you celebrate today, National Beer Can Appreciation Day, the anniversary of the first canned beer sale in 1935.

Sixpoint Brewery: Hi-Res
While their staple beers like Bengali Tiger and Sweet Action are excellent year round, Sixpoint doesn't get enough credit for their limited special releases. The full lineup of draft-only releases in their Spice of Life and Mad Scientist series are worth hunting down, but luckily this massive 11.1% double IPA made its way into cans. It's not for the faint of hop, but if nuggets are what you crave this one is chock-full of intense grapefruit and pineapple flavors, so much so that the drinkability is impressive despite the massive ABV.
Port Brewing Company: Ponto Session IPA
Last year might be remembered for the influx of double and triple IPAs, but trending in 2014 is the session IPA in a can. It's perfect for the beach or hiking, and though we saw Founders All Day IPA and Evil Twin's Bikini Beer hit shelves last year, finally we have a session IPA from the West coast! Out of San Marcos, California, this bitter 4.5% brew means business in the flavor department, with lots of citrus and tropical fruit taste.
Tallgrass Brewing Company: Zombie Monkie
While most canned releases have been overwhelmingly hoppy, here's a solid porter in tight packaging. It's definitely one of the coolest labels of the year, but this robust porter's flavor doesn't monkey around. It's big on roasty coffee notes with hints of chocolate and vanilla. It's smooth and creamy, hiding the respectable 6.2% very nicely. Zombie Monkie is a great dark canned brew, and an especially good choice for wintertime.
Half Acre Beer Company: Heyoka IPA
When it comes to drinkable hoppy beers, Half Acre has it down. This is a welcome addition to their canned lineup and it's also on the stronger side, clocking in at 7% ABV. If you like their excellent hop bomb Daisy Cutter and want to kick things up a notch, this is one to try. Look for lots of citrus flavors like grapefruit, orange and enough bready malt to keep it balanced and drinkable.
Hops and Grain Brewery: The One They Call Zoe
Lagers tend to get thrown to the side among beer geeks because they don't have the extreme appeal or full-bodied flavor of ales. This philosophy will cause you to miss out on a ton of awesome lagers like this awesome hoppy brew from Austin, TX's Hops and Grain. It's light and drinkable at 5.2%, but it's also got a ton of juicy hops and biscuity toasted malt. This canned lager is light enough to appeal to those new to craft beer but flavorful enough to appease even the most sage craft drinkers.
More Weekend Drinking Assignment on Food Republic: