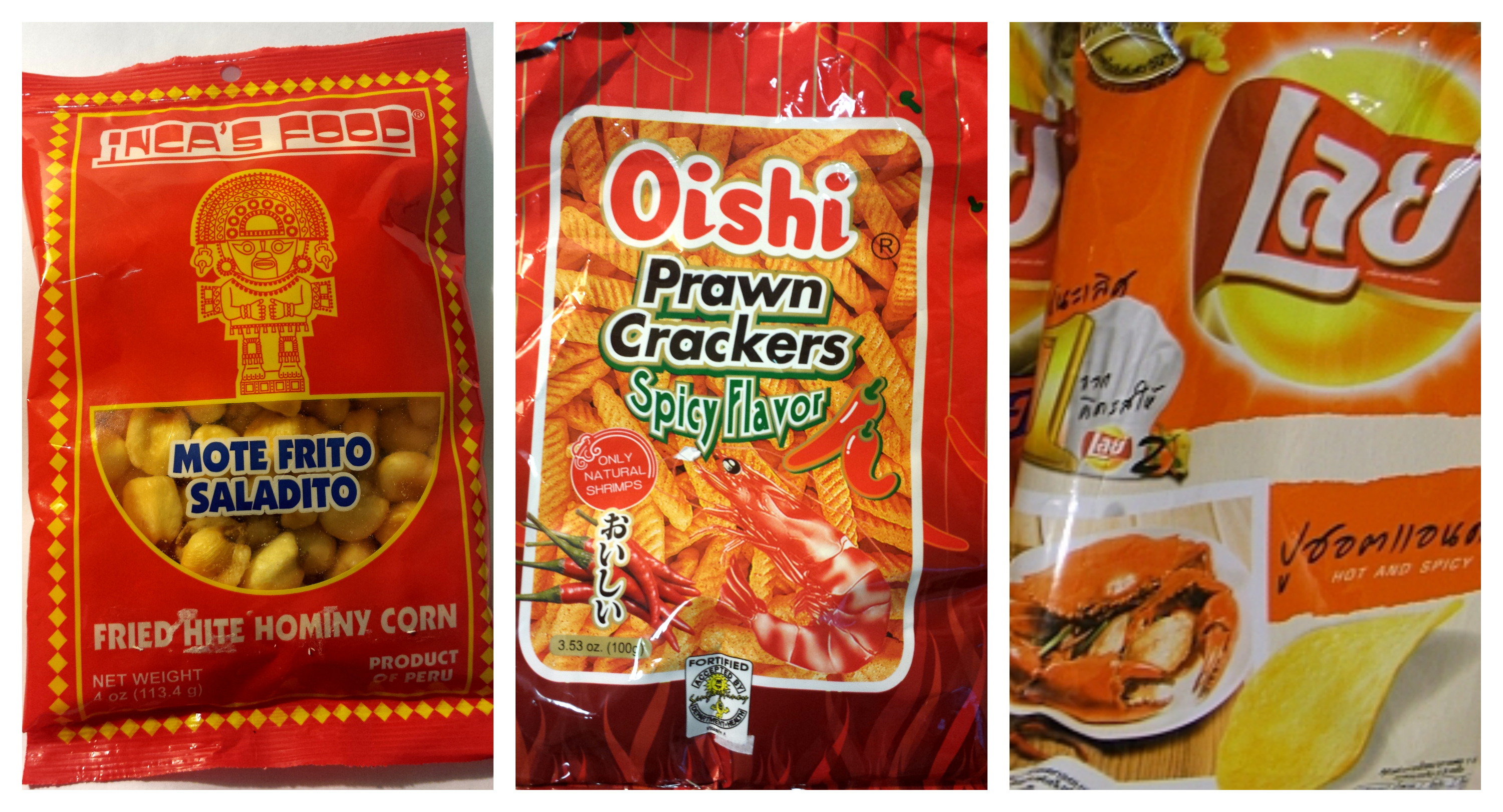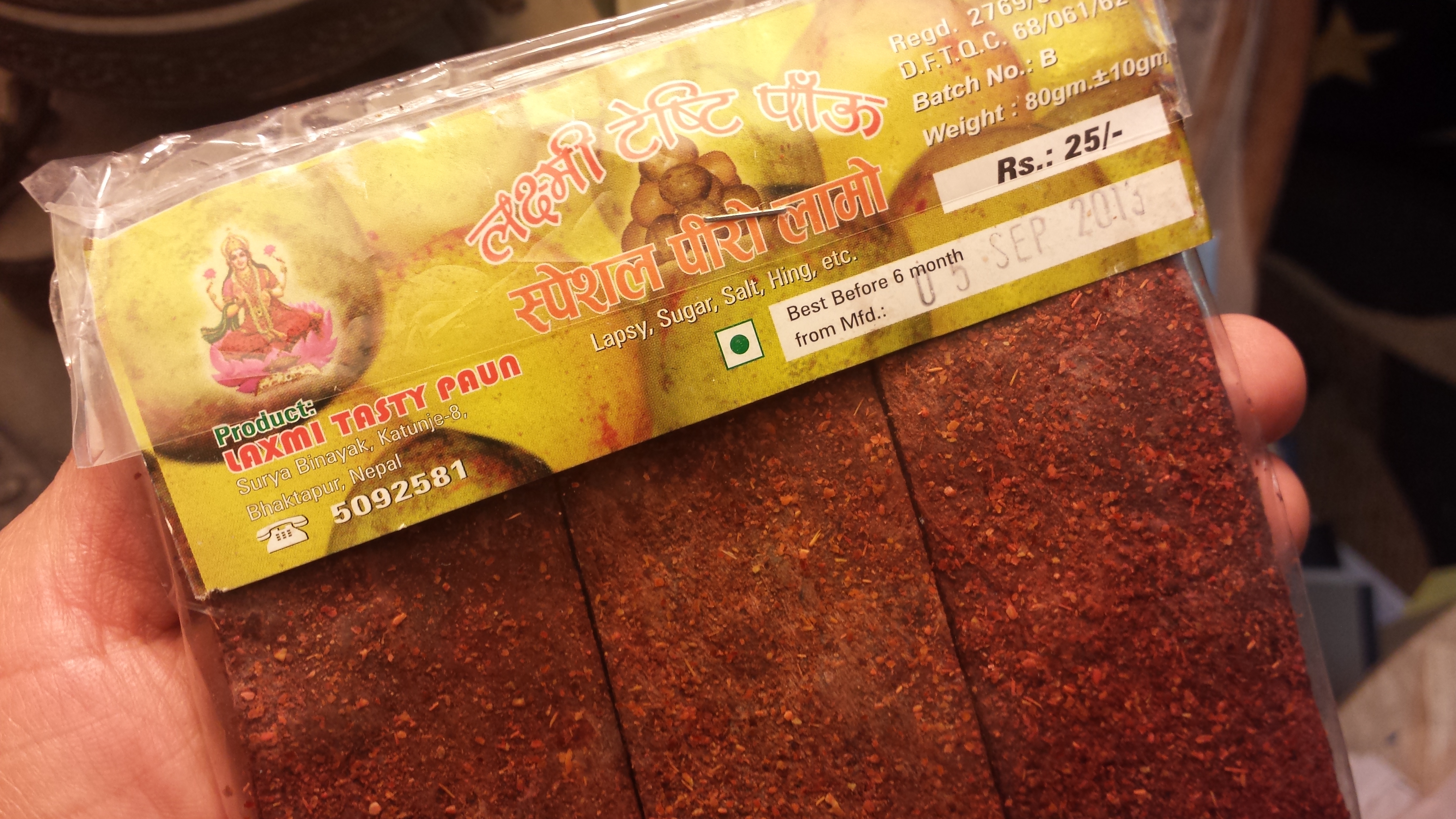 In the United States, the scope of junk food is pretty much limited to chips and pretzels. Sure, potato chips have flavors from ketchup to BBQ ribs, and even the sadly discontinued Lay's Sriracha flavor. For real snacking excitement, however, we look abroad. Just as in America, the holy trinity of junk food often holds true: crunchiness, saltiness and craveability. Here's a look at seven of our favorite international junk foods, and where you can travel to find them in international food mecca New York City.
1. Inca's Food Mote Frito Saladito (Peru)
Get your snack on like an ancient Incan with the original corn nuts. The Peruvian version of the popular American snack is for warriors — warriors with strong molars who like to crunch through gigantic thumbnail-sized kernels of salty fried hominy corn. Inti, the Incan sun god adorns the package. We're not sure if the fact that his hands are on his tummy denotes that he approves of the snack or has a stomachache from eating too much hominy. Most likely both. Los Paisanos, 79-16 Roosevelt Avenue, Jackson Heights, NY, 718-898-4141, Labodegaperuana.com
2. Kurkure (India)
Kurkure is India's answer to crunchy Cheetos, but with a decidedly more South Asian accent. Though manufactured by Frito-Lay, this snack (whose name means crunchy), bears little resemblance to its American cousin. If Chester Cheetah lived in Mumbai, this is the type of junk food he'd hawk. Flavors like Naughty Tomatoes, sharp and tangy with notes of clove and cinnamon; Masala Munch, with the not unpleasant sulfuriness of black salt; and the fiery chili chatka are all eminently craveable and will open jaded junk food palates up to new worlds of flavor. Patel Brothers, 37-27 74th Street, Jackson Heights, NY, ishopindian.com
3. Twi gak (South Korea)
For the most part, mass-produced Korean junk food is a non-event consisting of chips that purport to be flavored with the red pepper and fermented soybean paste gochujang, but taste like little more than American BBQ chips. Twi gak — crunchy fried sheets of seaweed coated in sugar and sesame — is another story. It's tempting to compare the salty, savory, sweet flavor to kettle corn, but it's really its own thing. Don't worry, if you polish off half a package while watching the game, all that seaweed has to be good for you. Assi Plaza, 131-01 39th Avenue, Flushing, NY
4. Oishi Prawn Crackers Spicy Flavor (Philippines)
They can call them crackers if they want, but these ridged batons flecked with hot pepper powder are more like prawn doodles. One thing is for sure: they live up to their name, which means delicious in Japanese. Fans of crunchiness, capsaicin and crustaceans will not be disappointed; those looking to avoid MSG, not so much. But seriously, if you're looking to avoid MSG, what on earth are you doing reading an article about international junk food? Filipino-store.com
5. Lay's Chips (Thailand)
In our experience flavored potato chips from other countries — UK roast chicken or "Wuster sauce" crisps — are a major disappointment. Not so with Lays Thailand, which channels the country's culinary culture handily with flavors like Hot Chili Squid, uber-crunchy ridged chips that taste like a cross between Wise BBQ chips and dried squid and Hot and Spicy Crab, which packs a nice crab flavor and a good amount of heat. Thankfully they taste nothing like the Swiss cheese depicted on the package. Our favorite of all though is Meng Kum Pla, which takes a favorite Thai snack consisting of lime, chili, dried baby shrimp and ginger wrapped in leaves and turns into a funky chili-lime explosion of a potato chip. Sugar Club, 81-20 Broadway, Elmhurst, NY, 718-565-9018, thaigrocerystore.com
6. Happy Turn (Japan)
The individually wrapped snacks inside this cheery package look like lady fingers. Turns out they are a type of senbei, or Japanese rice cracker. The English name translates to Happy Turn, no doubt for the pirouetting princess on the package who seems to be saying, "Eat me, I'm crunchy, sweet and jam-packed with umami." To some hard-partying Americans the words Happy Powder call to mind cocaine. In Japan, it's a mysterious ingredient — most likely consisting of MSG and vinegar — that coats this highly addictive junk food. Family Market, 29-15 Broadway, Astoria, NY, 718-956-7925, marukaiestore.com
7. Laxmi Tasty Paun (Nepal)
Ever have a salty, spicy, sulfury, strangely addictive fruit rollup? Neither had we until sampling Laxmi Tasty Paun. Made from the fruit of the lapsy or hog plum, it is spicy salty, and we'll say it again – sulfury – from the addition of hing, or black salt. Laxmi, the Hindi goddess of wealth, adorns the package. "Pregnant ladies like it," according to Mohan, the proprietor of Namaste Tashi Delek Momo Palace in Jackson Heights, Queens. Namaste Tashi Delek Momo Palace, 37-67 74 St Jackson Heights, NY, 646-203-9938
Joe DiStefano is the Founder of Chopsticks and Marrow. He offers several food tours, including one of Flushing's Chinatown, through the blog.
Read more about junk food on Food Republic: