Events This Week: Winter WINEland, Key West, Beaver Creek Food & Wine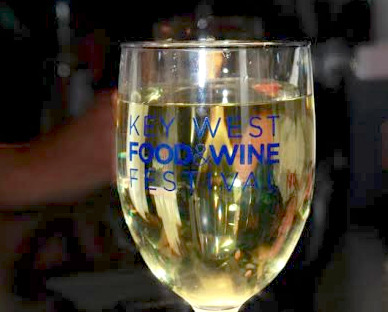 Good news! You can carry on the healthy streak at a food and drink festival this week, because these events are markedly wine-centric, and everyone knows that wine is antioxidant-rich, heart-healthy, and pairs wonderfully with vegetables. Unless of course you're in San Antonio, where the city's annual Cocktail Conference is already underway (hic) and runs through Sunday (more info here). Hit Healdsburg's Winter WINEland and sip some vino or nosh between ski runs at Beaver Creek Food & Wine. And if you're feeling ready to end Healthy Living Week, do it right with a pizza and prosecco brunch at the Key West Food and Wine Festival.
Healdsburg, CA
Jan. 18-19
If you live anywhere besides California, chances are you're freezing your butt off. All the more reason to take a trip to wine country to enjoy the type of climate that keeps both people and grape vines happy year-round. Northern Sonoma County's 22nd Annual Winter WINEland offers a weekend of tastings, pairings, tours and discounts on wines from over 100 participating wineries from around the state. This is the perfect opportunity to meet some of the country's most talented winemakers, observe the tricks of their trade and pick up a few bottles for your collection.
Key West Food and Wine Festival
Key West, FL
Jan. 21-26
Key West is famous for both its natural beauty and its culinary achievements, and the annual Food and Wine Festival celebrates all the island's sights and tastes. This year's version features a pizza and prosecco jazz brunch, a "Let them Eat Cake" French masquerade dance party and, of course, a coconut bowling competition. The four-day event culminates in the 20th Annual Master Chef's Classic, in which chefs compete in appetizer, entrée and dessert competitions and guests get to enjoy the results.
San Diego, CA
Jan. 19-24
This week is a favorite among gourmands and no-fuss food lovers alike. San Diego's biannual Restaurant Week features discounted prix-fixe menus from over 180 of the city's top restaurants. Lunch menus offer two courses for $10, $15 or $20, and dinner offers three courses for $25, $35 or $45. Treat yourself.
Beaver Creek, CO
Jan. 23-26
The only thing better than a guided snowshoeing tour along Beaver Creek's secluded trails is a snowshoeing tour followed by a gourmet lunch prepared by Top Chef star Fabio Viviani. Food & Wine is taking over Colorado's beautiful Beaver Creek ski resort to host four days of culinary festivities including cooking demos, wine and spirits events and wine pairing dinners. In between ski runs, learn about the craftsmanship of Pinot Noir from winemaker James MacPhail and take an open-air sleigh ride to an under-the-stars dinner with Food & Wine Best New Chef Gavin Kaysen. On Sunday, see how celebrity chefs do outside the heat of the kitchen at the Celebrity Chef Ski Race & Brunch.
Upcoming:
Eugene, OR
Jan. 24-26
The Oregon Truffle Festival, the first of its kind in North America, celebrates Oregon's bounty of wild truffles at the peak of their season. This year's festival offers a truffle dog seminar, where you can teach your dog a command infinitely more useful than the pedestrian "go fetch." There's also a "Foraged Foods and Fine Fermentations" Grand Tasting Dine-Around with eight featured chefs; and a truffle-centric cooking class at the Willamette Valley cooking school Cook's Pots and Tabletops. Best of all (besides the truffles), each event offers an extensive selection of Oregon craft beers and spirits.
Charleston, SC
Jan. 26
The world's largest oyster festival takes place Sunday, January 26 at Charleston's Boone Hall Plantation in Mount Pleasant. Named one of the "top 20 events in the Southeast" by the Southeastern Tourism Society, the festival offers oyster-shucking and oyster-eating contests, live music and a food court outfitted with the area's best seafood restaurants. There's also plenty of booze to wash down the mollusks — Budweiser's "Build-a-Bar" trailer transforms into a full bar complete with a big-screen TV and fixed barstools.
New York, NY
Jan. 30
With sub-zero temperatures and sidewalks coated in wintry mix, it's about time the Northeast got a taste of the South. Thursday, January 30, the Alabama Tourism Department's exhibit "The Art of Alabama Food" debuts at Chelsea Market. The exhibit showcases 36 photographs selected from "100 Dishes to Eat in Alabama Before You Die" and gives guests a chance to do just that in an interactive tailgate event that feeds all five senses. Southern guest chefs including Nick Pihakis of Jim 'N Nick's BBQ Restaurant and Wesley True of Montgomery's James Beard Award-winning TRUE Restaurant will serve up a display of iconic dishes that complement the art in the most delicious way possible.