Infographic: How To Pair Wine And Vegetables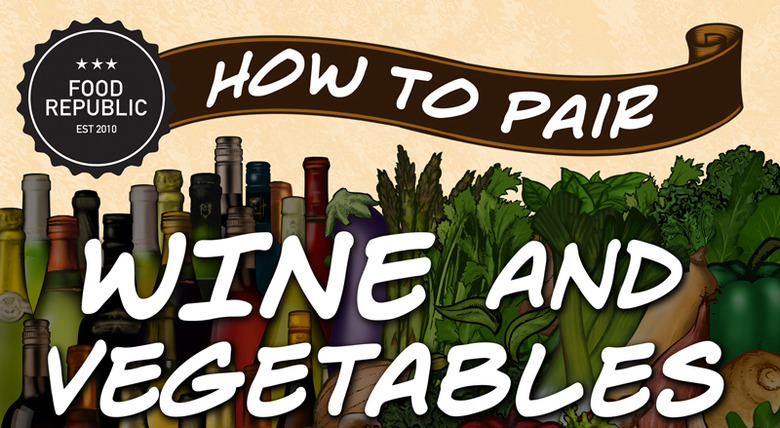 A lot of people consider giving up booze for the month of January. But for a more civilized detox, you might consider going vegetarian instead. It's a great way to recover from the excesses of the holiday season while still enjoying a glass of wine with dinner. As for what to pair with each vegetable course? We've got you covered.
While artichokes and asparagus are notoriously hard to find wine matches for, roasted root vegetables, stewed beans and earthy mushroom dishes lend themselves quite well to wine. And when in doubt, pull out the sake or sherry, says Jaime Kaloustian, the wine director at Dovetail in New York. She should know: the restaurant is famous for its meatless Monday prix fixe. Chef-owner John Fraser started eating a plant-based diet and it had a profound effect on the menu at Dovetail. (He's not a vegetarian, he says, he just prefers to avoid meat when he can.) As vegetables began taking a more central role at the restaurant, Kaloustian discovered they can stand up to a great bottle of wine just as well as a meaty main course.
"The biggest misconception is that it always has to be a light, dry white," she says of pairing vegetables and wine. "More often than not, vegetables are the most flavorful part of the dish. Carrots naturally have more flavor than a piece of boiled chicken. In addition to sake and sherry, we also use some darker, maltier beers and even skin-contact orange wines to broaden our horizons."
As with any dish, pairing vegetables with wine can be successfully achieved through one of two strategies: choose a wine that shows some of the same characteristics as the dish, like high acidity or vegetal notes. Alternatively, serve a wine that will contrast with the dish, such as a crisp white with something lush and fatty, like avocado.
You'll also want to consider how the dish is cooked. Roasting and caramelizing brings out the richer, sweeter flavors in a vegetable. Steaming or sautéing can keep the flavors light and bright. Braising will bring out some of the deeper, more brooding aspects of a vegetable or legume. Other components in a dish, from fresh herbs to spices, can also affect what you might pair with it, so consider options at both ends of the light white to dark red wine spectrum.