Salad Is Healthy, Fun, Tastes Really Good. And Sweetgreen Is Just Getting Started.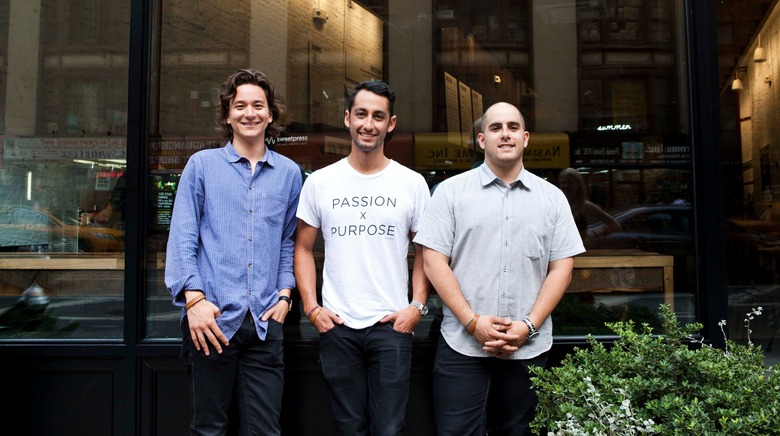 Nicolas Jammet is showing me a photo of his kale farmer. It's striking in black and white, printed in digital silver gelatin and hanging on a white brick wall in the style of a West Chelsea gallery. Actually, it looks like it belongs in the Morrison Gallery. A kale farmer getting the Steve McQueen treatment? Welcome to Sweetgreen — a socially astute, health obsessed, Hot Chip on the stereo restaurant my work neighborhood in New York City is going nuts for.
I've locked eyes with this kale farmer before. For months, actually, while waiting in line — sometimes 20 minutes a crack — for salad. Yes, salad. The kind you get on the side with your croque monsieur at brunch, and get hacked into a million plant-like particles at one of those lunch places that sounds like a cooking reality TV show. So the deal is, Sweetgreen sells salad, and cold-press juices and yogurt too. But mostly salad, which the well-scrubbed agency kids working around NoMad simply cannot get enough of. My wait is 20 minutes when I go off-hours, but can last over 30 minutes. And I keep going back.
Unlike most chains of their size, the company has no central commissary kitchen, with everything from raw beets, warm grains, agave Dijon dressing and roasted sweet potatoes being washed, trimmed and prepared on-site by a large kitchen staff.
Sweetgreen's meteoric rise has also caught the ear of Wall Street and in December the company secured $22 million in funding from Revolution Growth, the investment fund founded by Steve Case and Ted Leonsis. Jammet, who uses boardroom jargon like "scalable" and "core values" to describe the company's business model, stresses that the cash infusion doesn't change what their doing, but instead "gives us fuel in the tank keep doing it."
Techcrunch writer Ryan Lawler sees it slightly differently, noting in a story that the company's new investors are positioning to become the "Starbucks or Chipotle of salads." "Thanks to a generational shift to people who eat out more but are more conscious of what they eat, as well as better information available about their meals due to regulations about calorie listings and the like, Case believes that consumers are overall making better decisions now," he writes.