Weekend Drinking Assignment: Stay Warm Like A Czar With Russian Imperial Stout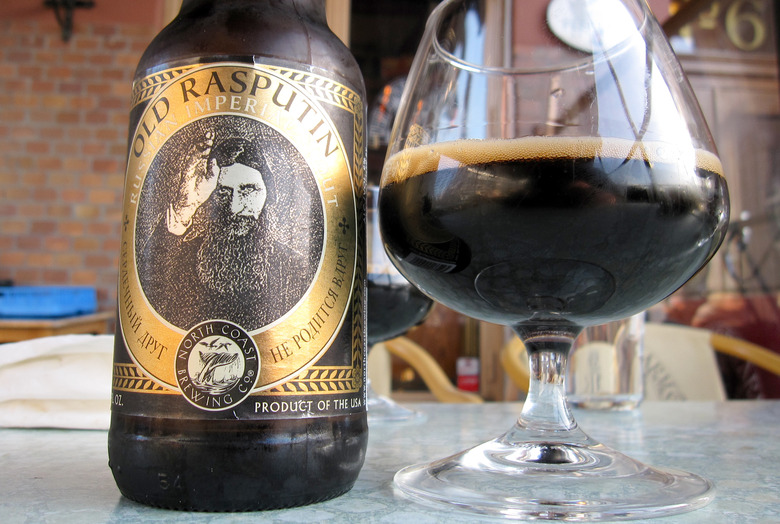 There seems to be little reprieve from nasty winter weather lately: as soon as the cold front ended the snow, rain and slush that follows here in NYC came back and won't leave. It's generally unpleasant outside and while spring may be just a mere two months away, these are the dark days of winter. You need a beer that will warm you up.
There's no better style for the job than the imperial stouts, specifically Russian Imperial Stouts. Contrary to what the name might suggest, the style originated in England, brewed for export to Russia. With nearly double the alcohol and hop content, it would prevent the beer from freezing along the journey. If you're on the fence about a dark beer, know that the style's bold flavors were a favorite of Peter the Great and Empress Catherine, who, legend has it, could outdrink any Englishman.
Here are five Russian Imperial Stouts that you'll likely be able to find at your local specialty store. I suggest pairing them with cheese and perhaps a cigar, as both the dark fruit flavors and roastiness match up perfectly. Let's toast to the perfect winter beer.
Wells & Young's: Courage Imperial Russian Stout
W&Y was one of the original English breweries to make Russian Imperial Stout, and even filled large orders for Catherine the Great herself. It still holds up today as one of the best, boasting 10% ABV and a ton of chocolate, dark fruits, espresso and some hops. While fresh, it can be quite strong, I would highly recommend aging a bottle or two, as it's apt to mellow out considerably over time.
Oskar Blues Brewing Company: Ten FIDY
Stout in a can? Yes, please! Oskar Blues, the original craft can innovators, do it bigger and better than the rest with this huge 10.5% RIS. In a style reliant on huge alcohol and malt content, the brewers added a ton of hops and still this thing is ridiculously balanced. There's creamy milk chocolate, coffee, caramel, molasses and dark fruits, and the hop flavor is there but doesn't overwhelm. It was impressive when it came out seven years ago and it still holds up to the best today.
Founders Brewing Company: Imperial Stout
Michigan's Founders version of the RIS accentuates complex roasted flavors like bitter chocolate, espresso and ash. When fresh, this stout can be quite boozy from its 10.5% ABV and hoppy in the finish but when aged a year it "settles down" wonderfully. This winter seasonal just started hitting shelves and won't last long, so if you see it, grab it.
North Coast Brewing Company: Old Rasputin
This was the beer that got me into the style, so I recommend it for those who may be wary of boozier, hoppier versions. Rasputin clocks in at 9% with 75 IBUs, so it's a bit easier to focus on the chocolate and coffee from the roasted malt. I had this once on nitro and it was incredible — like a totally different beer, as the chocolate was massively amped up by the extra foaminess and creamy texture.
Sierra Nevada Brewing Company: Narwhal Imperial Stout
Thankfully this excellent stout isn't as rare as a real narwhal, so I can feel good about recommending this beer to anyone (plus you can actually find it). It's a beautiful, big stout that centers on dark cocoa, coffee and malt. The 10.2% ABV is definitely there, which makes its aging prospects excellent. Along with their Bigfoot Barleywine, Sierra Nevada makes some of the best big beers at the nicest prices, so don't hesitate to pick up a few.
More Weekend Drinking Assignment on Food Republic: