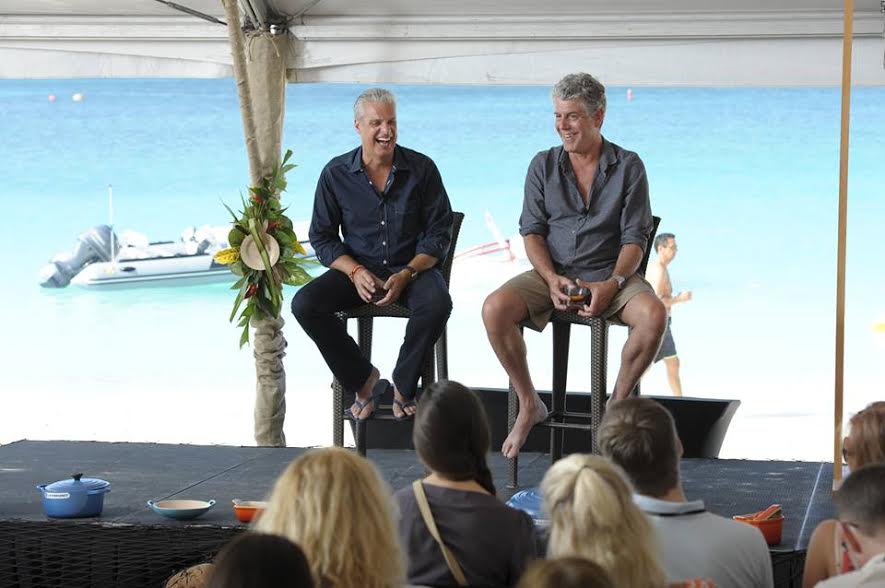 You've seen the weather maps. You know it's time to head out West, down South or preferably to somewhere closer the equator and out of the country altogether. Luckily, we've got some awesome food festivals lined up for you in more temperate locals. Enjoy the best of Key Largo's cuisine onboard a river paddleboat, or hear Anthony Bourdain talk about Caribbean rum at the Cayman Cookout. And if you have an appetite for grilled amphibian, you might want to hit up the Fellsmere Frog Leg Festival. (Where they're also serving up 'gator tails.)
'Uncorked' Key Largo Food & Wine Festival
Key Largo and Islamorada, Florida
Jan. 9-18
The Key Largo Food & Wine Festival has expanded into a 10-day event offering over 30 tastings, how-to cooking lessons, specialty dinners and more. Highlights include a premiere of the popular television show "Chopped" set in Key Largo with proceeds benefitting local charities and a Caribbean-style "Night at Sea" where guests can enjoy hors d'oeuvres, rum tastings, music and limbo contests onboard a 78-foot river paddleboat. The Grand Tasting Finale on January 18 will feature gourmet dishes from a variety of local restaurants and caterers paired with wines from the best visiting wineries across the nation.
Cayman Cookout
Cayman Islands, Caribbean
Jan. 16-19
Hosted by Eric Ripert, the Cayman Cookout brings world-renowned food and drink experts to the Ritz-Carlton for a weekend of tastings, seminars, demos, cook-offs and special dinners. At The Wild Chef Culinary Demonstration, Montreal chef Martin Picard will show just how he earned his title of "master of foie gras," and at The Run Down with Anthony Bourdain, the famous culinary globetrotter will weigh in on conch chowder, Cayman-style jerk and more of the islands' culinary staples. Stick around for the Cayman Cookout Cook-Off on Sunday when the all-star judging panel of Ripert, Bourdain and José Andrés will crown the Caymans' most talented amateur chef.
Fellsmere Frog Leg Festival
Fellsmere, FL
Jan. 16-19
First created in 1990, the Fellsmere Frog Leg Festival celebrates Florida's most famous amphibian appendage. Guests can satiate their appetites with a variety of festival foods like burgers, hot dogs, turkey legs, and fried dough, but more adventurous palates should hold out for the Frog Leg and Gator Tail Dinners. In between eating, enjoy carnival rides, browse the craft stands and rock out to an extensive lineup of southern rock and bluegrass bands.
Upcoming:
Winter WINEland
Healdsburg, CA
Jan. 18-19
If you live anywhere besides California, chances are you're freezing your butt off. All the more reason to take a trip to wine country to enjoy the type of climate that keeps both people and grape vines happy year-round. Northern Sonoma County's 22nd Annual Winter WINEland offers a weekend of tastings, food-pairings, tours and discounts on select wines from over 100 participating wineries form around the state. This is the perfect opportunity to meet some of the country's most talented winemakers, see the tricks of their trade and pick up a few bottles for your collection, while you're at it.
Key West Food and Wine Festival
Key West, FL
Jan. 21-26
Key West is famous for both its natural beauty and its culinary achievements, and the annual Food and Wine Festival celebrates all the island's sights and tastes. This year's festival features a "Pizza & Prosecco" Jazz Brunch, a "Let them Eat Cake" French Masquerade Dance Party, and a Coconut Bowling Contest. The four-day event culminates in the 20th Annual Master Chef's Classic in which chefs compete in appetizer, entrée and dessert competitions and guests enjoy the entries.
San Diego Restaurant Week
San Diego, CA
Jan. 19-24
This week is a favorite among gourmands and no-fuss food lovers alike. San Diego's biannual Restaurant Week features discounted prix-fixe menus from over 180 of the city's top restaurants. Lunch menus offer two courses for $10, $15 or $20, and dinner offers three courses for $25, $35 or $45. Treat yourself.