Paris, The City Of...Food Trucks? Oui! And Hot Dogs Are All The Rage.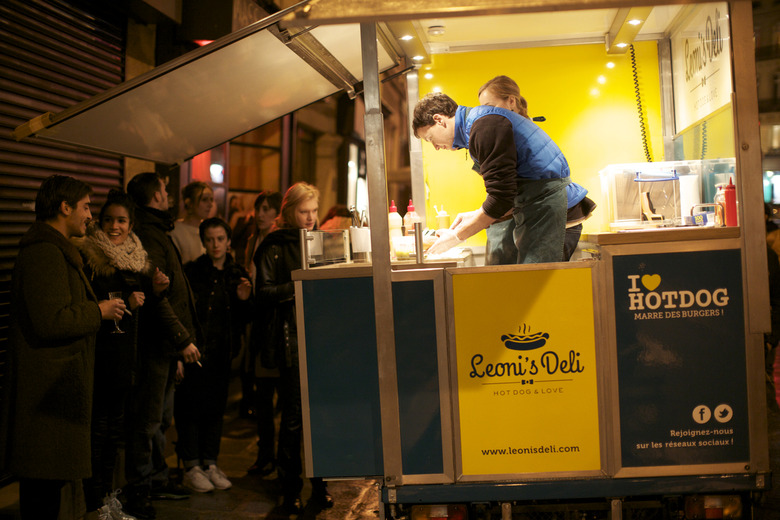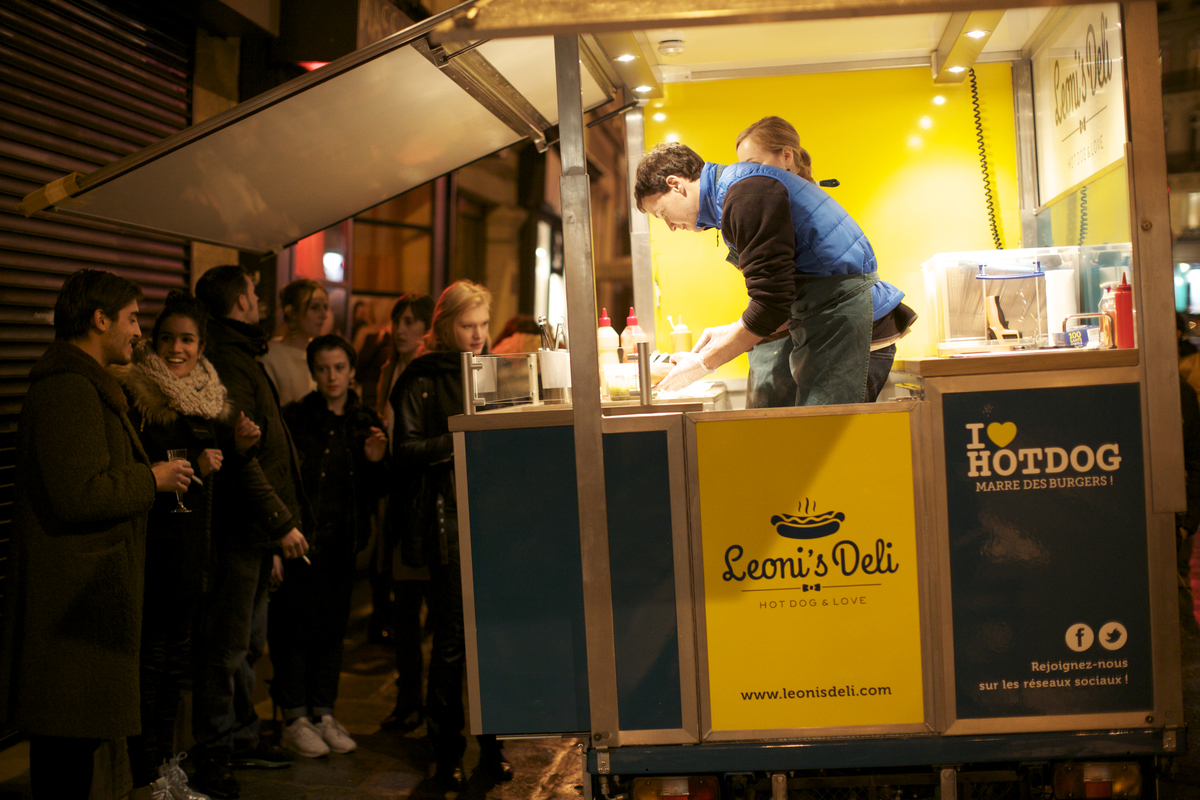 Parisians have fallen hard for a European version of the dirty water dog.[/caption]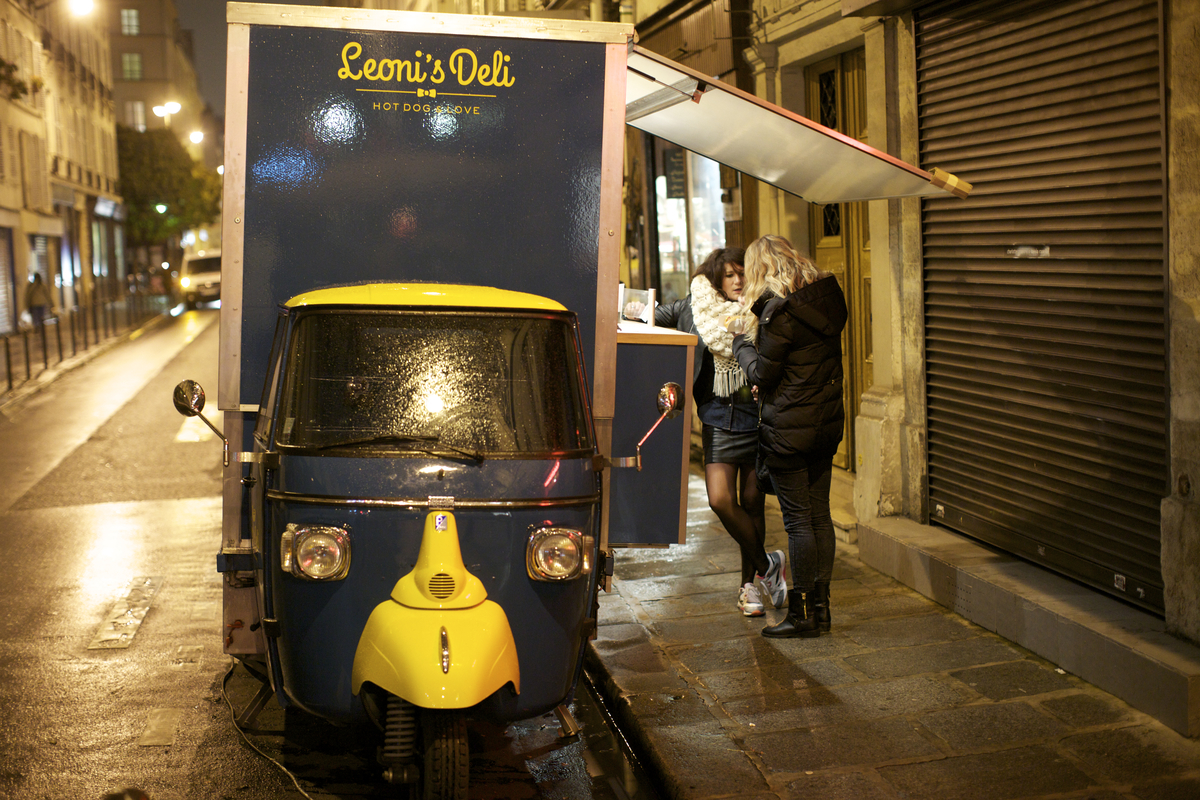 The cart is hauled by special 3-wheel vehicle from Italian brand Piaggio.[/caption]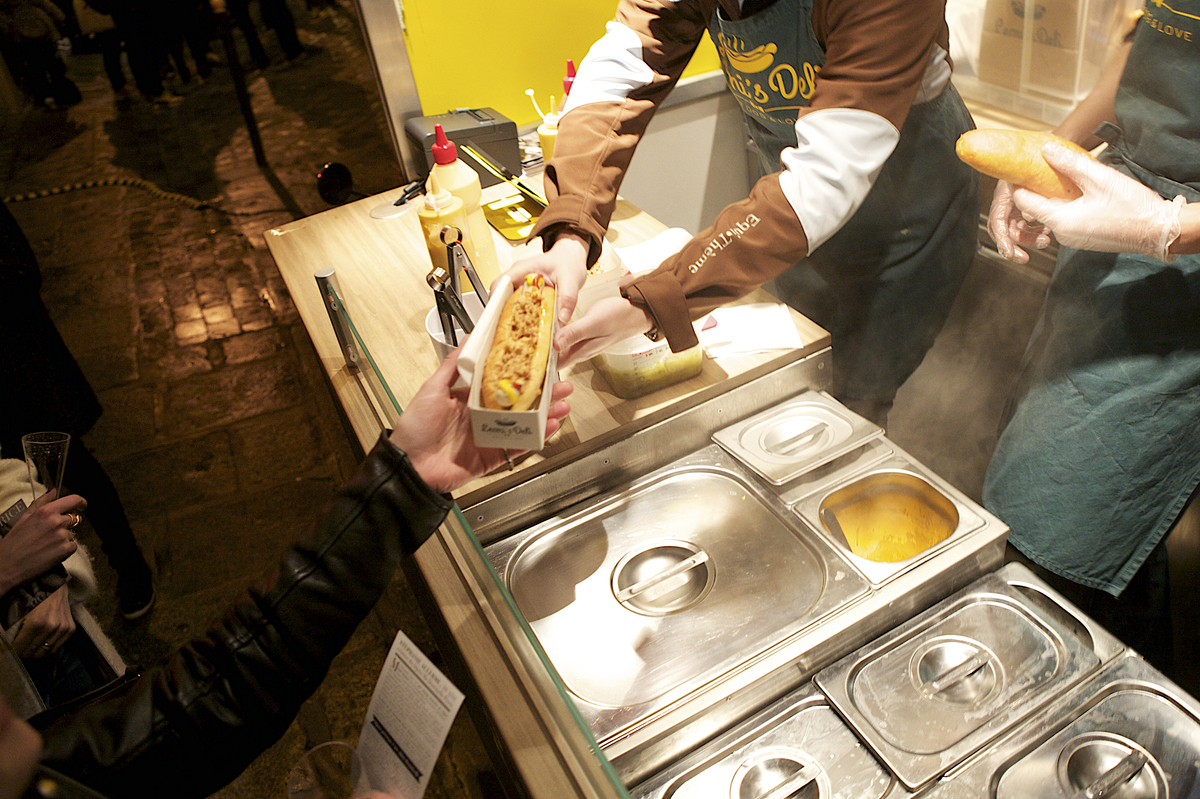 Hot dogs can be topped with Alsatian sauerkraut, fried onions and Cheddar.[/caption]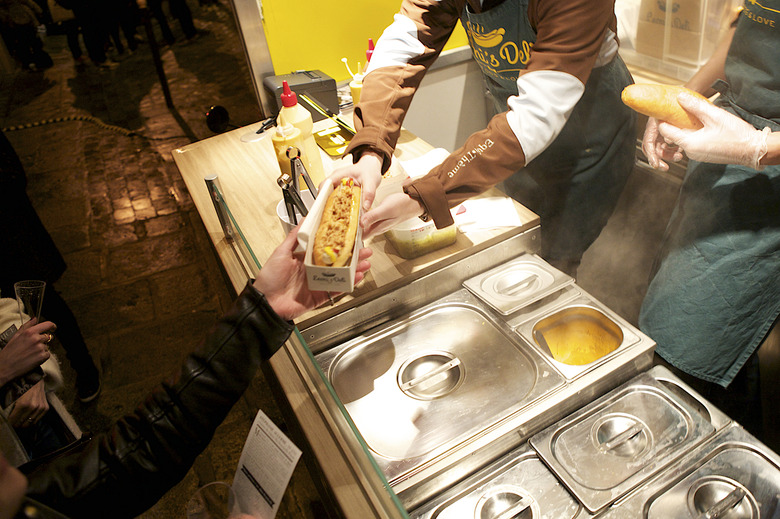 Owners Emilie and Guillaume Juhel.[/caption]
Clay Williams is a Brooklyn-based photographer with a serious thing for street food. He recently traveled to Paris and shot a series for Food Republic on the food truck scene, which only recently started taking off in the City Of Light a couple years ago.
With all the excitement in Paris over American-style food trucks serving plays on the hamburger, the two owners of Leoni's Deli decided to focus on a different U.S. specialty: the hot dog. Launched last spring, Leoni's fancifies New York City's dirty water dogs with organic beef and chicken served on crusty mini-baguettes. Baguettes with dogs? Why, of course in Paris.
I stumbled on the motorcycle-pulled cart set up in front of an art gallery near the Place de la République in the 10th Arrondissement. While gallery-goers sipped champagne on the sidewalk as they nibbled on their hot dogs, owner Guillaume Juhel took a few moments to tell me about their adventures bringing corner street cart food to Paris.
What did you do before launching the cart?
Before launching Leoni's we worked in different fields: Emilie used to be a product manager (where she acquired marketing skills) and I worked in a strategy consulting group. As you can see, this project was a complete U-turn in our careers.
Why did you think Paris demands this kind of food?
Two years ago you had two basic choices for eating: expensive restaurants or low-end, cheap fast food. Thanks to street food, Parisians realized that you can quickly access high quality fresh food without being ripped off.
What's the challenge of serving your food from a cart/truck in Paris? Did you have to adapt traditional recipes to fit your clientele's tastes?
The real challenge in a city like Paris is the access to [parking] spots. You just can't set your food truck where you want, and the legislation is very stringent. So we have to count on private partnerships. Also, French people eat two or three times a day, while American people can eat little portions all day long. So our hot dogs are slightly bigger than American ones, to adapt to French consumption demands. For the cooking, we tried to be very close to the way hot dogs are cooked in New York's street carts. But the biggest difference [is in] the quality of the hot dog — mainly made with local, organic products.
Name a crazy thing that's happened while working on the streets. Trouble with the police, maybe?
We have coped with the police (called by the surrounding restaurants) many times. One of the most striking experiences happened during a big electronic music festival where alcohol was clearly not the only substance taken.
What's your favorite neighborhood to serve in?
I would say that any place is a fine one if your product is good. The most enthusiastic clients are people who already know the taste of the original American hot dog. Business districts are generally good spots.
Tell me about the cart. What kind of vehicle is it? A motorcycle? A scooter? How did you come up with it?
The cart is very special. It's not really a scooter, or a car. Driving such a three-wheels vehicle is not an easy task. It's manufactured by the well-known Italian brand Piaggio. We came up with it because it's visually very appealing with its retro look, and it's significantly cheaper than a traditional car.
If you could bring another cuisine to Paris in a truck or cart, what would it be?
We are fond of Spanish food, especially tapas. It could be a great idea!
Do you plan to open a brick and mortar location?
We have beautiful projects for 2014, but it's still confidential. We will keep you informed soon — and you can also follow us on Facebook.
Also: Paris, The City Of...Food Trucks? Oui! Cantine California Started It All.