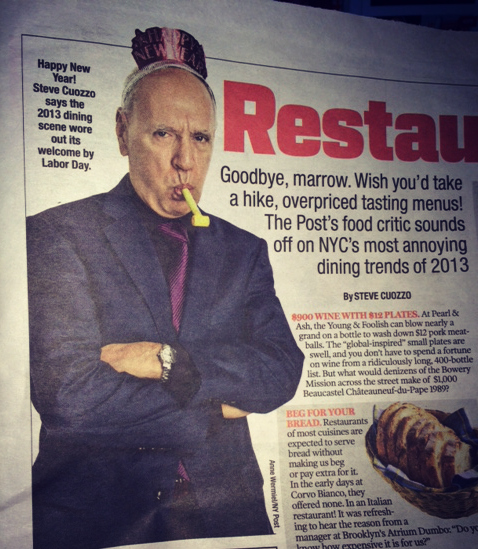 We love longtime New York Post restaurant critic and noted curmudgeon Steve Cuozzo. Really, we love you Steve. You for the most part have good taste and take your job seriously — slogging through the good, bad and insanely over-priced NYC restaurants to tell us where we should be dining out. Here's an archive of his work, which also includes some pretty stellar architecture and retail reporting. [Ed note: What do the stars mean?! There's no key!]
But sometimes Big Steve likes to stir the pot a little too much, which brings us to his annual RestauRANT column, which is published in today's paper. As cranky as ever, Cuozzo takes on a long list of annoyances in a story titled NYC's most obnoxious food and eatery trends of 2013. Included:
Oxtails
Truffle oil
Marrow
$900 bottles of wine served with $12 plates
No bread
Gimmicks, stunts, cons
Tacos with offbeat toppings like cauliflower
Counters
Celeb chefs not cooking in their kitchens
The word eatery (OK, we added this one, but the word is banned on Food Republic)
But Steve brings up some valid points — though we like cauliflower tacos ok enough. Steve, you named some names, which is rare in the clubbier than ever NYC food writing world. You aren't so bad after all. But that photo!