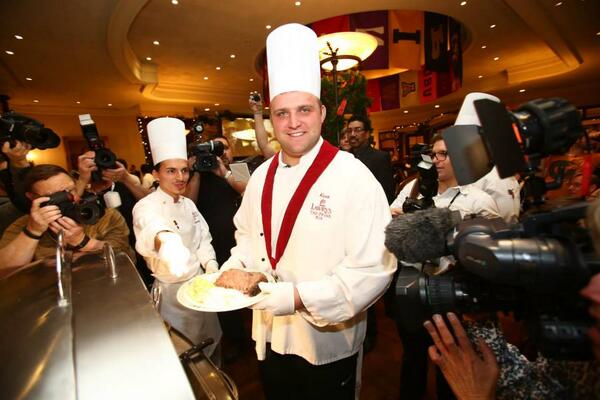 Since 1938, Lawry's — an ornate Beverly Hills steakhouse that exudes the grandeur of Old Hollywood — has made the preparing and carving of prime rib an artform. It's a fancy-pants, suit-and-tie sort of place, except for that one day each year when the dining room is crowded with windbreakers and elastic waistbands (the latter plays an important role in this story, as you will find out).
Welcome to the Beef Bowl, an annual end-of-year tradition that invites each of the teams competing in the January 1 Rose Bowl in nearby Pasadena for an afternoon of friendly, semi-competitive meat consumption. The rules are simple: The team that eats to most beef (so, not sides) wins the title. The tradition began in 1963 when teams went head-to-head with little regard to bulging bellies — and how that might alter the game's result a few days later.
In the Bowl, where teams enter on a red carpet with great fanfare, the amount of beef consumed by each team is determined by multiplying the number of prime rib roasts consumed by the average weight of a roast, according to Todd Erickson, the event's publicist.
But in the year 2013, a time when elite college athletes are imposed with the most granular dietary requirements, the rules have been drastically altered — to prevent the players from overeating and possibly failing at their task at hand.
According The New York Times, who embedded a reporter at Friday's event with underdog Michigan State, the final results are no longer published (so, no Beef Bowl winner) and players are given a single 16-ounce cut, followed by a mere 12-ounce second helping. Stanford participated on Saturday with the same guidance while both teams' athletic trainers monitored the player's consumption.
This is in great contrast to previous years, when teams went all-out for bragging rights. In 2011, the Wisconsin Badgers ate an inhuman 723 pounds of prime rib while the Oregon Ducks only managed 612 pounds. Final Rose Bowl score: Oregon 45, Wisconsin 38.
Here's some video from Michigan State's visit to Lawry's: