2013 In Review: The Top 25 Beers. Period.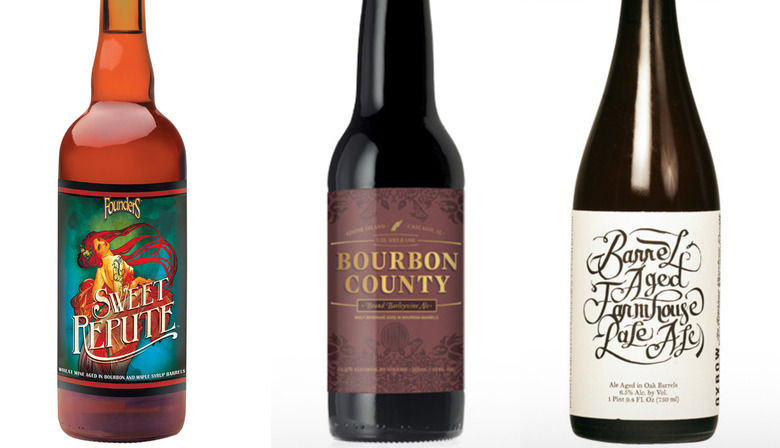 When you look back on the year in beer, the rapidly expanding landscape of craft brewing (there are 2,700 craft breweries now!) will be remembered more than a single beer release. Yet, there were so many excellent brews that tempted our tastebuds, twisting them into unknown reaches of the palate, that we had to make a list of our favorites.
One of the biggest surprises of the year was a return to low-ABV brewing, including rediscovered foreign styles like Westbrook's Gose (featured below). There was also a trend towards more drinkable pale ales — though you can't stop, won't stop, the triple IPA train from churning. While bourbon barrel beers were hot (pun intended) last year, this year marked a change to many new spirits like rum, brandy and even Fernet Branca.
We had to drink a lot of beer to make this list and thanks to it, 2013 has had probably more hazy mornings and bacon, egg and cheeses than we had anticipated — and that's okay with us! Here are the best beers we tasted in 2013:
1. Lawson's Finest Liquids / Otter Creek Brewing: Double Dose IPA
You need to really do something special with hops to turn heads these days, and leave it to Vermont greats Lawson's and Otter Creek to achieve that and more. As the name suggests, this double IPA has a huge jolt of tropical citrus flavor from a massive amount of hops — however there's really very little bitter bite, which makes this dangerously drinkable for it's 8.5% ABV and an awesome gateway beer into double IPA's.
2. Prairie Artisan Ales: Prairie Bomb
Coffee, cacao nibs, vanilla beans and ancho chili peppers make this one of the most adjunct-laced beers of the year. And with a bill like this, the comparisons to Cigar City's classic Hunahpu's Imperial Stout are inevitable. Does it live up? Absolutely! Finding balance among all those additives is no easy feat, but they blend together perfectly to hide the monster 14% ABV. Worth the hype and also worth seeking out its barrel-aged counterpart, Pirate Bomb, if you get a chance.
3. Almanac Brewing Company: Farmers Reserve #3
Seemingly out of nowhere, Almanac basically rose to the top of the sour beer game overnight. While I simply can't stop myself from also mentioning their excellent Heirloom Pumpkin Barleywine, this absolutely has to be the pick for the incredible use of strawberries and nectarines. Strawberries aren't an easy flavor to showcase — cranked up they can be too lactic, but this one balances it so well with the sour fruitness of the nectarine that it works to perfection.
4. Goose Island Beer Company: Bourbon Barrel Aged Barleywine
Say what you want about Goose Island (and some have a lot to say), they still make some of the best beers in the world, year after year. Here we see a return to the fine form they left off with cult classic barleywine King Henry. While it's missing some of the complexity that the 23 year old Pappy Van Winkle barrels gave KH, this is still a remarkable beer with rich vanilla, bourbon and sweet caramel sugar flavors.
5. Ale Apothecary: Sahalie
Like Hill Farmstead and Logsdon Farmhouse Ales before it, this little brewery from Bend, Oregon is showing that farmhouses brew it better. Ale Apothecary takes brewing as an art form to a whole new level and it shows — from packaging to what's inside the bottle. Sahalie is a wild ale aged in wine barrels and dry-hopped in oak barrels, with tons of citrus and tropical flavors from the hops and tartness from natural fermentation. Hands down the best farmhouse ale I've tried this year.
6. Pipeworks Brewing / 4 Hands Brewing: Square Grouper
Chicago's Pipeworks released a dizzying selection of brews in 2013. But of all their releases, including a number of IPA's, this one is my favorite. It's a collaboration with St. Louis' 4 Hands Brewing and uses honey along with citra, simcoe and mosaic hops. Bursting with tons of citrus, tropical fruits and so many hop flavors, this 9.5% hop bomb is smooth. If you see this, grab it!
7. Mikkeller: Beer Geek Vanilla Shake
Do you like your stouts to taste like a coffee milkshake? Well, you've gotta try this oatmeal stout boosted with a ton of coffee, vanilla and chocolate from the malt. So flavorful, you will never guess it's 13%. For once, be thankful it's found in a 12 oz bottle. Big things do come in small packages.
8. Firestone Walker Brewing Company: 17th Anniversary Ale
Blending beer is an art that few brewers have mastered, but Firestone Walker has it down, as showcased every year in their Anniversary Series. Seven different ales make up the blend here, including barrel-aged brown, Stickee Monkey Barleywine, Velvet Merkin and Parabola. Tons of oak, vanilla, chocolate, dark fruits, caramel and brown sugar makes this special 13.3% brew a decedent treat.
9. Rodenbach Brewery: Caractère Rouge
For years, Rodenbach has made only fruitless Flanders Red Ale extremely well. So it was quite a shock when they branched out into adding fruit for this special release. Cherries, raspberries and cranberries are combined for a very tart, juicy beer. It leaves me hoping this isn't the last time they venture into sour fruit beers. An instant classic.
10. Crooked Stave Brewery: Surette Provision Saison
Chad Yakobson, head brewer of Crooked Stave, loves brettanomyces, and he's quickly become a master of sour beers. Crooked Stave launched many new beers in 2013, but this year also marked the first time Surette saw national distribution. Try this, try the variants with fruit, and pretty much try anything they make. Expect big things to come out of Crooked Stave.
11. Stone Brewing Company: Southern Charred
This was one of three Quingenti Milliliter series that finally earned nationwide distribution, along with two ridiculously spicy beers, aptly named Crime and Punishment. Southern Charred, however, was the winning ticket, which saw 2012 Double Bastard Ale aged in three different barrels. At 12.6%, this is the type of beer that will likely kick your ass, much to Stone's chagrin, and you'll enjoy every minute of its smoky, vanilla, caramel and oaked flavor, guaranteed.
12. Peekskill Brewery: Simple Sour
I have written about this beer every chance I've had and for good reason: it's the most refreshing beer I sampled all year. A Berliner Weisse that offers just the right amount of tart, without being overly sour, it's only 4.5% and is basically the perfect beer for summer. Fans of sours will like this for its traditional feel, while those new to the style will find it fresh and inviting.
13. Allagash Brewing Company: FV-13
For a long time Allagash sours just didn't see the light of day outside a few brewery-only releases. This, along with the excellent Merveilleux, showcased a raw sour power. Like the traditional sours of Belgium, the tart cherry flavor is all from yeast and bacteria; no cherries were harmed in the making of this beer magic!
14. Founders Brewing Company: Sweet Repute
A massive 12.6% wheatwine aged in maple syrup bourbon barrels (the same type Founders used for its limited and rightly famed Canadian Breakfast Stout). This style was a great pick for the barrels as it showcases the bourbon, vanilla, oak and sweet syrup flavors perfectly.
15. Victory Brewing Company: DirtWolf Double IPA
The best double IPA's in the country are a limited few, but Victory gave hop lovers an early holiday present by making this delicious brew a year-round offering in four-packs. At 8.7%, it's a big bad wolf. But it's also bursting with delicious hop flavors with some grapefruit, orange, pineapple and a touch of pine. A balanced Double IPA for a good price? Filthy good!
16. Westbrook Brewing Company: Gose
This highly drinkable German sour wheat beer was practically forgotten before Westbrook released it this year, in cans no less! It quickly became the darling of craft beer drinkers for its refreshing flavors of coriander and salt, mixed with sour lemon funk. Their Gozu variation, which adds yuzu fruit to the mix, is even better and worth the time to track it down.
17. Trillium Brewing Company: Fort Point Pale Ale
I sampled this at a tasting, poured alongside Three Floyds classic American Pale Ale, Zombie Dust (and Heady Topper and Double Dose, too!). I am excited to say that Fort Point Pale Ale legitimately held its own, with huge citrus and tropical fruits like mango and pineapple. It's ridiculously smooth for it's 6.6% and easy to drink more than one glass of, though you'll have to seek it out on draft for now. You may have not heard of Trillium before, but you can bet on hearing much more in 2014.
18. Stone Brewing Company/ Two Brothers Brewing / Aleman – Dayman Coffee IPA
Coffee is a flavor that traditionally comes from the dark malt in stout, porter and brown ale — but it's a foreign flavor to lighter brews. Flavor-wise, IPA and coffee should just not work, but this really does. Massive coffee flavor, sweetness from the malt and a remarkable amount of hop presence are blended so well that you can hardly taste the 8.7% ABV. It's a shame this was so limited because it was exceptionally good.
19. Oxbow Brewing: Farmhouse Pale Ale
I tried this on tap at Churchkey in Washington D.C. over the summer and it blew me away. Even better is the news that they are now bottling and distributing this gem of a hoppy saison. Spice, citrus and biscuity malts balance out this very drinkable 6% farmhouse ale. With all the funky saisons being made today, this is an excellent take on another side of the style.
20. Deschutes Brewery: Black Butte XXV
While I love bourbon barrel-aged beers, I respect Deschutes for understanding when a beer can be better by blending barrel-aged with fresh beer. They do this with their Abyss imperial stout and again here in their Black Butte special release series to great effect, as just 50% is aged along with dates, figs, cocoa nibs and black currants. Notes of coffee, licorice, bourbon, dark fruits and a desirable tartness from the currants make this one of the most beguiling porters in recent memory.
21. Odell Brewing Company: Fernet-Aged Porter
Odell scores points for use of a brand new barrel in the beer aging game, and even more points for actually making it work. If you like fernet, you have to try this 9.8% beauty of a porter, as its peppermint qualities are imparted along with chocolate, roasted malt and a variety of herbal notes.
22. Brouwerij Drie Fonteinen: Intense Red Oude Kriek
Do you like cherries? No, I mean do you really love cherries? If so, you need to seek this beer out immediately. It was one of the most overwhelming experiences of pure fruit flavor I had in 2013. Tons of sour cherries, oak, cherry pie and if you reached you could spot other fruit flavors like cranberries or raspberries. But honestly, this is a cherry bomb and it's proud to be what it is.
23. Grassroots: Arctic Saison
One of the most exciting collaborations of 2013 was from Hill Farmstead's Shaun Hill and Anchorage Brewing, but while both breweries tend to take things to delicious extremes, this was sparse — reminiscent of the arctic, perhaps? Hah! — in the best way possible, focusing on the subtleties of brett. Lemon, pepper, funk and bit of sourness are all there, but it's really well balanced. Sometimes simple is better.
24. The Bruery: Bois
The year just wouldn't be complete without The Bruery's special anniversary beer. Bois is a huge 15% old ale aged in bourbon barrels, then blended using the solera method, where small amounts of the past four anniversary ales are added to create a new beer. The result is remarkably complex with vanilla, brown sugar, oak, molasses, honey, caramel. If you don't like boozy beers, invest in this one for later, as a few years will likely smooth this out considerably.
25. Evil Twin Brewing: Imperial Biscotti Break Bourbon Barrel Aged
While the original Imperial Biscotti Break will appeal right away to any coffee lover, this barrel-aged version kicks the flavor intensity up in a big way. You'll find flavors like anise, licorice, almonds and sweet chocolate, and heavy bourbon character from the barrel. It's a big beer at 11.5% ABV but it's a perfect sipper after a big meal. I didn't think the original could get any better but this is pure biscotti bliss.