Food Events This Week: New Orleans Holiday, Winter Beer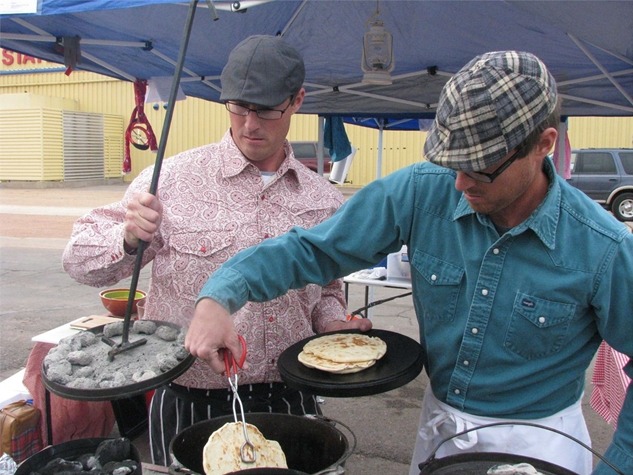 The time between Christmas and New Years is often marked by trips to the mall to return all those too-tight sweaters (clearly, those well-intentioned gift-givers underestimated the effect of Christmas beers on your waistline). But there's a better belated Christmas gift that you can't (and won't want to) return. We're talking about a trip to a food festival, of course. Head down to New Orleans to see how the holidays are really done right (spoiler: it involves alligator sausage), see — and eat, barbecued — the best livestock in Phoenix, and give yourself the gift of booze-sampling at Philly's Winter Beer Festival. It's time to get the last taste of 2013. These food festivals won't disappoint.
New Orleans, LA
Through Dec. 31
There's more than one reason to hit up NOLA post-Christmas, but we'll lay out a few to make it simple: caroling in Jackson Square, illuminated oak trees in City Park, bonfires on the levee and Reveillon Dinners. Dating back to the mid-1800's, Reveillon Dinners have marked the holiday season with the city's best restaurants serving up decadent four-course holiday meals. This year, over 40 restaurants are honoring the tradition by offering menus replete with Creole Christmas specialties such as Alligator Sausage from 5 Fifty 5 and Gulf Fish Court-Bouillon from Arnaud's Restaurant.
Philadelphia, PA
Dec. 27
World Live Café's sixth annual Winter Beer Festival will feature over 30 beers from your favorite American craft breweries including Allagash, Brooklyn, Dogfish Head and Smuttynose, plus select specialty import brews. While you're nursing your brew of choice, feast on food from the Café and check out the live folk-rock jams from The Whiskeyhickon Boys.
Arizona National Livestock Show

Phoenix, AZ
Dec. 27-31
If you thought country fair season had come to an end somewhere around mid-October, think again. The Arizona National Livestock Show is the largest of its kind, and in its 66th consecutive year, it's got the ratio of animal contests to food festivities down to a science. The Festival kicks off with the Junior Prospect Steer Show and the Junior Market Swine Show, and the weekend continues with shows featuring poultry, heifers, goat and essentially every other farm animal you could think of. And because nothing stirs the appetite quite like picking out a prize-winning steer, the Festival is punctuated by a Dutch-Oven Cook-Off; the Chuck Wagon Cook-Off, in which teams show off their chops in "cowboy cuisine"; and the Junior Auction Barbeque.
Upcoming:
Austin, TX
Jan. 7-11
The 35 chefs that will be cooking and collaborating at Austin's Foreign & Domestic Food & Drink may be popular, but their cuisine is anything but mainstream. Indie Chefs Week brings together the nation's most inspiring and innovative chefs to whip up multicourse menus. Providence, RI's James Mark will be cooking up Deep Winter pressed ramen with chicken, roasted golden oyster mushrooms, pickled wakame, sesame and egg. And from Boone, North Carolina's Edwin Bloodworth: smoked rabbit belly, egg white, fingerling, fifteen curd, pine and leek. Tuesday through Friday will feature eight-course menus outfitted with wine and beer pairings, and Saturday offers a 20-course menu that will make all your friends wish they could eat from an indie chef, too.
Charleston, SC
Jan. 8-19
The Greater Charleston Restaurant Association (GCRA) is giving you a chance to experience the best of Charleston's Lowcountry cuisine for a pretty sweet price. Over 100 participating restaurants are offering prix-fixe lunch and dinner menus, all of which include three or four items for $20, $30 or $40.
Big Beers, Belgians and Barleywines Festival

Vail, CO
Jan. 9-11
The 14th annual Big Beers, Belgians and Barleywines Festival, hosted by the Vail Cascade Resort and Spa, is touted as the ultimate "beercation" and even gets a nod from Dogfish Head's Sam Calaglione as being one of his "favorite beer events of the year." The Festival kicks off with a Brewmasters' dinner complete with culinary creations and pairing from Dogfish Head and Avery breweries. The weekend continues with Brewing Seminars, tastings and a special Homebrew competition. All this, plus discounted ski and snowboard rentals for festival attendees. So you can hit the slopes between sipping the brews.
Boston, MA
Jan. 10-Mar.28
America's longest-running wine festival will celebrate its 25th year at the Boston Harbor Hotel, and, as always, Chef Daniel Bruce will debut a collection of brand new dishes carefully created to match each featured wine. The Festival spans 10+ weeks, but you'll want to be there on opening night when you'll have access to over 50 wines from the Festival's featured wineries. The following weeks offer wine variety competitions (e.g. Battles of the Cabernets on Jan. 16), Champagnes Dinners, Jazz Brunches and a variety of seminars so you can work your brain while treating your taste buds.