Loire Valley Wines: A Goat Cheese With A Serious Pedigree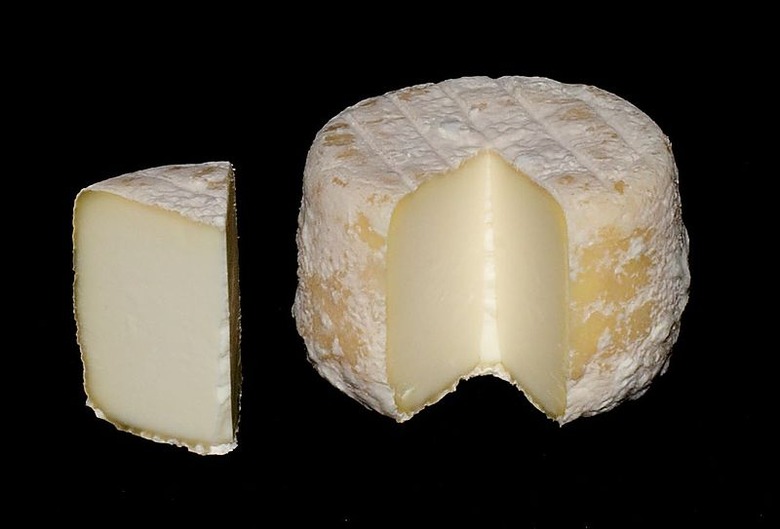 In the U.S., we'll slap the word "Cheddar" on any old orange cheesy product, but don't try such a trick in France. Much like the wines, some fromages, including the Loire's most famous goat cheese, Crottin de Chavignol, are protected by AOC (appellation d'origine contrôlée) status just like the wines. So what does that mean exactly for a cheese? On a recent trip to Chavignol's home, Sancerre, we investigated.
The first stop for any cheese obsessive should be La Brissauderie, a B&B and goat farm about 20 minutes' drive outside Sancerre. There you can visit the barn holding 170-odd nanny goats, who are just as playful as their reputation indicates, particularly the youngsters. To comply with the AOC's specifications, the animals subsist on a diet of three grasses, at least 85 percent of which are grown in the zone de Chavignol ("to preserve the terroir," La Brissauderie's owner explains) which gives a delicious herby flavor to the rich milk that's extracted from them twice a day.
In the cheesemaking process, whole milk is used, first resting for 24 to 36 hours. After 24 hours draining in cheesecloth, it's placed in round molds, salted and aged at least 10 days, as the AOC terms specify, getting turned daily. After this period, the fresh "jeune" cheese, fudge-like in texture and tasting of creamy milk, can be used for cheese plates or cooking.
After this point, variations in affinage (the age-old art of cheese ripening) will produce different varieties of Chavignol. Most affineurs make a bleuté (a blue version) by aging the rounds for a month as well as several other aged versions — the longer the cheese ripens, the more concentrated and nutty it gets, with the oldest becoming rich, salty, and gratable, like Parmesan.
La Brissauderie sells several different versions in its shop, offering samples of each. You'll be tempted to buy them all, and in fact you should, and pair them with a bottle of crisp Sancerre,
whose acidity proves just the right complement — remember what we said about terroir? Another excellent shop, not far away in the village of Saint Satur, is Roman Dubois, run by a passionate young cheesemaker. In the U.S., Murray's sells Crottin de Chevignol ($5.99 each) it ages for three weeks in its own New York City cave.
Earlier: The Art Of The Apéritif | Matching Muscadet With Oysters | Stay In The Caves | A Weekend Getaway From Paris | Exploring The Wine Region By Boat, Horse and Balloon | 10 Things You Didn't Know About Sancerre
This post is presented by the Loire Valley Wine Bureau, www.loirevalleywine.
com. Visit us online or on Facebook.