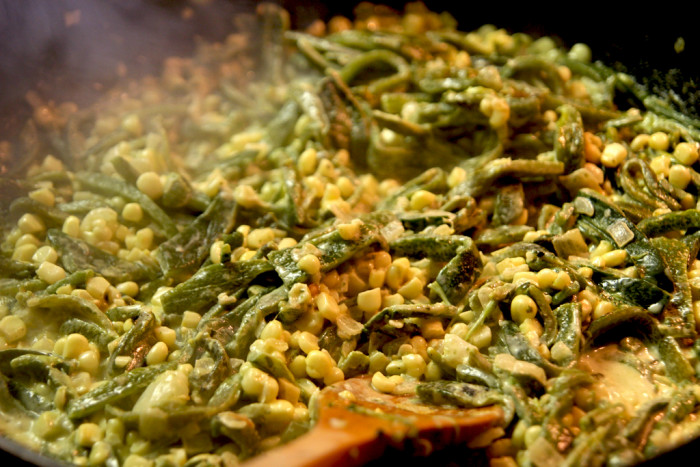 I spent yesterday in our underground test kitchen bunker in an undisclosed location three blocks from the new Whole Foods in Gowanus, Brooklyn. Who doesn't need to send interns on wild goose chases to random markets a 20-minute walk away anymore? Us, right here, Food Republic. There's a Whole Foods 3 blocks from our test kitchen. That. Is Awesome.
FR recipe developer Paul Harrison and I both went to USC, home of really great football at the time and outstanding Mexican food all day, all the time. Especially at 2 a.m. if one of his frat pledges was going to fetch it or something magical like that. Yesterday we recreated a bunch of our favorite dishes from that era — victory dogs (I call them ghetto dogs, whatever), barbacoa enchiladas, fried egg tostadas, drinking fancy Whole Foods beer at 3 p.m. (not a dish, just college nostalgia). While Paul was frying the peppers and onions in the bacon fat from the bacon-wrapped hot dogs — ladies, he's single and has a huge knife tattoo — I remembered something I'd forgotten from my last trip to LA.
We hit Guisado's in Boyle Heights, home of the best tacos of all time. My friends live a stone's throw away in Silverlake, to the surprise of nobody. I went with the extremely photogenic sampler, even though the idea of six regular-sized tacos really did it for me and I maintain I could have finished them. My best friend's boyfriend I'd just met — who is a professional baker who makes pretzels and croissants for crying out loud in approval — ordered the day's special, rajas tacos. I had no idea what that was, four years in LA is not enough time to properly learn everything you need to order at amazing Mexican restaurants. Rajas, or rajas con crema, is caramelized poblano peppers and onions, sometimes corn, mixed with sour cream. He offered me a bite, not only did I swoon and lovingly kick my friend under the table, I went for it.
Since I got back I've made rajas a dozen times because it takes 15 minutes and costs like, $2 to make. It's perfect for quick vegetarian tacos and burritos, great in an omelet and a game-changer in the grilled cheese game. Load sturdy bread with equal (abundant) parts pepper jack and medium-sharp cheddar, then spoon on a generous amount of rajas. You'll want to add a little less sour cream to the batch than you would for a taco so it doesn't soak too far into the bread. Then grill as usual and watch how hard it is to go back to Kraft singles and no rajas.
Back in the test kitchen, as we were piling peppers and onions onto bacon dogs, I thought hey…maybe, we should go back to campus and do a field report. Yes? Recipe developer field trip to seedy South Central LA?
More Mexican for lunch on Food Republic: