2013 In Review: The Year In Traveling Far To Eat And Drink Very Good Things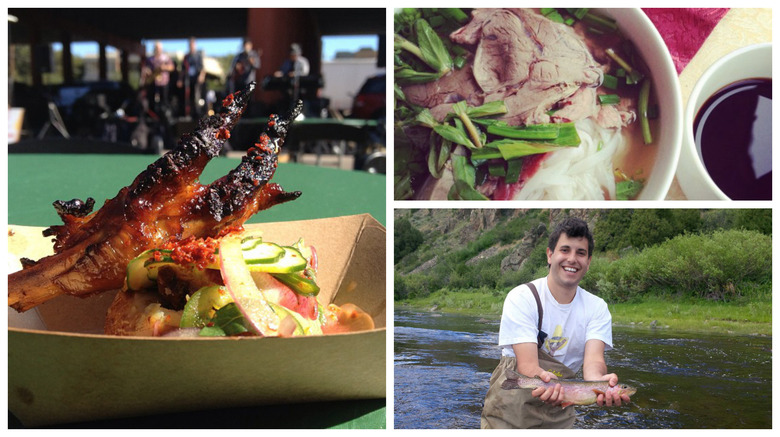 The Internet is in the midst of year-end list madness. There's even a great blog that makes lists of lists. Let us prolong the season a bit here, where Food Republic editors and contributors weigh-in on the year in travel.
Tony Maws | Columnist
Favorite work trip this year: I went to Tokyo to compete on the original Iron Chef as part of Team USA. I've said I would never do that show but Tokyo is Tokyo!
Favorite vacation trip this year: Vacation???!!! I ruined that by deciding to open our second restaurant The Kirkland Tap and Trotter. A few way-too-short stints on Martha's Vineyard kept me sane (debatable), so I'm going to catch up and collect some payback.
Best hotel stay: If/when I'm traveling and I spend enough time in the hotel room then I know I went to the wrong place! And, they don't usually let us cooks stay in the fancy places — some of my contemporaries ruined it for the rest of us.
Best hotel food/drink experience: Getting a cocktail in the NoMad Library room before retiring for the night is a pretty nice way to finish of an evening.
Favorite new city to travel to for food: Medford, Mass has one of the best Szechuan restaurants around in Chili Garden. Old-School Metro Boston City with this dive-y little place that will literally burn your socks off. You need to go with a group so you can order the vast majority of the menu.
Best/worst airline experience: I went down to North Carolina for to the Southbend Range factory to check out the new cooking suite for my restaurant. We arrived at the Raleigh-Durham Airport on time and thought we had a moment for a beer but when we got to the gate with 10 minutes to spare the flight left early! It was a day trip and I was supposed to be home for dinner with my family and I think I'm still in the doghouse.
Favorite food souvenir: The Tempura Chef of the amazing Mkawa Zezankyo drew in old Japanese calligraphy three prawns as his signature on the menu he gave to me.
Where do you want to go in 2014: Absolutely overdue for a return to Paris but in reality... Anywhere!!! It's been an awesome but tiring year and I need a break! Any recommendations?
Chantal Martineau | Writer
Favorite work trip this year: Two weeks in New Zealand tasting Pinot Noir from around the country. I got to visit more organic, biodynamic and natural producers than I ever have in one place. You haven't really tasted Pinot until you've had the cow who fertilizes the land where the vines grow lick your pants.
Favorite vacation trip this year: Three weeks in Vietnam for my honeymoon. Starting in Hanoi, where we got addicted to egg coffee and almost got killed in traffic everyday, then on to stunningly spooky Halong Bay, Hoi An for Cao Lau noodles, Ho Chi Minh City which by this time felt like being back in New York and then five days in Phu Quoc, which is like what Phuket was like 20 years ago. Never once did I get sick of pho for breakfast everyday.
Best hotel stay: Mango Bay Eco-Resort in Phu Quoc, Vietnam. Low-density luxury with a dreamy open-air bathroom.
Best hotel food/drink experience: It comes as something of a surprise when you realize that, in France, Best Western owns actually very nice properties. The restaurant Rendez-vous de Chasse at the Grand Hotel Bristol in Alsace has a Michelin star. I had a wonderful modern Alsatian meal there paired with Valentin-Zusslin's lovely wines.
Favorite new city to travel for food: Oaxaca. I could live off moles and mezcal. Some of the simple meals I had in remote mountain villages were among the best of my life. And modern Mexican, like at La Pitiona, is a revelation.
Best/worst airline experience: Best: Air New Zealand, which managed to make the loooong flight from LA to Auckland very pleasurable. Worst: United. Broken TVs on a transatlantic flight is not cool.
Favorite food souvenir: It's a drink souvenir. A half bottle of raicilla, a type of mezcal from Jalisco, that I was given by my favorite bar owner in Guadalajara, Mexico.
Where do you want to go in 2014: Austin, Norway, Croatia, Mauritius, back to Oaxaca. But mostly, back to Oaxaca.
Emily Saladino | Writer
Favorite work trip this year: There's no way to start a sentence with "When I was in Papua New Guinea," without sounding at least a little bit pretentious. That being said, when I was in Papua New Guinea on an assignment this summer, I was absolutely blown away. PNG has jaw-dropping landscapes, incredibly diverse tribal societies, and a bunch of other things graduate students and travel magazines would call "experiential." It felt like such a privilege just to be there, sipping fresh-pressed coconut water after a day hike, or hard-boiling megapode eggs in volcanic hot springs for a satisfying post-swim snack.
Favorite vacation trip this year: After spending a few days in Portland, ME this summer (see below), I took a side trip to a coastal village called Harpswell. Days were spent canoeing and kayaking, and, in the evenings, we would pluck fresh rock crab or lobster from the traps off our dock to steam for dinner. (I mean, seriously. This happened.)
Best hotel stay: In the spring, I went to New Orleans for Mardi Gras. The icky, Bourbon Street-style excess that gets televised is but a tiny portion of the overall experience, which is really cool, cultural and surprisingly family friendly. Through some incredible twist of fate, I got to stay at the W New Orleans – French Quarter, where the fun-loving staff poured rum cocktails upon check-in, left glittery masks in guestrooms just 'cause, and hosted a killer pre-parade party at their bar, SoBou. Best of all, the hotel is right next door to dive bar extraordinaire Chartres Room, a national treasure for those who enjoy sipping beers with off-duty hospitality workers and burgeoning spoken-word poets at 2:00 a.m.
Best hotel food/drink experience: For me, brunch seems like an utterly New York experience, if only because few other cities outwardly endorse day-drinking and responsibility-free adulthood. So I was unprepared for the weekend brunch at Le Royal Monceau Raffles Paris, where well-dressed hotel guests and better-dressed locals spend hours over perfectly poured café crèmes, coddled eggs in elegant china cups, and an almost embarrassing spread of Pierre Hermé pastries. It is the world's chicest hangover cure.
Favorite new city to travel to for food: Portland, ME. Go. Now. The city is building something like 500 new hotel rooms over the next two years, so get in while the getting is good.
Best/worst airline experience: Turkish Airlines' inflight meal service is really, really good. On a flight from New York to Istanbul last month, they blinded me with meze.
Favorite food souvenir: In Bogota, Colombia, I picked up a few bars of raw Andean chocolate from a food stall, thinking I would give them out as gifts when I got home. If by "give them out as gifts" I meant "horde them in the back of a kitchen cabinet and eat them as slowly as possible, by myself, when no one was watching, over the course of several months," then the plan was executed perfectly.
Where do you want to go in 2014: India.
Jason Kessler | Writer
Favorite work trip this year: Without a doubt, Thailand to all four Four Seasons properties there. That's 16 Seasons! Both the Golden Triangle Tented Camp and the gorgeous Koh Samui property were absolutely breathtaking and I got a first-person immersion into Thai food that will stay with me forever.
Favorite vacation trip this year: Birmingham, AL. I've spent a lot of time down there in the past two years and the friendly casual vibe mixed with incredible barbecue (white sauce!) and high-end Southern fare from Chris Hastings and Frank Stitt gives BHam a special place in my heart.
Best hotel stay: My private bungalow at the Four Seasons Koh Samui. With your own personal infinity pool, anything is possible.
Best hotel food/drink experience: On a stormy night during monsoon season in Northern Thailand, I didn't want to brave the slick paths to get to the restaurant at the Four Seasons Golden Triangle. Instead, I called room service and ordered pad thai. That's right, I got Thai delivery in Thailand and it was awesome.
Favorite new city to travel to for food: San Francisco. I know, I know, SF has had a great food reputation for eons, but I just got up there in February to really explore the city and was so happy to eat my way around. SPQR was incredible and La Mar was among the best Peruvian restaurants I've ever been to.
Best/worst airline experience: Best was American Airlines business class from Tokyo-Narita back to LA. Having room to spread out, solid food (what up, ice cream sundae?), and plenty of movies to watch makes all the difference on flights spanning multiple continents. By the same token, my Thai Airways flight to Bangkok was pretty bad but only because I was stuck in the hell that is international economy class.
Favorite food souvenir: I was somehow able to bring back three salamis from Tuscany in October and I even declared them! I've been slowly making my way through the collection and every bite takes me back to Italy.
Where do you want to go in 2014: Tokyo, Buenos Aires, Greece, Spain, Uruguay. I just started a new website (flyanddine.com), so hopefully there will be a ton of traveling in my future.
Chris Chamberlain | Writer
Favorite work trip this year: Fly-fishing with Joseph Lenn, current James Beard Best Chef-Southeast award winner, at Blackberry Farm in Walland, TN. Not only was it amazing to enjoy the ultimate Southern hospitality of Blackberry Farm, but Lenn happens to be the best of the good old boy chefs. When he hooked up on a 20" trout, he "whooooed!" like Ric Flair after pinning Dusty Rhodes.
Favorite vacation trip this year: Staying at a friend's condo in Green Mountain Beach in the panhandle of Florida. Lots of walking on the beach, riding bikes and enjoying beer and seafood in various shacks.
Best hotel stay: When I was covering the World Food Championships in Vegas, there was a mix-up in my reservation, so the Golden Nugget put me up in one of their 2-story high roller suites overlooking the pool for one night. Of course, I was working, so I spent about 15 minutes awake in the suite and had to move to a Queen Standard the next night when my girlfriend joined me. I'm still paying her back for that one...
Best hotel food/drink experience: A dinner and drink tasting at Todd English's bluezoo at the Walt Disney World Swan and Dolphin Resort in Orlando. The dramatic architecture of the dining room belies how much fun Robert "Cib" Ciborowski's playful takes on food and cocktail gastronomy are. Fun for kids of all ages.
Favorite new city to travel to for food: I've been to Greenville, SC twice in the past year just to eat. There is a growing roster of talented chefs opening their own kitchens and a few solid restaurant groups to anchor the dining scene. Their Euphoria food and music festival is an excellent way to sample the city's wares.
Best/worst airline experience: Finding out my AMEX Platinum won't get me into AA Admirals Clubs after next spring. That saved my sanity several times last year and made the steep cost of the annual card fee worthwhile. Next year? I don't know...
Favorite food souvenir: A bootleg jar of pickled ramps from Jacob Sessoms of Table in Asheville, NC. In the spring, ramps are like gold in east TN and west NC and are hunted throughout the forests by foragers and chefs. Sessoms pulled these down from a top shelf and snuck them to me under the table, and they have made just about everything I've cooked them with taste better since then.
Where do you want to go in 2014: It's been waaaay too long since I've been out west to visit the Bay Area. I've got a (distressingly large numbered) Stanford reunion coming up next fall, so maybe I'll add some time on either end of the weekend for eating and some vineyard visits.
George Embiricos | Assistant Contributing Editor

Favorite work trip this year: I traveled with Highland Park Whisky to Tromsø, Norway in late October. Some combination of being able to drink unlimited amounts of the fine stuff, witnessing the phenomenon of the Northern Lights and being dared to plunge into the 2°F ocean at 2 a.m. (I did!) made it an unforgettable experience. Although the whole three hours of sun thing per day was just a tad annoying.
Favorite vacation trip this year: My family travels every June to stay on a dude ranch called A-Bar-A in the Absolute Middle Of Nowhere, Wyoming. The scenic views are truly breathtaking and the ranch is staffed almost entirely by college students and recent graduates. I fly fish from 8 a.m. to 8 p.m. nonstop every day for the entire week. And I'm not joking about its location – there's no cell reception or Internet access within an hour of the premises. So refreshing. And maddening.
Best hotel stay: It's equal parts clichéd and classless, but staying in a suite at The Encore in Las Vegas in March was pretty memorable. Even if I have a general lack of memories from the weekend overall.
Best hotel food/drink experience: My apartment and FR's office's location mere blocks away from The NoMad in New York has been both a blessing and a disaster. There's nothing quite like casually ordering the foie gras and truffle-stuffed chicken for takeout. Not that I've ever done that.
Favorite new city to travel to for food: Nashville! I was lucky enough to have spent four years going to school in Music City and exploring its vibrant food scene, but it wasn't really until this year that the city received proper recognition. I could eat Hot Chicken from Prince's and Hattie B's all day, every day. If you don't know what that is, fly to Nashville. Now.
Best/worst airline experience: Flying First Class on the new Dreamliner aircraft to Norway trumped the list this year (thanks, Highland Park!) My worst experience was epically embarrassing. I had a severe panic attack on my flight back to New York from Mardi Gras in New Orleans in February – some mix of a weekend of too much fun and being stuck in 32E (yes, that's the middle seat of the last row) on JetBlue. It was not all a hopeless cause, however. I was taken care of by a very nice – and attractive – pediatrician, who seemed more amused than concerned.
Favorite food souvenir: I brought back reindeer sausage from my whisky tasting trip to Norway. They were an instant hit as a gift to colleagues, but I also scared off some parents by offering it to Trick or Treaters on Halloween. "Candy or reindeer sausage?" didn't exactly sound as smooth as I had initially envisioned.
Where do you want to go in 2014: I'm meeting my family in Antigua in January, which should be fun. Heading down to Brazil for the World Cup tops my wish list – my wallet lives in constant fear of my proclivity to impulsively book trips after one too many.
Jess Kapadia | Associate Editor
Favorite work trip this year: I had to hold back a lot when I got back from the Made In America event, held at The Four Seasons Hualalei resort on the Big Island of Hawaii last February. I didn't want to brag to the rest of the crew about the superb seafood, magical local produce and insane New Zealand beef and lamb I ate in huge amounts while also trying to look good in a bikini for Mozza chef Matt Molina. Not to mention the resort threw in a Lomi Lomi massage. I paddleboarded with Ludo Lefebvre, played a round of tennis with Josiah Citrin and made strawberry doughnuts with Waylynn Lucas, arguably Los Angeles' most celebrated doughnuteer. I worked plenty, but I came home feeling like a million bucks. Speaking of which, I'm going to need to marry rich so I can go back there. I even know which suite I want.
Favorite vacation trip this year: I didn't take a vacation this year. Pass.
Best hotel stay: This one goes to the Four Seasons again. The shower in the bathroom had a door leading out to an outdoors shower surrounded by bamboo, orchids and grasses, the bed was literally made of Hawaiian clouds and the beach was 20 feet away. I probably took fourteen showers and as many naps in five days.
Best hotel food/drink experience: other than Hawaii, I didn't have any hotel food/drink experiences. I'm going to need to discuss this sad fact with Ricardo.
Favorite new city to travel to for food: San Antonio. I went down for Meatopia and while the chefs at the festival truly went all out with the amazing beef, poultry, pork and lamb (plus innards, skin and the like), I had some ridiculously good Mexican food that brought me right back to my college years in LA, living off cheap-o tacos and 2 AM tamales. There are some wildly talented chefs down there doing amazing things with produce and game meats we just don't have access to.
Best/worst airline experience: I sat between a fighting couple who didn't even ask if I would let them sit next to each other and just pouted and aggressively huffed over me from time to time. I drank a lot of battery acid cabernet and watched Breaking Bad, because everyone likes Breaking Bad.
Favorite food souvenir: I brought back a dozen bottles of hot sauce from San Antonio, where there's a serious artisanal hot sauce culture. They all strike the perfect balance of flavor and heat.
Where do you want to go in 2014: I'm the last member of my family to not have a love affair with Costa Rica, so I'm spending New Year's there with a few good friends. The town we're staying in is famous for reggae, chargrilled chicken and a sloth farm. That sounds right up my alley.
Matt Rodbard | Contributing Editor
Favorite work trip this year: Tie. I traveled all over Vietnam with chefs in February. Got a tan, learned how to make fish sauce and ate some crazy good bun cha and cao lau. In September I went to South Korea, mostly Seoul with a day in Busan. The food is nothing like the Korean food you find in the States. And, of course, I was there for the food. Epiphany tune.
Favorite vacation trip this year: Copenhagen, and not for chef summer camp. I will go back there year after year. It's just my favorite place to visit right now.
Best hotel stay: Hyatt Regency Danang. My room overlooked a gorgeous beach that was weirdly empty, less the fisherman in their gurgling fishing boats. Great breakfast. Like a mile of pools. Tennis. No people. The beaches of Central Vietnam are so overlooked.
Best hotel food/drink experience: I love the library bar at NoMad in NYC. But the best is probably the breakfast at the InterContinental in Hanoi. It's likely the same breakfast served at most of the upscale hotels around the city, which is to say a crazy spread of soups (not just pho, but miso, wonton, congee too) as well as all the Western stuff and beautiful French pastries. Also, tropical fruits like rambutan, star apples, dragon fruit and mangosteen. All with the strongest, jet lag killing hotel coffee known to mankind. It's a great way to start your day in Southeast Asia.
Favorite new city to travel to for food: Atlanta! I was there three times this year and had outstanding meals every time. Between the breathtaking Kerala-meets-South spices at Cardamom Hill and the late-night Vietnamese/Japanese style at Octopus Bar and the exciting seafood work at the stylish The Optimist, I fell hard for the city. Malmo, Sweden is runner up.
Best/worst airline experience: Best: Korean Air on the A380, in both coach and business. Not annoying at all. Worst: Losing luggage in Vietnam, while losing luggage tags, is not recommended.
Favorite food souvenir: Took an empty suitcase to Seoul and came home with some incredible dried seaweed and anchovies from Busan and doenjang/gochuhang from a farm outside Seoul.
Where do you want to go in 2014: Oakland, Cuba, Toronto, London/Paris
Richard Martin | Editorial Director
Favorite work trip this year: In July, I attended the International Pinot Noir Celebration, which was like a food, wine and travel symposium rolled into one. We drank stellar wines (and some bad ones too), ate fresh and delicious meals prepared by the Pacific Northwest's best chefs, and celebrated a grape varietal amidst the vineyards where it grows so well. Oh yeah, it was also my first experience with a fiery salmon bake.
Favorite vacation trip this year: There's a reason Mexico's Rosewood Mayakoba regularly shows up on "Best Resorts in the World" lists. You arrive at this Playa Del Carman property, less than an hour's drive from Cancun's airport, and get whisked to your "room" in a boat that maneuvers past exotic birds through a series of canals. Said room is actually a 1,000 square foot duplex with a rooftop plunge pool. All this, plus a first-rate tequila library and three excellent restaurants, one of which served the most elaborate and savory queso fundido I've ever eaten. I compensated for my overindulgences with runs through the jungle, nearly trampling iguanas along the way.
Best hotel stay: I stayed at The Public in Chicago for the first time this fall. It has amazing hospitality, nice minimalist rooms and incredible coffee in a high-ceilinged library.
Best hotel food/drink experience: My wife and I booked a room at the Princess Anne Hotel in Asheville, North Carolina, in part based on raves for the breakfast service. It is perfect: Southern-style with a rotating cast of dishes and a country setting, in a great location for hopping around this burgeoning center of craft beer and inventive cooking (like Katie Button's Cúrate).
Favorite new city to travel to for food: Hudson, New York is just 90 miles up the river from Manhattan, and it's where Zak Pelaccio opened Fish & Game, my favorite restaurant opening of 2013. This up-and-coming city was already in revival mode, and it featured a mix of seasonal/local fine dining and casual, along with first-rate coffee (Swallow), a world-class bakery (Bonfiglio & Bread), one of the state's best wine shops (Hudson Wine Merchants) and more. But Fish & Game gave this not-so-sleepy upstate town an anchor, with Pelaccio and his band of culinary pranksters serving inventive yet accessible tasting menus based on the region and the seasons, in an exquisitely designed space that should be attracting Michelin's attention.
Best/worst airline experience: My best experience was having a Delta agent whisk me through security to get me on an earlier flight back home from Portland to New York. Totally a heartfelt effort from a woman who had nothing to gain from helping me out, and it atoned for my worst experience of the year on the way to Portland, which involved Delta changing out my assigned exit row seats without informing me and then refusing to help me find better than a cross-country middle seat (though after filing a complaint they did award me extra miles, a half-hearted mea culpa).
Favorite food souvenir: Bottle of "The Chee," Stephanie Izard's kimchi-inspired hot sauce, given to me by The Girl & The Goat chef herself in Chicago.
Where do you want to go in 2014: Still haven't made it to Tokyo, so that's first. Then Nashville, the Loire Valley, California's Central Coast, Berlin and Chile.