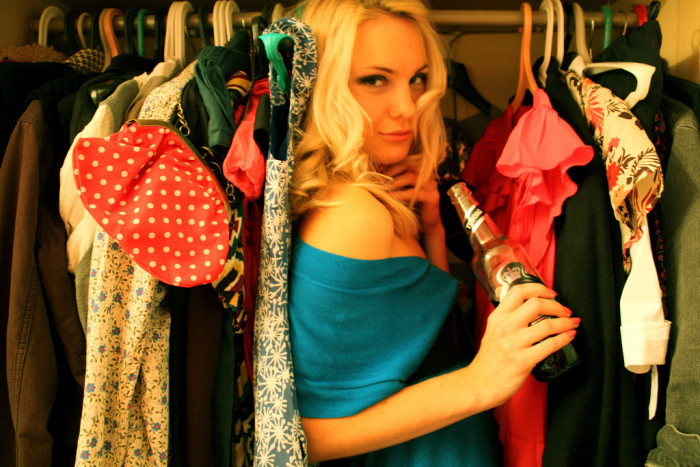 For years Bud, Miller, Coors and the rest did just about everything to sell their product using women as bait instead of marketing to them. Recently, many major brewers did a 180, giving way to sleeker, sexier packaging for "premium" beers like Beck's Sapphire and Budweiser's Black Crown. They also went the beer-as-a-cocktail route, like Budweiser's margarita-inspired series, which really don't taste like beer at all (so…mission accomplished?)
Despite what the industry might depict, women and men enjoy craft beer equally. In fact, there are many craft beer organizations, like Girls' Pint Out, that specialize in hosting all-girl beer events. Sadly, the same can't be said for the $90 billion dollar macro beer industry in the U.S., which continues to perpetuate stereotypes through advertisements and products.
Big beer companies decided long ago that women either don't have the palate or just don't care enough about beer to drink it on their own with any kind of insight. This is not true in the slightest. It's not just that there are many, many women who drink craft beer; there are many established women in all capacities of the craft beer industry, including brewers. You should check out the Pink Boot Society — that'll learn ya.
We know from experience that craft beer has a LOT of obsessed fans, and that like any good pastime, it takes up space and hours of um…..devoted research, which might not always fly with a significant other. Learning about craft beer can be difficult, especially if your special lady isn't into suds. If you're a guy who's experiencing this, here a few ways to get your significant other into craft beer.
Craft beer as art
Beer is incredibly artistic! Take Pipeworks brewer Beejay Oslon for example, who creates some of the most inventive label art in the business. Even Beck's got in on the label game. Need more inspiration? Check out Beer Labels In Motion, where some of the finest beer labels come to life.
Ale about the science
I will never forget listening to Dogfish Head founder/brewer Sam Calagione and molecular archaeologist Dr. Pat McGovern talk at the World Science Festival about their ancient ales. This recent project features reimagined formulas for beer discovered in 9,000-year-old ancient tombs. It's an incredible project that shows just how far brewing has come. And get this: there were more girls in the room than guys. It goes to show, science is sexy!
Flavor profiles
No craft brewer will ever tell you to drink their beer ice-cold – it masks the true flavor of the brew. If you understand flavor profiles, the best way to introduce a new brew is by knowing what your significant other likes. If your lady likes citrus but doesn't go for bitter IPAs, there are plenty of variations that tone down the pine and grapefruit and amp up the mango and orange. The same can be said with coffee or even chocolate stouts. They're intimidating-looking beers, but the flavors can range from bittersweet chocolate to decadant fudge cake. She likes chocolate, right?
Pairing is Caring
Perhaps the most accessible way to introduce beer to non-beer drinkers is to pair it with food. Even though you may swoon over a Three Floyds' Dark Lord or an Alchemist's Heady Topper, it doesn't mean a massive stout or an intense double IPA is the best entry point. Try something lighter and less abrasive. Easing your lady's palate into the complex flavors you like may take time, but your patience will be rewarded when you find that common ground. Start by pairing it with something basic like crackers and cheese and work up from there. If you cook her a fully paired dinner, there's no way she won't love it.
Start a collection
Whether you're thinking of starting a cellar or just have a stash of great bottles, it's worthwhile to stock up with her in mind so it's not just "your collection." It's alienating if you only drink styles she doesn't like, so include some of her favorite brews in the mix and make it something you can share. Another good idea is giving or obtaining craft beer as mementos and milestone markers. If you take a trip, buy a bottle of local beer and open it in a few months (or a few years) and revisit great times. Similarly, if there's a big occasion, buy a few bottles so you can share the moment again each time.
More beer on Food Republic: