2013 In Review: A Close Look At The Year Barbecue Absolutely Blew Up In America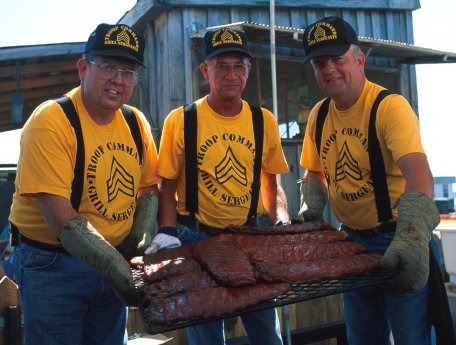 We may receive a commission on purchases made from links.
For a type of food that depends on cooking at a low heat very slowly, barbecue sure has gotten hot really fast. While we'd like to take some of the credit for the BBQ boom, in truth the rise of barbecue in the collective consciousness has been building for a long time and really hit a tipping point in 2013 because of several factors.
First of all, there's been a general increase of interest in many sorts of Southern foods, and barbecue is generally considered a southeastern and southwestern specialty, since there is a long legacy of cooking pigs and cows outside over smoking wood stretching back to the colonial days. Although there have been some notable urban 'cue restaurant openings over the past few years, the best barbecue is still generally being made in smoking cinderblock buildings behind remote roadside stands along Southern back roads.
Not all great barbecue comes from restaurants, and thanks to developments in home smokers, caja China boxes and kamado ceramic grills, it's become pretty easy to cook up some more than acceptable smoked meat in your own backyard. Noted professional pitmasters have jumped on the bandwagon and released several excellent guides to shade tree barbecue that can get you up to the quasi-professional level pretty quickly with a minimal investment of capital.
Professional curmudgeon Myron Mixon published his Everyday Barbecue guide this year, and whether you dig his cranky shtick as a host of television's BBQ Pitmasters, there's no denying his impact on competitive barbecue cooking. Just judge the chicken category at any contest, and odds are that 90% of the entries will be cooked using the "Cupcake Chicken" that Mixon developed and popularized. (It doesn't hurt that there's a whole stick of butter in the sauce...)
Adam Perry Lang may be a New Yorker at heart, but his veins run with smoky barbecue sauce. If you don't believe us, try this rib recipe he gave Food Republic a couple years back. Lang had a big year with the publishing of the second edition of his Serious Smoke BBQ bible, and he made many national appearances on television, culminating with his being named to the Barbecue Hall of Fame in the Celebrity/Humanitarian category. Mixon was also an inductee in this year's class for his pitmaster prowess.
In the more academic arena, self-proclaimed BBQ Snob Daniel Vaughn was named Barbecue Editor at Texas Monthly, an appointment that probably drew the most jealously throughout the food writing community since some schlub got the gig as Thomas Keller's recipe tester. Vaughn published his first book The Prophets of Smoked Meat: A Journey Through Texas Barbecue as the first title on Anthony Bourdain's new Ecco imprint. Vaughn's geographic and culinary tour of the Lone Star State is a fascinating read that has met with much critical acclaim.
There's probably no greater example of Vaughn's influence in the world of barbecue and his impact on the increased attention to his favorite subject than the fact that when he came to NYC to sign copies of his books, restaurant critics Robert Sietsema and Pete Wells took it upon themselves to show him the best of the boroughs' barbecue on what they labeled the "Convince a Texan Tour." Visits to Mighty Quinn's, Fletcher's, John Brown Smokehouse and BrisketTown didn't necessarily convince Vaughn to move to the Upper West Side, but he did encounter some impressive meats. And this was without even visiting venerable favorites like Hill Country, Mable's Smokehouse and Fette Sau that Vaughn had already experienced.
Also see: 5 Best Urban Barbecue its In New York City
It's not too much of a stretch to claim that a craze has not officially entered the mainstream until it hits in New York City and has inspired a reality show. Vaughn discovered that the first half of that equation has been satisfied, and the rest of America continues to discover the mysteries of barbecue and the characters involved in its production through shows like BBQ Pitmasters, Bobby Flay's Barbecue Addiction, BBQ Crawl (starring the Diva Q herself, Danielle Dimovski) and the currently on hiatus The Shed, a comical mockumentary about Mississippi's Orrison family, which is like Duck Dynasty with pigs and cole slaw.
As winter's cold decreases the urge for casual barbecue enthusiasts to fire up the backyard kettle grill, the yearning for good smoked meat won't necessarily go away. Satisfy your itch by reading a few of these books so that you'll be raring to go when the crocuses emerge or visit your favorite pitmaster's restaurant and let them do the work.
Read more barbecue stories on Food Republic: