Weekend Drinking Assignment: Winter Storm Electra Brew Survival Kit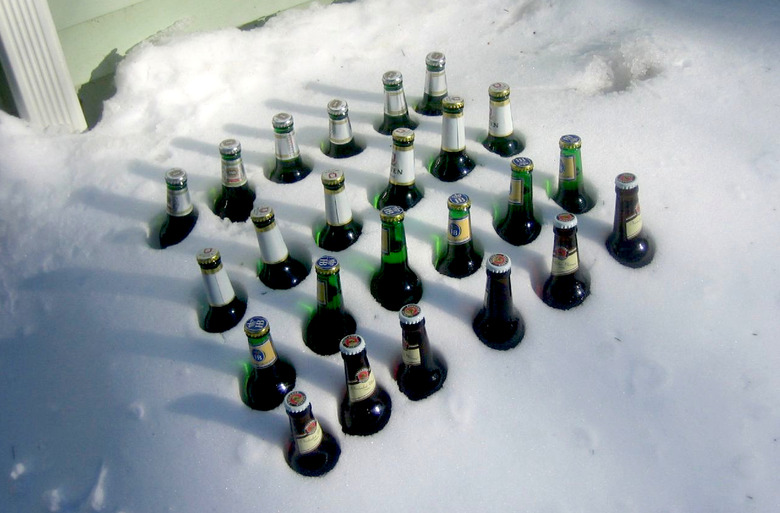 If you were watching football last weekend there's a good chance you saw or felt the effects of Winter Storms Cleon and Dion (those are actual storm names, not ex football players). While you'd imagine that we'd get a little reprieve from the cold snap, which besides making a mess out of football fields has also cost millions of dollars in damage to crops, unfortunately that just isn't in the cards for many of us, for the time being.
Winter Storm Electra is due to touch down this weekend across the Northeast. You basically can expect to not want to go anywhere this weekend, so if the conditions are still good where you live, it's time to stock up for a weekend indoors. Silver lining: this is the perfect opportunity to break out some of the beers you may have been saving for winter, like barley wines, stouts, porters and other strong ales. Here's what's in my Winter Storm Electra Brew Survival Kit.
Modern Times Beer — Black House Stout
You get up in the morning and you're snowed in. Time for some coffee...stout! While I love imperial stouts as much as anyone, drinking a few at 10 in the morning means you'll be lit by noon and asleep by 2. Dial it back with this new San Diego favorite, brewed with coffee roasted in the brewery — how cool is that? At just 5.8% you can have one with breakfast, lunch and dinner and still have room for dessert!
Sixpoint Brewery — Global Warmer
Come wintertime you might want a hop bomb with some hearty malt to balance things out. Sounds like you're looking for a strong amber ale. Trust this offering from Sixpoint, which never disappoints in the hops or malt department. Global Warmer is the perfect union clocking in at 70 IBUs. It's 7% though, so keep it away from icebergs and hoard it for your weekend indoors.
Bells Third Coast Old Ale
Barleywine and easy-to-drink don't find themselves in the same sentence too often, but this is one of the few old ales you can still get in a six-pack, though at 10.4% more than a few might put an early end to the night. It is a great beer to age, but also excellent fresh with huge sweet malt and hints of dark fruit. There's heat in there for sure, so when you're trying to stay warm, this should be a go-to.
Bourbon County Brand Barleywine
Some beers are meant for slamming down pints at a pub, and at 12.1%, this is not one of them. It's a refined beer meant to sip slowly, possibly by the fire. You get some chocolate flavors from the Bourbon County barrel along with rich fruits like raisin, fig and plum mixed with brown sugar. Give yourself a solid two hours to down a bottle, respect it and it will reward you with one of the best drinking experience on the planet.
Cigar City Brewing Marshall Zhukov's Imperial Stout
Some beers are perfect paired with dessert, others are dessert in themselves. This is the latter. It comes in a 750ml bottle and at 11%, it's a good one to share. The brew is black as night and so viscous it seems like it would be barrel-aged, but it's just an incredible illusion. Espresso, dark fruits and chocolate all come out and it's ridiculously smooth for such a huge beer. If you can get your hands a few of these before the storm hits you might not ever want to leave the house again.
More Weekend Drinking Assignment on Food Republic: