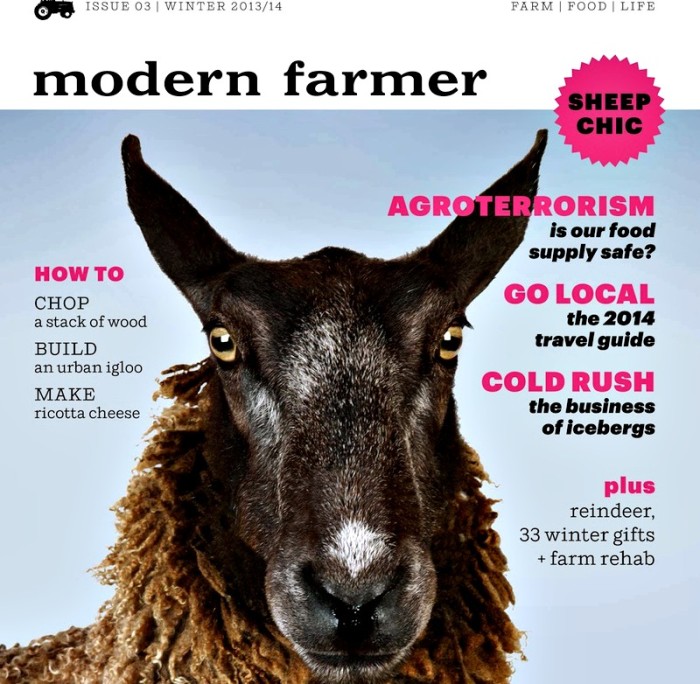 Welcome to Magazine Review, a new feature in which longtime magazine editor and Food Republic editorial director Richard Martin reviews print publications focused (mainly) on food and/or drink. First up, Modern Farmer.
The Magazine: Modern Farmer
Issue: 3 Winter 2013/14
Frequency: Quarterly
Page count: 136
Price: $7.99, available through the magazine's website, and at select newsstands, bookstores, grocery stores and specialty food shops.
Review: I'm gonna cut to the chase with my overall assessment: Modern Farmer is the most exciting new magazine launch of the last couple of years. It is ambitious, well designed and it centers on the contemporary world of farming, even as it billows out toward related topics from environmentalism to butchery to travel. The photography, illustrations and layout share a well-defined sensibility and point of view — traits I find increasingly rare in a print media business of diminishing returns.
The third issue of this upstart quarterly (which also has an extensive web presence at modernfarmer.com, including the cute if gimmicky "lambcam," which ties in with this issue's cover) is at times downright fascinating. "Is Your Refrigerator Running?" one headline asks, giving way to a reported story on whether we've become too reliant on refrigeration, thereby putting our food system at risk. Among the story's revelations: That NYC dodged a nightmare scenario when Hurricane Sandy hit; if the storm had made landfall a few hours earlier, author Nicola Twilley writes, "it would have flooded the Hunts Point Food Distribution Center, whose refrigerated facilities handle more than 60 percent of the city's produce and half of its meat and fish." Whoa.
Other stories range from a front-of-book feature on an Italian farm that doubles as a drug treatment center to a report on "The Post-GMO Economy" — which tracks one commercial farmer's return to using conventional (read: non-GM) seeds. Elsewhere, Modern Farmer tries to extend into lifestyle coverage with this issue, offering its first fashion shoot and gift guide. Both are expertly produced, and the use of young farmers as models in the fashion spread keeps it relevant.
What I like: The main draw with Modern Farmer is that it celebrates a lifestyle that is foreign to most urbanites, putting an urbane spin on rural personalities and issues. A "Guide to Sheep" or "How to: Chop Wood" story simply would not find a home in the pages of, say, Monocle, even as back-of-book travel stories and photo essays would compete with such über-chic publications. Even more impressive is that Modern Farmer's HQ is homey Hudson, NY, 90 miles north of Manhattan, and while it is evidently well funded, attracting talented contributors, it's independent. I also love a good back page interview, and this issue's chat with singer/songwriter Neko Case, is a feel-good sendoff about adapting to life in the country. Case is practically the mag's demographic: she's an ex-urbanite — I used to be friendly with her when we both lived in Seattle — but she now calls home a 100-acre farm in Vermont.
What I don't like: I'm a fan of magazines that flow from front to back or vice versa (for those print devotees who like to flip in reverse). Not that every publication has to follow the front of book/feature well/back of book formula exactly, but Modern Farmer jumps around too much for my liking. The "Field Notes" section is split and runs both before and after the well, and while the mix of pithy stories, clever illustrations and witty play between service and fluff are commendable, this division speaks to the magazine's need for tighter organization — especially crucial for a quarterly. Also, a business-y feature on the Edible franchise model, "Magazine Eats World," by Modern Farmer CEO and editor-in-chief Ann Marie Gardner, appears to be dropped in randomly on page 92, between the second "Field Notes" and the travel section.
Recommended If You Read: Dwell, Monocle, Garden & Gun, Bon Appétit