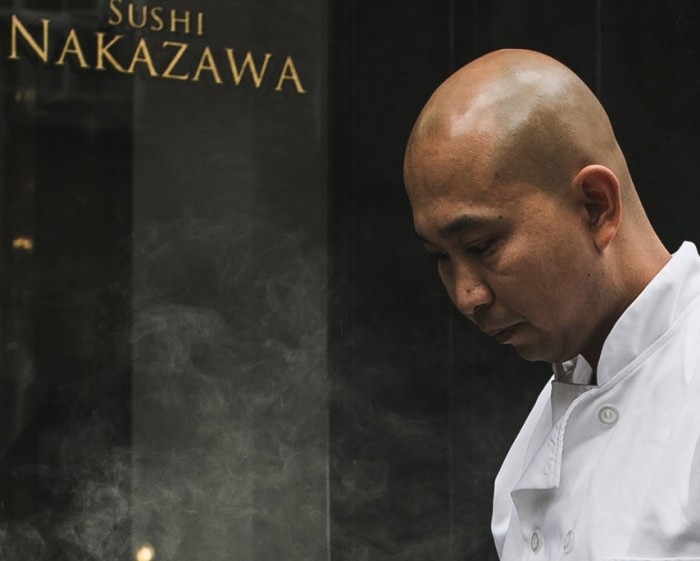 New York City's ongoing sushi transformation was officially validated yesterday, as Pete Wells of The New York Times awarded newcomer Sushi Nakazawa four stars (out of a possible four). The review marks the first four-star praise from the acting critic, and only the sixth restaurant in NYC to currently hold this highest grade. No small feat for the small and unassuming West Village shop.
The accomplishment is no small feat for Daisuke Nakazawa, either. The chef first charmed us on the surprising hit Jiro Dreams of Sushi, a limited release documentary that profiles the passionate work ethic of 85-year-old sushi master Jiro Ono and his three-star Michelin restaurant, located in a Tokyo subway station. As one of Jiro's "disciples," Nakazawa spends much of the film perfecting an egg custard creation — in a pivotal scene, he breaks down in tears when it is finally deemed acceptable. After the film was shot, Nakazawa moved to work in Seattle, and finally to his current home of New York City, opening his namesake, omakase-only restaurant this summer.
Wells's first four-star review does not lack significance. At Per Se and Jean-Georges, there's no counter seating or back-and-forth banter with diners. There's no live sea urchin or squirming shrimp at Del Posto. Each of the four little gold stars on the top of the review firmly puts sushi – and non-Western cuisine as a whole – back on the map of the fine dining scene. Masa, and its staggering $450 prix fixe, lost its fourth star in 2011.
It's refreshing to see such a venue receive an accolade normally reserved for more traditional "fine dining" restaurants, and not just appear on a list of city "hotspots." Welcome to New York, Daisuke. Now, can you please help us out? Food Republic is dreaming of a reservation.
Read more sushi stories on Food Republic: