Care To Step Up Your Coffee Pour-Over Design Game?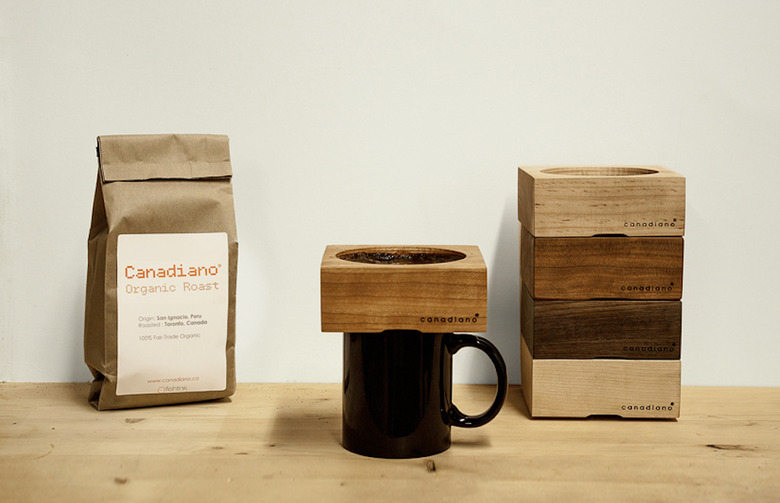 Do you prefer the intense, complex flavor of a pour-over cup of coffee, but the plastic and metallic devices conflict with your heightened sensibilities? It's ok to be a coffee snob and a design snob (at least within the Food Republic). And fortunately, someone has developed a more palatable option. Introducing the Canadiano, a wood-carved block for single pour-over servings.
Carved by our northern neighbors up in Ontario from three different types of wood — maple, walnut and cherry — each block features a carefully bored, tiered interior with a built-in metal filter designed to cut down on waste by not requiring extra paper filters.
While we've seen wood become a prominent, of-the-moment design element in kitchens and dining rooms (just check out some of its iterations in our various gift guides here and here), we never expected it to infiltrate your cup of coffee. But there's a purpose to this unlikely choice of material: each wood type is meant to be paired with a particular level of coffee roast, which over time, according to its makers, will enhance and personalize your coffee's flavor as the wood absorbs the oils from the grinds. Canadiano's designers recommend a darker, earthier roast for the walnut edition, for example, and roasts that carry nuttier, more citrusy notes for the maple and cherry editions.
Whatever your coffee preference and wood match, your coffee routine will become an even more personalized one over time. Expect the double takes to come instantly, though.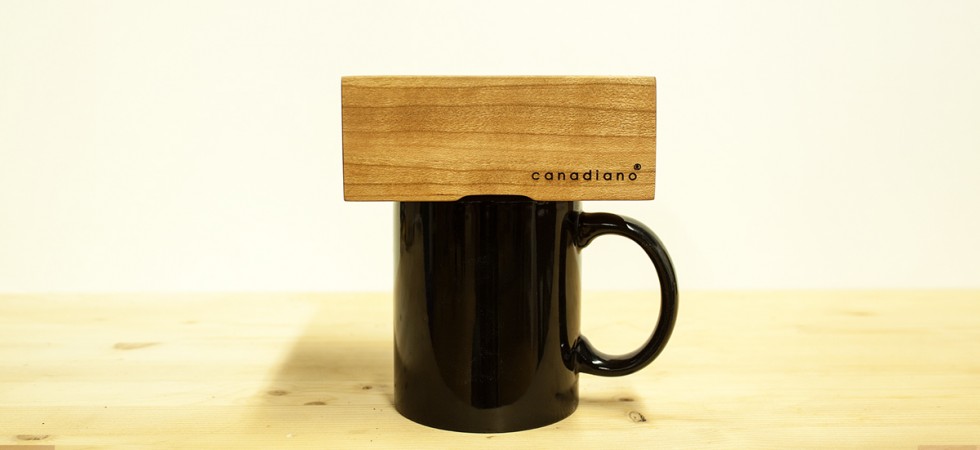 Bizarre as it might look atop a coffee mug, the Canadiano functions the same as any pour-over coffee cone would (no paper filter necessary). [/caption]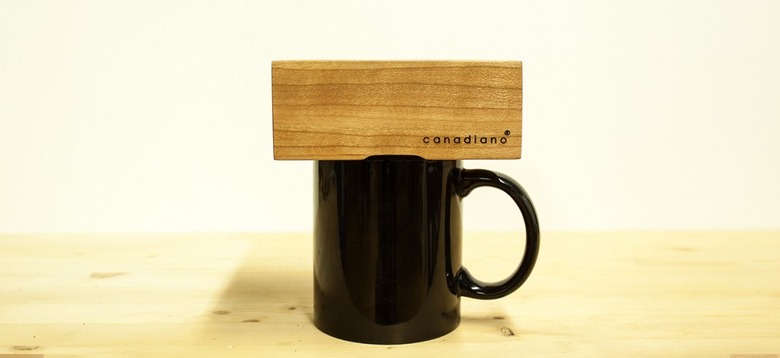 Thumbs up for the striking minimalist, boxy design. Canadiano makers are available in three wood editions (from left to right): cherry, maple and walnut.[/caption]
The Canadiano sells for $42-$61 (depending on wood type) online here. You can also buy pre-paired coffee roasts with each edition.