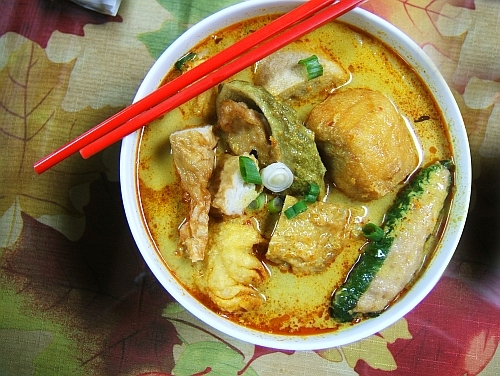 The Chinatown in Flushing, Queens is the less touristy, rowdier and more diverse cousin of the older Manhattan Chinatown. Its food courts offer fare from all over China and are a favorite of chefs like Danny Bowien and Messrs. Bourdain and Zimmern, while restaurants serve an alphabet of dishes from along the Silk Road. The scene is also alive with Korean-accented meat cookery, late night noodle bar hopping and New York City's only Southeast Asian/Cajun crab shack. All of this is available via a short-ish ride on either the 7 train or Long Island Railroad. Here are eight favorites stops (in no particular order).
1. Li's Lanzhou Hand Stretched Noodles
The noodle-maker at this Henanese-run stall in the bright and shiny New World Mall puts on a culinary show, stretching and kneading long ropes of dough into thin strands. The real star here though, is the exquisite pork and leek potstickers. The guo tie are cooked in a radial pattern resembling an asterisk — spokes on a wheel of deliciousness, if you will — joined by a crisp sheet of browned dough. Crack through the lacy circle, and pluck out one of the juiciest potstickers ever. Be sure to make a dipping sauce of black vinegar and chili: it's great to dip the dumplings in and even better for the shards of dough. New World Mall Food Court, 136-20 Roosevelt Avenue, Flushing 11354
2. Grand Restaurant
There are dim sum houses and then there are dim sum palaces. Sprawling across the top floor of the New World Mall, Grand Restaurant, with its chandeliers and Louis XIV décor, is clearly in the latter category. Translucent har gau (think dumplings) packed with shrimp and pork and shrimp-filled shiu mai are impeccably fresh, as are dim sum favorites like shrimp or beef in rice noodle. As good as the classics are here, it's the lesser-seen items like deep fried pork belly baos and the Hong Kong-style flowing sand buns — filled with a warm yellow custard that flows once bitten — that make this a truly grand dim sum destination. 40-21 Main Street (3rd Floor), Flushing 11354, 718-321-8258
3. Nutritious Lamb Noodle Soup (aka Su Xiang Yuan)
This hand-pulled noodle specialist from Henan sits across from a hair salon at the back of the upper level of the regional Chinese wonderland that is the Golden Shopping Mall. As Su Xiang Yuan's English name implies, the thing to get here is the lamb noodle soup. In addition to wonderfully chewy hand-pulled wheat noodles, there are other noodle-like treasures: slippery strands of translucent bean thread, chewy lengths of dou fu pi (tofu skin) and if you're lucky, ribbons of seaweed. The rich milky broth teems with chunks of lamb, goji berries and lotus roots. Doctor it up with a splash of black vinegar and chili paste, and slurp away. Golden Shopping Mall (Upper Level), 41-28 Main Street, Flushing 11355
4. Curry Leaves
The early morning scene here is the closest thing New York City has to a Southeast Asian night market. Club kids, tough guys, homesick Malaysians and insomniacs rub elbows waiting in line for some of Queens' best Malaysian soul food. Served from 4 a.m. to 11 a.m. — by a completely different staff than the day crew — think of it as Flushing's longest running pop-up. Step up to the counter and order a bowl of spicy coconut enriched kari laksa, and the ladies will ask what type of noodles you want. Go with the springy yellow variety, to stand up to the rich fiery soup. Now comes the fun part: customization. Choose from several types of fish balls and fish cakes, char siu pork, crisp fried wontons, shrimp, Chinese water spinach and several items stuffed with fish paste, including pillowy blocks of fried tofu, thick rings of bitter melon and searing green peppers. Other popular snacks include lo mai gai — sticky rice studded with chicken, pork and mushrooms — and springy rice chee cheong fun, noodles with sweet soy and hot sauces showered in sesame seeds and fried shallots. For dessert grab an apam balik, a pancake filled with sweetened peanut butter and corn, and strong sweet iced coffee. 135-31 40th Road, Flushing 11354, 718-762-9313
5. Biang!
With its exposed brick walls and Edison bulbs, Biang! — named for the sound its hand-ripped noodles make when smacked against the counter — looks nothing at all like its older sister Xi'an Famous Foods, which got its start back in 2006 at the decidedly more downscale Golden Shopping Mall. Those noodles — notably the spicy cumin lamb biang-biang noodles sautéed with cumin, anise and chili — are a hallmark here. They are joined by other XFF favorites like lamb face salad, a heap of chilled facial offal tossed in a fiery mix of chilies, onions and cilantro, and liang pi (cold skin noodles), a cool mélange of squidgy blocks of wheat gluten, toothsome wheat starch noodles, mung bean sprouts, cucumbers and cilantro — tossed in a sauce consisting of chili oil, soy sauce, vinegar, garlic and tahini. New creations include toasted slices of mantou crowned with sausage and quail eggs, which tastes like Chinese breakfast bruschetta. These new dishes as well as Biang's décor are the creation of Jason Wang, son of XFF founder David Shi. 41-10 Main Street, Flushing 11354, 718-888-7713, biang-nyc.com
6. Fu Run
The granddaddy of Dongbei cuisine sits across from the Bland Houses but the Northeastern Chinese fare served here is anything but bland with plenty of Korean and Muslim influence. For evidence look no further than the lamb chop. Despite the name it's not a chop, but rather a whole rack that's been braised, deep fried and rolled in cumin and black sesame seeds. The crunchy exterior encases red-tinged meat and bits of snow-white fat, all packed with wonderful lamb flavor. An order of tiger vegetables, a cool tangle of cilantro and hot peppers shot through with teeny salty shrimp, is a welcome foil. Befuddle foodie friends by ordering the chicken in orange flavor, a far more subtle dish than the hundreds of cloying takeout versions it spawned. For dessert there is ba si, fried chunks of apple, taro or sweet potato tossed in caramelized sugar. Dunk them into the accomnying bowl of water and the shell hardens trailing wisps of sugary filaments in a bit of Manchurian molecular gastronomy. 40-09 Prince Street, Flushing 11354, 718-321-1363, furunflushing.com
7. Tianjin Dumpling House
The name says dumpling house but this relative newcomer on the Flushing Chinatown scene is actually a stall on the lower level of the Golden Shopping Mall. Grab a seat at the counter and choose from a dozen varieties of steamed dumplings. Minced lamb dumplings with green squash have a nice gingery kick. And the seabass dumplings are subtle and unique. Create your own dipping sauce by mixing soy, black vinegar and chili oil, or better yet ask one of the red shirt clad staff to whip up a batch of fresh garlic sauce. Dumplings come a dozen to an order and are also sold in bags of 50. Golden Shopping Mall (Lower Level), 41-28 Main Street, Flushing 11355
8. Crazy Crab 888
This is surely the only Cajun seafood boil/Burmese restaurant in New York City. While many bib clad locals can be seen demolishing piles of crawfish, blue crabs, lobster and king crab legs, you'd do well to stick to the menu's Burmese and Yunnanese fare. Yunnan sliced pork special salad is quite special indeed. Sour, salty and unabashedly funky and spicy, it consists of translucent swatches of pig face dressed with fried shallots, roasted peanuts, cilantro and red and green chilies. The offal averse will enjoy "yellow tofu" topped with sweet soy sauce, sesame, fried shallots and roasted peanuts. The mellow custardy blobs have a cool panna cotta-like consistency unlike any other tofu because they are made with yellow split peas instead of soybeans. Burmese tea leaf and ginger salads are bright and kicky, shot through with crunchy beans and chilies. 40-42 College Point Boulevard, Flushing 11354, 718-353-8188
Joe DiStefano is the Founder of Chopsticks and Marrow. He offers several food tours, including one of Flushing's Chinatown, through the blog.
Check out these New York City restaurant guides on Food Republic: