Food Events This Week: Holiday Ale Festival, Meadowood 12 Days Of Christmas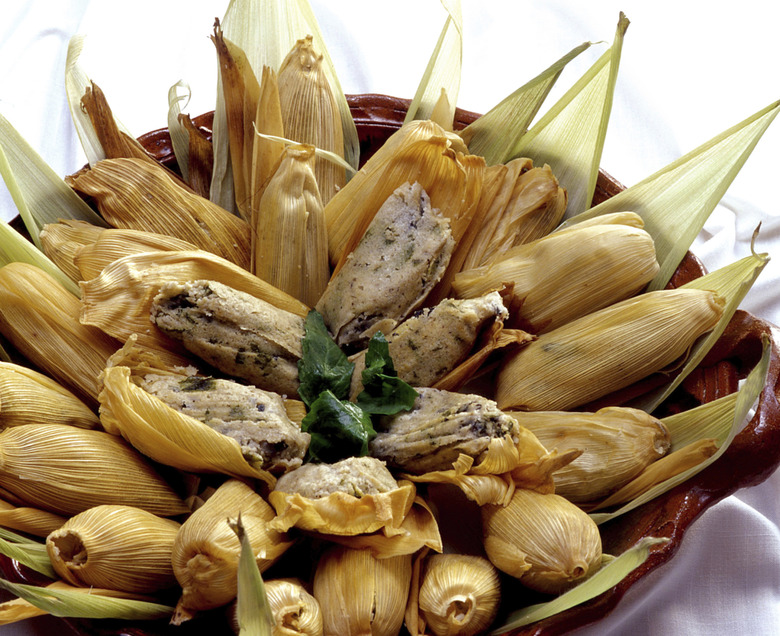 You may have enough Thanksgiving leftovers to last through Christmas, but one can only subsist on cold turkey and cranberry sauce sandwiches and stuffing waffles for so long. The time is ripe to attend a food festival and ring in the holiday season with fresh new flavors. Sip some limited edition ales at Portland's Holiday Ale Festival or get in line for your share of roast pig at Made in the South Weekend in Charleston. Grab your favorite food truck snack and watch some Folklorico dancing at the Indio International Tamale Festival, and if you're still hungry, Meadowood Estate in Napa Valley is cooking up not one, but 12 festive meals to get you in the spirit for Christmas Day.
Portland, OR
Dec. 4-8
Just when the weather threatens to be too nippy for an outdoor food fest, the food haven of Portland responds with a cozy event replete with gas heaters and plenty of quality ales to keep guests warm and satisfied. The festival provides three varieties of beers: Standard Release, Limited Release and Sunday Brunch beers. Note: the Belgian Sunday Brunch Beers pairs excellently with homemade waffles, which guests will be greeted with upon check-in. As the event approaches lunchtime, guests can nosh on local award-winning cheeses from Willamette Valley Cheese Co., a selection of cured artisan salamis, and mini chausson aux pommes — French applesauce turnovers. Sounds like the perfect menu to keep your belly full and the rest of you warm.
Jubilee: Made in the South Weekend
Charleston, SC
Dec. 6-8
Garden & Gun magazine's first-ever "Made in the South Weekend" celebrates the South's vibrant food culture with a lineup of sporting and shopping events, music, art, and of course, plenty of food and drink. Buy a daylong pass, and spend the day strolling through the festival's Marketplace, outfitted with Sarah O'Kelly and Chris Stewart's "pop-up diner," The Glass Onion. Then pick up specialty food and drink items from the Southern Pantry, and attend a dinner from Chef Mike Lata with live music from Junior Brown. The weekend's festivities culminate in true Southern fashion: a pig roast hosted by pit master Rodney Scott.
Meadowood 12 Days of Christmas
Napa Valley, CA
Dec. 6-21
Waiting for Christmas is tough, but indulging in the most innovative and inspiring cuisine in California's legendary wine country isn't such a bad way to bide your time. Chef Christopher Kostow has invited 12 of the nation's most influential chefs to collaborate and cook with him over the course of 12 days in The Restaurant at Meadowood at Napa Valley's Meadowood Estate. The festival kicks off with a dinner from Andy Ricker of Portland and New York's Pok Pok restaurants, and continues with Ashley Christensen from Poole's Diner in Raleigh, Momofuku's David Chang and others. Why settle for one holiday dinner when you can have 12?
Indio International Tamale Festival

Indio, CA
Dec. 7-8
The International Tamale Festival has been counted among The Food Network's top 10 "All-American Food Festivals" for good reason. The 21st annual event will feature a carnival, parades, live music and entertainment, Folklorico dancing and a beer, wine and art garden. Oh yeah, and a variety of delicious tamales hot from the food trucks. The festival is also responsible for two Guinness Book World Records: the world's largest tamale — over a foot in diameter and 40 feet in length, and the world's largest tamale festival with 120,000 people in attendance in 2000.
Upcoming:
Palm Beach Food & Wine Festival
West Palm Beach, FL
Dec. 13-17
Why do birds fly south for the winter? Hot, sunny weather, for one, but it could also be the epicurean pleasures served at the Palm Beach Food &Wine Festival. The festival features specialty cocktail and hors d'oeuvre receptions, five-course dinners with wine pairings and a final grand tasting and cooking competition. This year's event will showcase the talents of Iron Chef Robert Irvine, Momofuku Milk Bar's Christina Tosi and "Unwrapped" host Marc Summers. All net revenues benefit the Chefs Dish Back Foundation, which donates to a number of charities including American Red Cross, No Kid Hungry and the James Beard Foundation. So you can tip back your champagne glass with pride.
New Orleans, LA
Dec. 19
From the brilliant booze-aficionados that brought us Tales of the Cocktail comes the 8th annual Tales of the Toddy, where New Orleans' best bartenders reel in good tidings with some super-special holiday cocktails. This year, things are getting competitive: five teams will offer up a cocktail to be judged in categories ranging from "best nog" to "best toddy." After the competition, the festival continues with food from 18 participating local restaurants, an after-party at Barcadia, and plenty more drinks to last you through the evening.