Loire Valley Wines: Stay In The Caves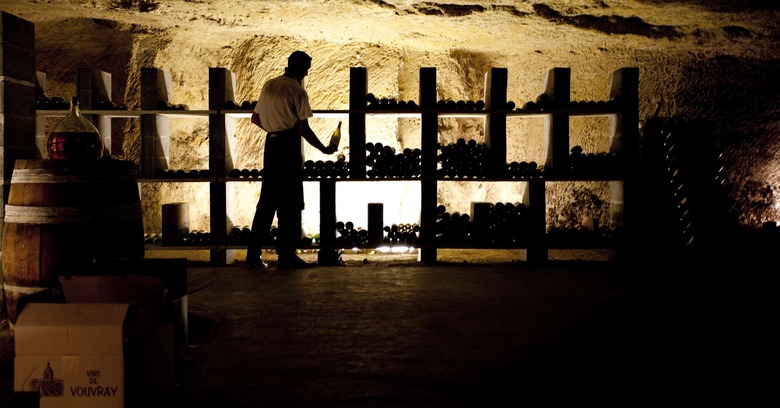 The Loire Valley in central France is known for many things: wines, of course, and gorgeous scenery, great food, fairy tale Chateaux... and caves? Okay, it's not quite as renowned for its troglodyte charms, but we'd argue that it ought to be. Thanks to the region's rich limestone deposits — reflected in everything from the crisp, mineral wines to signature white-stone towns and castles — quarries were once big business. This has left countless carved-out hillsides that are perfect for things like storing wine at constant, cool year-round temperature. This fascinating side of the Loire deserves to see the light of day, so here's a rundown on some of the region's cave highlights:
Les Hautes Roches
This luxury hotel built into a cliffside cave in the village of Vouvray (yes, that Vouvray) is a highbrow caveman (or cavewoman) fantasy come to life. At what is surely the most primitive-seeming Relais & Chateaux property anywhere, you half expect to encounter a saber-toothed tiger wandering the grounds. Many of the guest rooms are carved into actual caves, and many also have views of the nearby Loire River. Of course, the aesthetic leans Stone Age chic, with fur blankets, low lighting and low-slung furnishings. It doesn't hurt that the on-site Michelin-starred restaurant is excellent: Chef Didier Edon is known for his talents mixing land and sea — if scallops are in season, his half-shell scallops with chunks of foie gras, asparagus, grapes and local produce is unforgettable. The excellent wine list offers many selections from the surrounding Touraine and Vouvray regions — all of it, of course, stored in the hotel's sprawling wine cave. www.leshautesroches.com
Wineries with real caves
Conveniently situated next door to Les Hautes Roches is Maison Brédif, where a tour (drop-in or advance notice) includes a survey of its mile-long cave cellars, whose year-round constant temperature of 53 degrees is ideal for aging and storing bottles. The tasting is as much a treat as the underground excursion: Brédif specializes in Vouvray wines, made from 100 percent Chenin Blanc grapes. The classic 2012 has tropical fruit bouquets and is fresh yet soft on the palate — excellent as an apéritif selection with creamy cheeses, or even paired with spicy food. Don't miss the Brédif Brut, the house's sparkling Vouvray, either: it's crisp and citrusy and refreshing. Another excellent winery with a troglodyte tasting room is Domaine Vincent Carême. Carême, a well-respected young winemaker who works with his wife, Tania, is one of the only producers making natural, certified organic wines in the Vouvray appellation. Though production is small, Carême's wines are beloved by connoisseurs. His Clos, made exclusively from the grapes on a walled, two-hectare plot, is exquisite in the 2010 vintage: pale-golden-colored, citrusy and well-structured.
Les Caves des Roches mushroom farm
In Bourré, near Amboise, you'll find this subterranean mushroom farm, another happy casualty of limestone-quarry operations of yore. With 250 miles of caves on several levels, the site is a serious production facility for gourmet fungi including Oyster, Blue Foot (40 percent of the world's supply of this variety is grown here) and Shiitake — all told, over 100 tons of mushrooms a year. Of course, some of this bounty is for sale in the gift shop and on-site restaurants. Tours are available for groups year-round by appointment, and for individuals from March to mid-November. www.le-champignon.com
Troglodytic Valley of Goupillières
In the Middle Ages, peasant farmers occupied these cave houses carved into the hillside in Azay-le-Rideau, not far from Tours, which were rediscovered in the 1960s. A private owner offers tours of three farms, which reveal wells, baker's ovens, grain silos and cattle sheds. There's a casual restaurant on site as well as play areas for children. Open mid-February through early November. www.troglodytedesgoupillieres.fr
Earlier in the Loire Valley Wines series:
Matching Muscadet With Oysters | The Art Of The Apéritif
This post is presented by the Loire Valley Wine Bureau, www.loirevalleywine.
com. Visit us online or on Facebook.