Where To Eat And Drink In Acadiana, The Beating Heart Of Cajun Country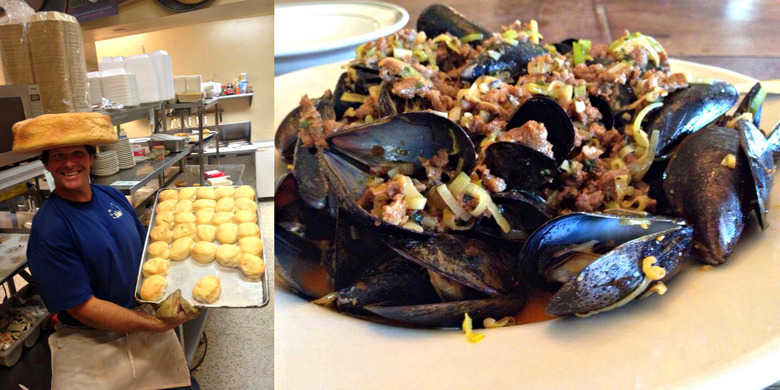 Sure, you're familiar with Nashville and Atlanta. But what about the smaller southern cities packing just as much flavor? In The Hidden South, Chris Chamberlain takes a look at a region of the South that is most certainly worth traveling to for the food.
When most folks think about Louisiana cuisine, New Orleans is the first spot to come to mind. Doubtless, The Big Easy is a culinary hotbed with both old and new restaurants that deservedly draw the attention of the food press. But once you venture beyond the levees of Orleans parish — to where there is often more water than land — the Cajun and Creole influences which inform much of region's food culture can be experienced even closer to the source.
The Louisiana legislature has officially designated 22 parishes (that's counties to you and me) south and west of New Orleans and Lake Ponchartrain as Acadiana. This region is recognized for having strong French/Acadian cultural influences, and the food there can be outstanding. While some of the best dining spots are as casual as you can imagine — with butcher paper covering card tables piled high with boiled seafood and 55 gallon trash cans distributed around the dining room to collect the detritus of a good crawfish pickin' — other Acadiana restaurants are as elegant as the best of New Orleans.
The largest city and cultural center of Cajun country is the town of Lafayette, named after the famed French hero of the American Revolutionary War. The original name of the town was Vermilionville, and one of the finest restaurants in town bears the same name. Cafe' Vermilionville has a gorgeous dining room located in an old inn originally constructed in 1811. Ancient cypress beams and floorboards give a warmth to the ambiance, and a lovely courtyard hosts outdoor dining and events. The cuisine at Café V features classic French dishes and Cajun specialties including two spicy varieties of gumbo. Seafood is prominently displayed, even food from the swamp as opposed to the sea, with turtle and alligator making appearances on the menu.
More down home, but no less delicious, are two other Lafayette staples, Edie's and Prejean's. Edie's doesn't have a website, but you can at least see an occasional update on Facebook. What they do have are amazing biscuits that locals line up for during the breakfast hour. Topped with honey or preserves, or as part of a deliciously lard-laden breakfast sandwich, Edie's biscuits are worth the wait.
Prejean's is a bit more tourist-ridden than Edie's, but they come honestly by their hordes of visitors. The owners built the restaurant as sort of a shrine to Cajun culture, with a stained-glass portrait of the shrimp boat Walter Inez dominating and decorating the dining room in reverence to the shrimpers and fishermen who provide the raw materials for great Cajun cuisine. There's also a huge stuffed alligator named "Big Al" who was taken from a nearby swamp, so be kind and try not to eat your order of Alligator Grand Chenier in his view. You do not want to miss the gumbo at Prejean's, and if you become addicted to the spicy bowl of roux-ination, you can order it by the gallon to ship home.
Just a short drive from Lafayette is the crawfish capital of the world, Breaux Bridge. Although the venerable location of Cajun stalwart Mulate's in Breaux Bridge closed a few years back, a New Orleans outpost still exists. Now Café Des Amis carries the Cajun/Creole torch in the town. Diners enjoy live zydeco music while they feast on Gulf seafood and catfish dishes, and the restaurant's version of crawfish pie is exalted, with crawfish etouffee nestled between two sheets of flaky, buttery puff pastry. BBQ shrimp is definitely also worth the mess, although wearing a white shirt to dinner is not advisable.
Closer to New Orleans, but still within the Acadiana territory, in the small hamlet of Galliano is Alzina's Kitchen, acclaimed as one of the finest Cajun restaurants in the world. Although "restaurant" is probably a stretch, since Alzina Toups doesn't exactly run her kitchen like your normal eatery. Instead, prospective diners call as far as a year in advance for a chance to dine with Toups as she serves them at mismatched tables in the front room of a sheet-metal building that was converted from a welding shop. Hours (and even nights) of service are irregular, since Toups only cooks when she feels like working and has only recently brought in her daughter to help out in the kitchen after years of working alone cooking classic Cajun dishes whose recipes only exist within the mind of the chef. But hey, she's in her 80s now, so she deserves a little help.
Toups takes advantage of the best seafood coming in on the trawlers that work the nearby bayous and lakes. It doesn't hurt that her son captains one of those boats and saves the best for his mama. The ever-changing menu features dishes that won't ever appear in the tonier restaurants of New Orleans. Homey long-lost recipes like drop-egg potatoes and soft shell shrimp make the drive back to New Orleans a sleepy one for culinary tourists who make the trip. The Southern Foodways Alliance awarded Toups with their Ruth Fertel Keeper of the Flame Award in honor of her lifetime of keeping the culinary traditions of Acadiana alive. She won't work forever, and her daughter is only just starting to pry some of the recipes out of her, so you'd better go visit soon!
1304 W Pinhook Rd
Lafayette, LA 70503
337-237-0100
Edie's
258 Bendel Rd
Lafayette, LA 70503
337-235-4239
Prejean's Restaurant
3480 NE Evangeline Trwy
Lafayette, LA 70507
337-896-3247
Café' Des Amis
140 E Bridge St
Breaux Bridge, LA 70517
337-332-5273
Alzina's Kitchen
117 E. 132 St.
Galliano, LA 70354
985-632-7200
Read more The Hidden South columns on Food Republic: