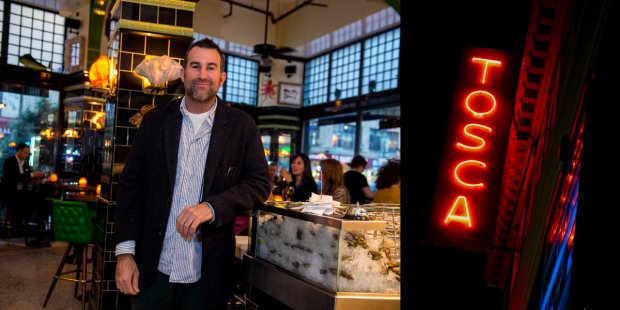 New York City restaurateur Ken Friedman announced his plan last January to take over legendary San Francisco bar Tosca with his longtime chef-partner April Bloomfield. The 93-year-old sometimes café and celebrity watering hole is a Bay Area legend, inviting the likes of Johnny Depp, Sean Penn and Bono in for a private drink (or 12). But recently the North Beach boite had fallen on hard times and was in need of a re-boot. As a California native and longtime record industry executive, with some serious SF time under his belt, Friedman seemed like an ideal fit. He and Bloomfield run NYC's Spotted Pig, the Breslin and John Dory, with the Pig's 3rd floor private dining room serving similarly as an A-list clubhouse.
But like horse racing and Alabama national titles, there is never a sure thing in the restaurant business. And though Bloomfield worked at London's acclaimed Italian restaurant River Café, she had yet to run a restaurant with that sensibility in the United States. Plus, even with past Bay Area mailing addresses (Bloomfield previously worked at Chez Panisse in Berkeley), they were still a couple of New Yorkers rolling into town. The population was skeptical. "It's whatever April wants to do, I just get out of the way," said Friedman of his chef's menu in an interview soon after the announcement. And like a good record producer, he stuck to his guns and let the artist create — and found himself a hit.
Writing in the San Francisco Chronicle, the city's top restaurant critic Michael Bauer has awarded the restaurant three stars, raving that the room remains unchanged (longtime owner Jeannette Etheredge still works the door), while the food excites on multiple levels. He's particularly enchanted with the chef's nose-to-tail impulses, as well as the pastas.
You can read the full review here.
---
Read more about Bay Area restaurants on Food Republic: