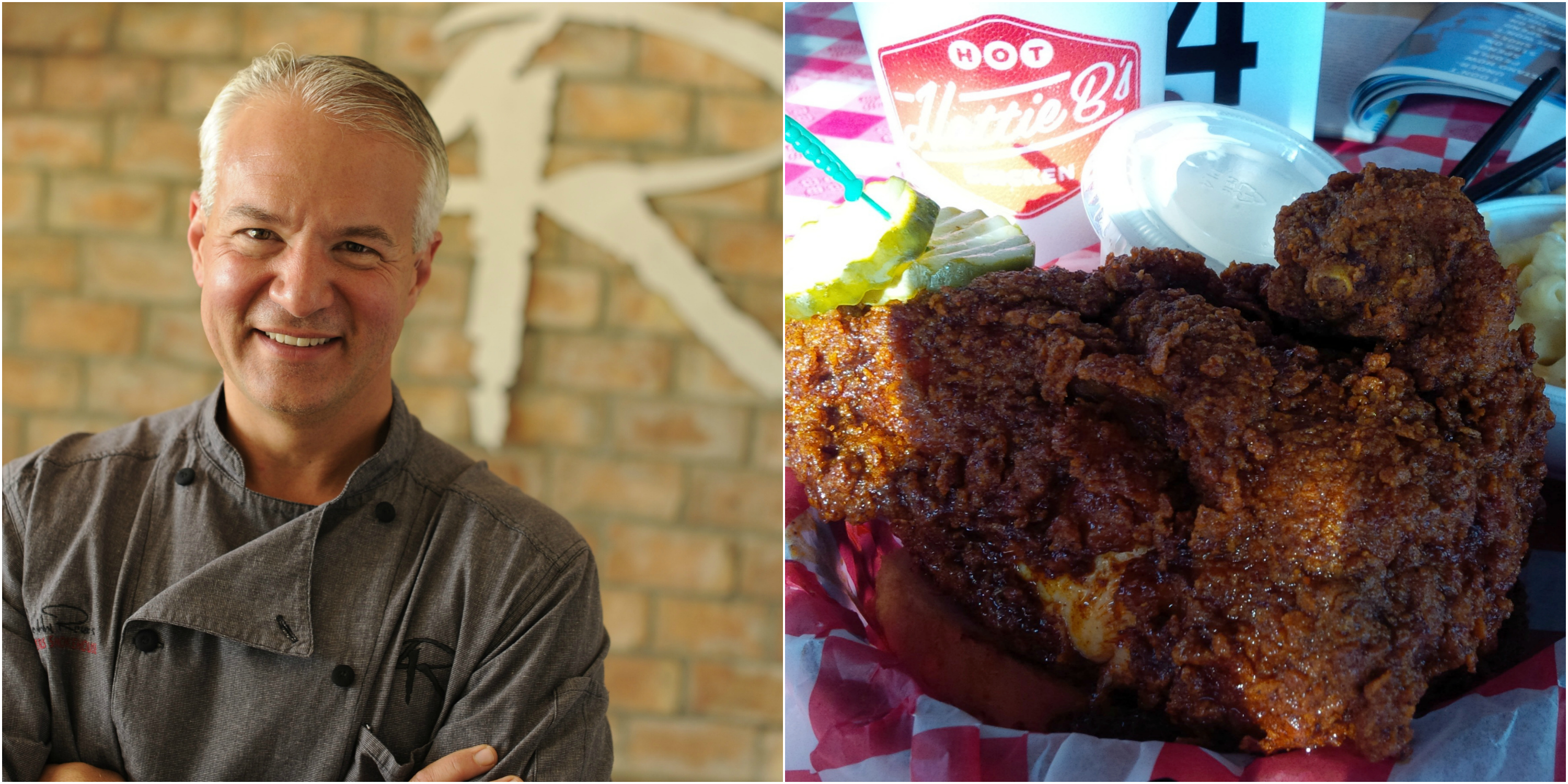 Chefs love to travel — for inspiration, to experience the cuisines of other cultures or just to get away from the heat of their own kitchens. When they return, we hit them with some questions — where'd they stay, what'd they do and WHAT DID THEY EAT?!
Florida chef John Rivers can best be described as a jack-of-all-trades. The former president of a $1.4 billion pharmaceutical operation, Rivers ended his career in healthcare to open five locations of 4Rivers Smokehouses, in Winter Park, Winter Garden, Longwood, Jacksonville and Gainesville, Florida. The Texas-inspired barbecue pits have been among the fastest-growing restaurants in the Southeast.
The chef just released his first cookbook, The Southern Cowboy, and is planning to unveil The COOP — currently in construction — a new concept highlighting traditional Southern comfort foods, in Winter Park in early 2014. In preparation for his opening, Rivers just embarked on three-city research trip to find the best fried chicken in the South. Sounds like one heck of a "research" trip to us.
Where are you just back from?
We just returned from a two-day, 1,491-mile food pilgrimage through the Southern food meccas of Birmingham, Nashville and Atlanta in search of the best fried chicken and comfort foods man can enjoy. I typically do a few of these trips a year, as I'm constantly developing recipes and in search of inspiration. Both were the case for this particular trip, as we're finalizing the menu for our newest restaurant concept, The COOP.
So was it all business, or pleasure as well?
Friend, if eating isn't for pleasure, then I'm in the wrong business.
What were some of the highlights of your trip?
One of the many highlights included meeting one of my favorite chefs, Frank Stitt, while enjoying stone-ground baked grits with country ham, mushrooms, thyme and parmesan at Highlands Bar and Grill in Birmingham. The awesome meal could have only been topped by Stitt's genuine Southern hospitality.
We enjoyed amazing restaurants such as Nashville favorites Loveless Café, Hattie B's Hot Chicken and Gladys Knight's Chicken & Waffles, and my friend Ford Fry's concept JCT Kitchen and Bar in Atlanta. I can say that all of these were inspiring.
A personal highlight was introducing my team to the Pot Likker with Cracklin' Bread at the infamous Mary Mac's Tea Room in Atlanta. There are few other dishes that exemplify Southern comfort food, and this Pot Likker is one: by far a favorite of mine. From the execution of the Southern flavors to the creation of a southern "proper" setting, few do it better than Mary Mac's Tea Room.
Lowlight?
Unfortunately, we're typically the most disappointed with the more famous, staple joints. I believe in part, the allure of the comfort in tradition outweighs the demand for exceptional cuisine.
And the best fried chicken?
Our favorite fried chicken was found in Birmingham, oddly enough, at a Mexican joint called Little Donkey, which is owned by a few guys that are 'cue fans. The well-balanced flavors of the caramel colored crust complemented the moist, buttermilk-brined chicken perfectly. This is definitely a must-stop for anyone on a chicken run.
What was your best overall meal on the trip?
From a taste perspective, the Highlands Bar and Grill and the JCT Kitchen were tops. From an overall Southern/soul food experience, Mary Mac's wins gold. We enjoyed fried chicken, butter beans, meatloaf, patty melts, smothered chops, pot pie, chicken and dumplings, and braised oxtail served over rice. It was nirvana.
What will you incorporate from your trip on your restaurant menu?
Mary Mac's Pot Likker and JCT Kitchen's deviled eggs were some of the best I've ever had. Variations of both of these have already been added to the COOP's menu.
I also gained insight and an appreciation for many of the Southern restaurants' ability to offer a signature menu complemented by a rotating or seasonal menu. Given the vast number of items I'd love to include on The COOP's menu (to the chagrin of my operating partner), I've decided to incorporate this approach in our strategy.
Where do you want to travel to next, and why?
If I've learned one thing over the years, it's to go straight to the source for "the right" flavor profiles of regional favorites. Because I'm highlighting a few of my Cajun favorites on The COOP menu, such as Po' Boys, Red Beans and Rice, and Crawfish Etoufee, it only makes sense that we do extensive research and development in New Orleans. In January 2014, I'm taking The COOP management team to New Orleans for a two-day eating extravaganza. In a city such as New Orleans, I fear we may never make it out!
Read more Just Back From columns on Food Republic: