How To Make Your Own Hibiscus Syrup For The Best Rum Punch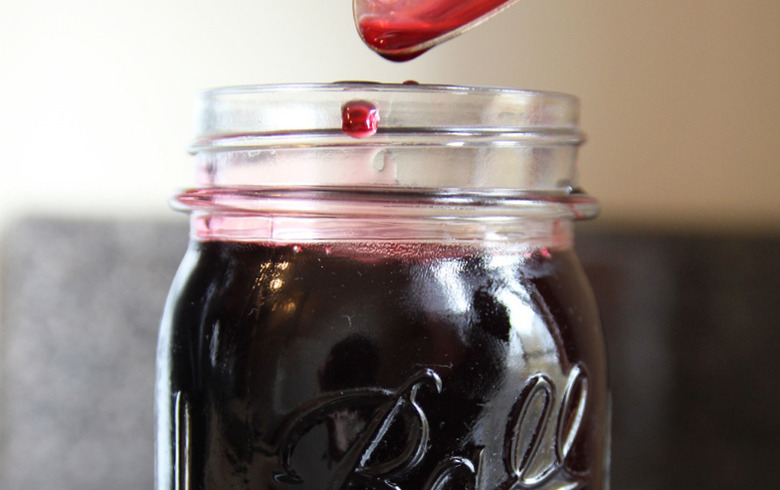 With their shared Caribbean lineage, sorrel and rum have a natural affinity towards one ano
Growing up in New York City has its advantages, including exposure to the city's incredible variety of international foods. Back when I was around 10 years old, my foodie parents discovered a hole-in-the-wall Jamaican spot in an area of pre-gentrified Brooklyn. The tiny restaurant served up rich shrimp curries, tender goat stews and moist jerk chicken with a charred exterior and a lingering heat. As a family, we got hooked, making the trek down about once a month. Each of these dishes was a revelation for me, tasting impossibly exotic yet somehow comfortingly familiar at the same time. And, on the café's beverage menu, I discovered one other item that I fell in love with and have sought out ever since: sorrel.
This deep crimson drink native to the Caribbean islands is brewed from dried hibiscus flowers, sweetened with brown sugar, infused with spices such as cinnamon and clove, then served over plenty of ice. It's an excellent thirst-quencher, one that's reminiscent of iced tea. Its flavor is only outmatched by its color: a beautiful blush of pink that enhances the drink's exotic appeal.
Recently, while shopping at the food co-op I belong to, I noticed a big bag of dried hibiscus flowers and was seized with inspiration. I knew that sorrel would be right at home in a cocktail, its sweetness cutting through the fieriness of hard liquor. The first spirit that came to my mind was rum: clearly, with their shared Caribbean lineage, sorrel and rum would have a natural affinity towards one another.
A tall, ice-cold sorrel spiked with a shot of rum would make an excellent summer cooler. But here we are in November, often craving hot drinks, not cold. So, in deference to the season, I brewed a sweet hibiscus syrup that I add to steaming rum punch before dividing it between mugs. It's a bracing, warming tipple perfect for the cold winter nights ahead.
Hibiscus Syrup
Servings: 4 cups
Ingredients
3/4 cup dried hibiscus leaves (available at Whole Foods, Caribbean groceries and health food stores)
4 cups water
1 cup sugar
1/2 cup dark brown sugar
1-inch section fresh ginger, crushed
2 whole star anise
Peel from 1 lemon, removed in strips using a sharp peeler or paring knife
Pinch of salt
Directions
Combine all ingredients in a medium saucepan set over high heat. Bring to a boil, then drop heat to low and simmer, uncovered, for 10 minutes.
Remove saucepan from heat, cover, and let steep for 5 minutes. Place a fine-meshed sieve over a large measuring cup or bowl with a pour spout and pour syrup through. Let drain completely and discard flowers and spices.
Pour the syrup into a clean, dry 32-ounce ball jar with lid, cover, and let cool. Store syrup in refrigerator for up to a year.
Hibiscus Rum Punch
Servings: 2 drinks
Ingredients
6 ounces water
6 ounces light rum, such as Appleton
4 tablespoons hibiscus syrup
2 lemon slices, for garnish
Directions
Combine water and rum in a small saucepan set over medium heat. Bring to a simmer, add hibiscus syrup, and stir to combine. Divide punch between two mugs, garnish with lemon slices, and serve.
Check out these how-tos on Food Republic: