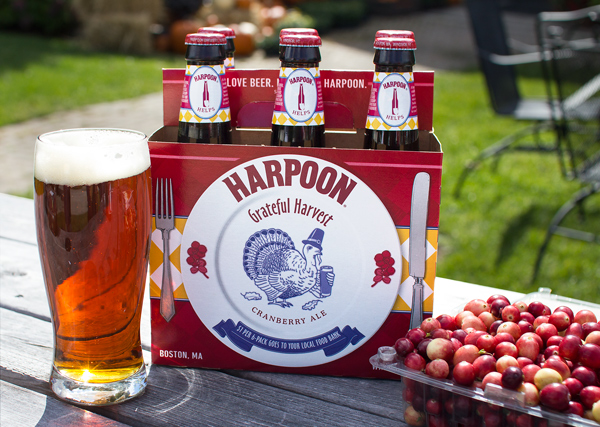 Thanksgiving is one of the few holidays centered on food, and while the turkey may be the star of the show, all too often there's a tendency to forget about proper pairings (what with 12 people cooking and/or fighting). While wine or liquor certainly have their benefits, it's hard to imagine a more perfect complimentary flavor than the maltiness of beer with the iconic heartiness of Thanksgiving dishes — the sweetness of sweet potatoes with marshmallow, the tartness of cranberry sauce, the breadiness of the stuffing and of course, the juiciness of the turkey.
While beer is slowly earning its due as a perfect food pairing, especially with diverse spreads like a Thanksgiving feast, this is your chance to surprise everyone by matching each course with a different type of beer. It's not an easy task (the shelves are flooded with winter and fall seasonals), but keep it simple and you'll nail it. Here are the beers you should pair with Thanksgiving dinner.
1. Harpoon Brewery: Grateful Harvest Cranberry Ale
There's always that "waiting period" when the food isn't quite ready — someone undoubtedly forgot to put the bird in on time — so you want something to help curb the guests' appetite without diminishing it. This beer is a perfect way to welcome guests while getting your taste buds ready for turkey and fixins, with its sweet maltiness and hint of fresh cranberry tartness.
2. The Bruery: Autumn Maple
Yes, pumpkin beers are still hanging around, but try something a little more in-line with the meal. If you want some real Thanksgiving flavors, this beer has them all: yams, molasses, maple syrup and spices lend themselves to prepping your palate. It's not overly sweet and would be delicious with the big meal, but I prefer it with candied nuts and other rich bites that are served pre-feast.
3. Brewery Ommegang: Scythe and Sickle
This is one of my favorite seasonal beers and it's just perfect for Thanksgiving. The amber ale is packed with malty goodness from rye and oat flakes and tastes similar to a mashup of the bready maltiness of brown ale with the spiciness of a saison from Ommegang's fantastic Belgian yeast. It's perfect for hearty side dishes, but it also won't overwhelm the succulent flavors of the turkey.
4. Brasserie Dupont: Saison Dupont
With so many incredible farmhouse ales coming out of the U.S., it's easy to forget about the Belgians that inspired them. Many have high levels of wild yeast which won't necessarily tickle every palate at the table, but here we have a truly pleasing Belgian classic: a rustic, spicy saison with a delicious citrus fruitiness. It's dry with a beautiful, delicate champagne-like carbonation and enough bready malt to balance things out. This would pair well with any turkey, but at 6.5% ABV it would definitely cut the fat of crazier variations – turducken, I'm looking at you.
5. Founders Brewing Company: Breakfast Stout
Despite how much we battle against it, eating as much tryptophan-laced bird as one does on Turkey Day, it's just really difficult to stay awake and digest after a massive meal. If you find yourself on the verge of nodding off, a little breakfast stout is what you need to push on through the dessert course. A variety of coffee and chocolate added to the brew results in something you could probably call dessert on its own, but is absolutely delicious with cake or pie! Serve this on the warmer side of cool and watch as even professed stout haters fall in love.
6. De Struise Brouwers: Pannepot Old Fisherman's Ale
Beers from De Struise tend to be somewhat harder to locate but we've given you a few days' head start – so here's your assignment! Belgian quads are perfect as a digestif to help kick back from all the food you just ate. This one is huge at 10% ABV but it's absolutely delicious – spicy and roasty with tons of dark fruits like raisins and figs, and just a touch of booziness. Complex and one of the best examples of a quad you can try – treat yourself for the holiday!
Check out these beer pairing stories on Food Republic: