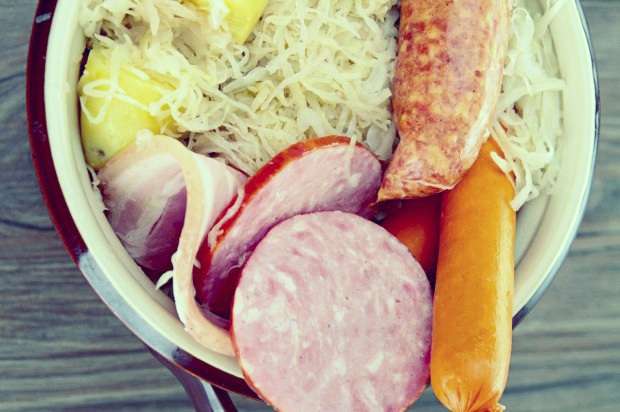 It's starting to feel like winter here in NYC and elsewhere in the north, and that means the heavier beers and heartier foods are about to grace our tables in festive indulgence. While you may immediately think of turkey as the quintessential fall food, we're holding off for a week to bring you a recommendation from the Alsace region of France, choucroute garnie. In French, choucroute literally means "dressed sauerkraut," and this dish comes dressed to the nines. I recently got to taste a fine example of choucroute at the International Culinary Center's student-cheffed restaurant, L'École. Spiked with duck fat and beer — and generously topped with housemade frankfurters, garlic sausage and succulent smoked pork shoulder — this is the kind of kraut that doesn't mess around.
Traditionally the dish is paired with an Alsatian Riesling (or other whites from the region) to balance heaviness with acidity and sweetness. On the beer side, L'École paired it with a Jenlain Blonde Beer. It was light, crisp and citrusy while still carrying enough alcohol (around 7.5%) to cut through the meat's fattiness. It was a great pairing. This all got me thinking. Here are five additional beers to sip with your choucroute garnie:
Brewery Ommegang: Bière D' Hougoumont
They might be located in Cooperstown, NY but their take on a French Bière de Garde is straight out of a French farmhouse, made with French ale yeast and aged on oak and maple. It's heartier and maltier than some examples of the style, but still quite sweet — it won't make you miss that Riesling one bit!
Brasserie Castelain: Blonde
If you're feeling like a French beer to pair with this traditional dish, Castelain Blonde is a great choice. It's dry with hints of fruit like green apple, grape, a hint of lemon, plus a substantial floral hop presence. It's a touch tart, in a good way and really refreshing for 6.4%.
Avery Brewing Company: Ellies Brown Ale
Too often brown ales get passed on for being one-dimensional but in truth, they're a perfect pairing for smoked pork. Ellies is perfect because it's heavy on the caramel and roast malts without being too espresso-forward. A clean complement to the meal if you're in the mood for a darker beer.
Bayerische Staatsbrauerei Weihenstephan: Weihenstephaner Hefeweissbier Dunkel
You don't choose a beer with a name that long unless it's pretty damn good, and this one delivers. Where a lighter wheat beer might overwhelm with the traditional flavors of coriander or citrus, this darker style shines. From the zing of acidity from the wheat to the highly desirable caramelly roast, you'll want a German-style sausage immediately.
Great Lakes Brewing Company: Eliot Ness
A Vienna Lager is a great lighter alternative which doesn't skimp on the flavor. Eliot Ness by Ohio's Grate Lakes Brewing in particular is a standout for its sweetness as well as its bready, toasty malts which pair great with all manners of salty pork. While it has a decent hop presence, it's well-balanced and won't overwhelm.
More beer pairings on Food Republic: