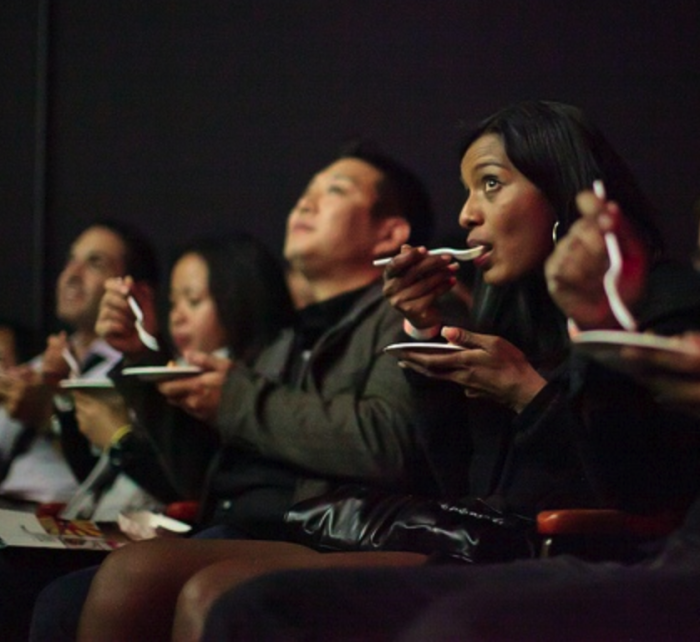 Gone are the days when filmgoers are left empty-bellied and salivating at the conclusion of a food-focused documentary. At least this is the hope of the Chicago Food Film Festival, which allows guests a multi-sensory experience. As in, there will be tastings of the food after a film's screening. This year's festival takes place this week, November 20-23, and will screen over 30+ films, including 22 premieres.
Travel Channel host and documentary filmmaker George Motz, along with co-creator Harry Hawk, established the festival in Brooklyn in 2007 as a venue to showcase documentaries, features and short films involving food. Since then, the Festival has expanded to Chicago and Charleston. Produced in association with the James Beard Foundation, the events in Chicago will benefit local organization The Good Food Project.
We've already highlighted the selection of featured films. Turns out that there are some pretty cool events that will also take place over the course of the four-day festival, many of which include tastes from some of the city's best spots. Here is a list of the five parties you won't want to miss. For more information and to purchase tickets, visit the festival's website.
1. Chicago Food Film Festival Kick-off Party
Wednesday, November 20
Doors open at 6:30 p.m.
The official kick-off party for the 2013 Chicago Food Film Festival will feature the first authentic ramen burgers ever served in Chicago. Meet and eat with ramen burger creator Keizo Shimamoto. Plus takoyaki, oysters from Shaw's, treats from Christina Tosi's Momofuku Milk Bar and more.
2. Untitled II
Thursday, November 21
Doors Open at 6:30 p.m.
An evening featuring the art, craft and inspiration behind great food and the wine of Michel Chapoutier. VIP pre-party featuring select M. Chapoutier wines paired with tastes from The Social Table. After-party to feature David Burke's Primehouse, Artisanal Wilmette and more. Hosted by David Rosengarten.
3. The Food Porn* Party Chicago
Friday, November 22
Doors Open at 6:30 p.m.
Featuring Food Porn star Larry Cauldwell and his Fondue Lounge. VIP pre-party featuring tasty bites from Lee Anne Whippen and Chicago Q plus tastes from Artisanal Wilmette and David Burke's Primehouse at the after-party.
4. Edible Adventure #009 + Matt Timms' Sugar Takedown
Saturday, November 23
Doors open at Noon
Matt Timms returns for an after-party takedown. This year…sugar! Taste sweet treats from 20 contestants. You pick the winner.
5. Farm to Film to Table + The Lowcountry Shrimp Boil
Saturday, November 23
Doors Open at 7:30 pm
An evening of local and sustainable foods and films, plus The Chicago Food Film Festival Awards Ceremony. VIP pre-party featuring dishes from Chef Art Jackson/Pleasant House Bakery.