We Test Salt 'N Straw's Awesome Thanksgiving-Flavored Ice Creams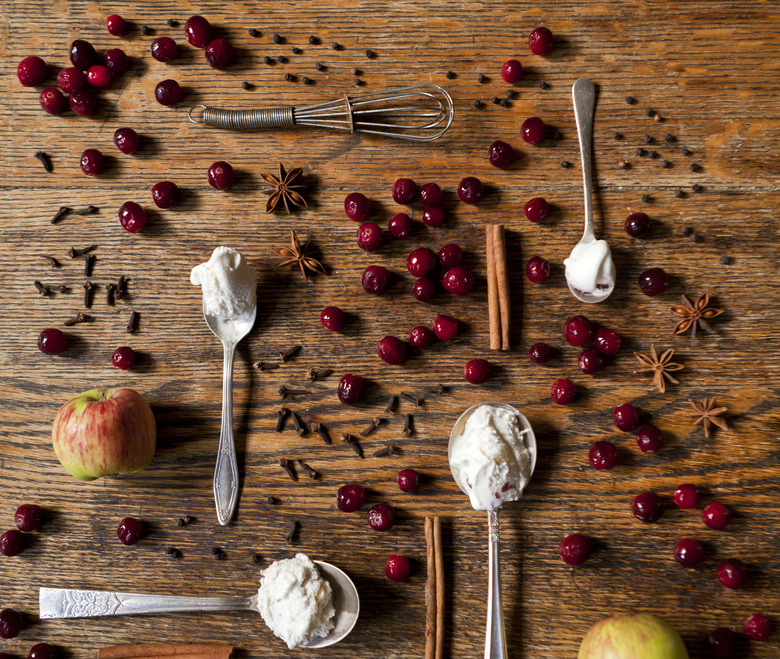 For just a moment, transport yourself into the mind of an 8-year-old (unless you are an 8-year-old, in which case, whoa – you are seriously precocious to be reading this). Imagine Thanksgiving dinner. You've got your turkey, your stuffing, a sweet potato casserole, a pumpkin pie and maybe even a little mincemeat pie action if your family happens to have emigrated on the Mayflower. Now try to imagine how you could make that classic Thanksgiving dinner better. Yes, deep-frying everything is an option, but an even better option? Turning everything into ice cream.
That's exactly what Portland-based ice cream purveyors Salt & Straw are doing for Thanksgiving this year. They've created an entire Turkey Day menu out of that creamy frozen goodness. For your side dishes, they're serving sweet potato casserole and stuffing. The Sweet Potato & Candied Pecan flavor takes the iconic casserole and creamifies it. Pralines, pecans and maple-infused mini-marshmallows are folded into sweet potato ice cream to make a composed bite that's just like the real thing, but colder. Apple Cranberry Stuffing isn't as close to the original, but still good. Instead of actual stuffing, they use chunks of bread pudding and the ice cream itself is made slightly savory with an infusion of Oregon-made celery soda. Sounds weird, tastes good.
Speaking of weird, the centerpiece of this ice cream extravaganza is Salted Caramel Thanksgiving Turkey. Seems foul, but the fowl just might wow you. First of all, the turkey flavor here is very subtle and comes to you via two delivery systems: the caramel itself is made from turkey fat and there are crispy pieces of brittle made from turkey cracklings. Fried turkey skin brittle doesn't show up much at the T-giving table... but it should. Somehow the whole thing works – as long as you don't get hung up on the fact that you're eating turkey fat in ice cream.
For dessert, Salt & Straw is serving two pies in pints. The Mincemeat Pie flavor actually tastes like a frozen version of mulled wine with a super spiced ice cream base and little pieces of pie crust combined with brandy-soaked fruit. Pumpkin Custard & Spiced Chevre tastes like a pumpkin pie ran into a cheesecake and decided it was cool with that decision. The best parts of this one are the little ribbons of actual pumpkin pie filling. All five pints are available individually in Salt & Straw scoop shops or ordered online as a whole set for $65 (be wary, though, shipping is expensive). If you live in Los Angeles, they're also available for pick-up at Joan's on Third.
The idea itself is cool, but even cooler is the fact that Salt & Straw is using the TOMS model to really celebrate the spirit of Thanksgiving and that means for every pint you buy, they're donating a pint to the Oregon Food Bank. Eat ice cream for a good cause? That's something everyone can be thankful for. Now stop pretending you're 8 and go back to work.
Salt & Straw
2035 NE Alberta Street
Portland, OR 97211
503-208-3867
Gear up for Thanksgiving with these recipes on Food Republic: