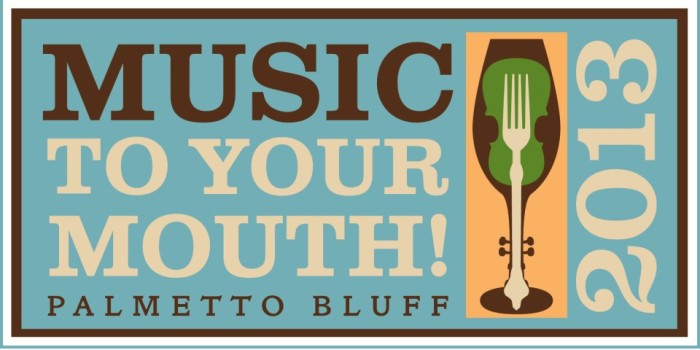 There's no better remedy for uninspired mealtimes than getting out of the cubicle and into a trendy food festival. This week's events celebrate wine, art, chocolate, music and basically all else that is good in the world. Indulge your surrealist sensibilities alongside celebrity chef concoctions at the St. Pete & The Bay Festival of Food, Wine and the Arts, or judge for yourself who makes the best mole and truffle at the Austin Chocolate Festival. At Music To Your Mouth, you can take a culinary cruise, rock out to tunes, run a 5K and sip a Bloody Mary at the finish line. Your week just got a lot more exciting.
Savannah Food & Wine Festival
Savannah, GA
Nov. 11-17
The Savannah Food & Wine festival celebrates Southern hospitality, and the event-packed, six-day itinerary will make guests feel right at home. The festival kicks off with a farm-to-table wine dinner featuring chef Elizabeth Terry and master sommelier Robert Jones and continues with cooking classes, movie screenings, grand tastings and silent auctions. Explore the city's charm with a River Street Wine Stroll featuring wines, spirits, Stella Artois beer and small bites, and a Riverboat Wine & Dinner Cruise with a menu from Food Network's Anthony Lamas and vintner Joy Sterling of Iron Horse Vineyards.
Worlds of Flavor
Napa Valley, CA
Nov. 14-16
The Culinary Institute of America's Worlds of Flavor International Conference and Festival connects 700 chefs, restaurant owners, beverage producers and distributors and foodservice managers from around the world. Attendees can participate in conferences, tastings, communal dinners and seminars like "Reinventing Dim Sum," "The Ocean's Pantry" and "Advanced Fermentation Techniques." Don't worry, it's not all learning — guests can taste the food (some of which is from three-star Michelin restaurants) after watching its preparation.
Enjoy Arts & Tastes: St. Peter & the Bay Area Festival of Food, Wine and the Arts
St. Petersburg, FL
Nov. 15-17
As if St. Petersburg's beaches weren't beautiful enough, this city's got a killer arts scene to boot. This festival is all about celebrating the Bay Area's local cuisine and impressive art collection. At the "Sense Immersion Dinner," celebrity chef Todd English and glass artist Duncan McClellan team up to craft a feast for the eyes and palate. Prominent local chefs will concoct dishes inspired by the sensibilities of visual artists, and jazz music from Harrison Light Trio will complete the ambiance. Guests can beat late-night hunger pangs at the festival's "Nocturnal Cravings" where dessert chefs will serve dishes inspired by surrealist masterpieces at the Dali Museum. One chef draws upon Dali's motif of the egg by serving truffle flan served in eggshells with blood-orange sorbet and pear panna cotta. Who knew modern art could be so delicious?
Austin Chocolate Festival
Austin, TX
Nov. 16-17
The 6th Annual Austin Chocolate Festival will bring together chocolatiers and chocolate artisans from bakeries, restaurants and catering companies across the state to compete in a series of competitions. Categories include "Best Mole," "Best Truffle" and "Most Creative Dessert," and lucky for guests, the experts will be giving out samples of their creations along the way. The chocolate isn't the only sweet thing about the festival: the events also helps raise money and awareness for multiple sclerosis and breast cancer.
Music To Your Mouth
Bluffton, SC
Nov. 19-24
The Music To Your Mouth festival is all about celebrating the tastes of South Carolina lowcountry and the "culinary rockstars that wow your taste-buds." The festival brings the state's best and brightest chefs, vintners, brewers and artisans together for six days of events. On the "Smoke & Barrel Cruise" hosted by distiller Julian Van Winkle (yup, of those Van Winkles) and ham-curer Allan Benton, guests can take in the views on a two-hour tour of the May River while noshing on bacon and "sippin' on some Pappy." More events include the "Hair of the Dog 5K "where guests are rewarded with Bloody Marys at the finish line, an oyster roast complete with live music and cocktails, and then, finally, the weekend wraps up with a "Biscuits and Blues" brunch so guests can fuel up before hitting the road.
Upcoming:
Flavor! Napa Valley
Napa Valley, CA
Nov. 20-24
The third annual Flavor! Napa Valley festival will offer guests everything one could wish for from a wine country food festival with an added feel-good emphasis on sustainability that will make the wine go down extra smooth. Events include the "Terrior-to-Table: Farm, Cellar and Kitchen Experiences," where winemaker Danielle Cyrot will lead guests through CADE Estate Winery's cellar, teaching them the techniques involved in sustainable wine production. A VIP wine and cheese tasting will follow the lesson. At "Wild in Napa Valley: a Hands-On Workshop in Preserving Foraged Foods," Huntress Connie Green and Chef Sarah Scott, authors of The Wild Table: Seasonal Foraged Food and Recipes will teach guests how to make preserved elderberry shrub and pickled chanterelles. Carefully selected wines from Michael Mondavi Family Estate pair with the dishes work to the bring out the food's wild side.
Chicago Food Film Festival
Chicago, IL
Nov. 20-23
Brooklyn's own Food Film Festival made its annual debut in New York City in October, and now it's moving to the Windy City. At Wednesday night's kickoff party, Chi-town residents will get their first taste of the authentic Ramen Burger while watching Biting Into The Ramen Burger on the big screen. The rest of the weekend's films are categorized by theme such as "Farm to Film to Table" and "The Food Porn Party," which will features films ranging from Fondue to Beer Braised Ox Cheek to Three Ways.
Barbados Food & Wine And Rum Festival
Barbados
Nov. 22-25
If you find yourself on the island of Barbados, a) lucky you and b) you'd better check out what the Food & Wine And Rum Festival has on tap. The weekend is packed with cooking demos (led by Anne Burrell, Mark McEwan and Marcus Samuelsson), wine seminars and many a cocktail party featuring numerous varieties of the island's famous rum. Guest will even get the chance to meet Mount Gay Rum Ambassador Chesterfield Brown while sipping the brand's most exotic blends.