10 Things You Need To Know About Champagne And Sparkling Wine. They Are Different.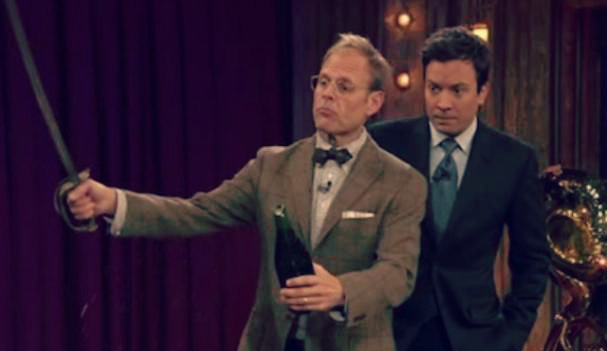 For those who hear the word "flute" and think of Jethro Tull, the world of sparkling wine can seem overwrought, with all the high price tags and superfluous capitalization. But the sea of sparkles is vast. From undiscovered grower Champagnes that cost less than $50 a bottle to emerging wine markets with effervescence to spare, there is more to bubbles than meets the Napoleonic saber. Here are 10 things you need to know about Champagne and sparkling wine this holiday season.
1. On the (upper) case: Only wines made with AOC grapes from the Champagne region of northern France can technically be called Champagne. The rest are officially sparkling wines. Because sparkling wines sold in America are often incorrectly marketed as "champagnes," importers, vintners and other people who take sparkles seriously tend to use a capital C to differentiate.
2. Crimean state of mind: For years, Soviet rule limited alcohol consumption and destroyed many vineyards across modern-day Ukraine. Now, Ukranian sparkling wines are on the rise. Look for bottles made with pinot blanc and aligote grapes.
3. American innovation: Northern California wine country is known for big reds like cabernet, but there are also some labels quietly producing crisp, clean sparkling wines. When it opened in Yountville 40 years ago, Domaine Chandon was the first sparkling wine house founded by a French producer (a little joint called Moet). Napa's Domaine Carneros is the U.S. arm of Champagne Tattinger. Not to be outdone, neighboring Sonoma has the Freixenet-owned Gloria Ferrer, and the highly accessible Breathless, a label started by three local sisters with bottles of brut starting at just $25.
4. Keep on growing: Bottled by small-batch, family-run vineyards, grower Champagnes (a.k.a. "farmer fizz") are made from the same top-tier grapes in the same terroir-driven soil as big brands like Moet & Chandon, but are sold at a fraction of the cost. Look for the initials "RM," or récoltant manipulant, on the label. Then, grab it tight and don't let go: less than 10% of the 2,000 or so growers in Champagne export to the United States, so these well-priced, well-ranked bottles go fast.
5. The Hangover is real: It is true that sparkling wines cause hangovers, but not for the reason one might think. The sugar content is less of an issue than the bubbles. Effervescent drinks are absorbed into the bloodstream more quickly than flat ones, meaning Champagne hits you harder than, say, a glass of Bordeaux. That said, the effect is the same as a Jack and Coke, or any spirit mixed with carbonated soda.
6. Brut strength: Deciphering labels, particularly those written in other languages, can be tricky. Memorize a few key words, though, and you can do less thinking and more drinking. Bottles labeled "Brut" are dry, with very little added sugar, and account for a whopping 95 percent of the Champagne sold in the U.S. is Brut. They are followed by "Demi-Sec" bottles, or moderately dry. The seemingly self-explanatory Extra-Dry classification is indeed the driest, but calorie-counters note that there is still a small amount of added sugar.
7. Size matters. So does stamina: A good glass of sparkling wine has ongoing streams of tiny bubbles. A lower-quality wine has large bubbles that quickly dissipate. Tiny bubbles pick up flavor and aroma molecules as they rise to the top of your glass, giving good sparkling wine its distinctive "bite." Their presence is also a sign of age — the traditional Champagne method includes a double fermentation process, which is a labor-intensive way of ensuring tiny bubbles that are good to the last drop.
8. Jewel of the crown: The rocky shores of the United Kingdom do not seem the stuff Champagne dreams are made of, but the conditions and composition of southern English soil are nearly identical to those of Champagne, France. Sussex — and Hampshire Downs–based labels like Coates & Seely and Nyetimber — now produce internationally award-winning sparkling wines, sometimes embarrassingly referred to as "Britagne."
9. Feel the chill: It's tempting to keep spare bottles of bubbles lined up in your fridge. Ignore that impulse. "Optimal storage conditions are 50 to 55 degrees," says Carl Heline, Director of Krug Champagne. The average American refrigerator, on the other hand, hovers at around 35 degrees. Heline also advises storing bottles on their sides, so the wine can touch the cork, and keeping them away from direct light.
10. Meal ticket: Sparklers don't need to be limited to oysters and appetizers. "Champagne is one of the most versatile wines in the world," adds Heline, who may be biased but is totally onto something. Sip Brut bottles with everything from insalata caprese to spiced popcorn to tangy gazpacho. Rose Champagnes tend to have more body, and pair well with hearty fare like lamb tagine or roast venison.
Read these Champagne stories on Food Republic: