Proud Alum: Danny Ye On The Joys Of Carne Asada Tacos And Dirty Dogs At USC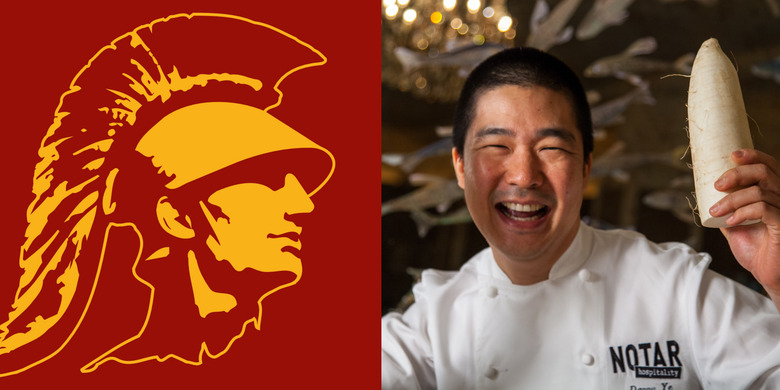 College football has kicked off in a big way this year. What should you eat while watching your school's team? In Proud Alum, we talk with a chef about their memories of tailgates past, and ask for their best parking lot recipe.
When Danny Ye was grilling up carne asada for tailgate tacos with his friends at the University of Southern California, he wasn't thinking he'd eventually move to New York City to work at Nobu. But he did just that — which proves that a master's degree in urban planning and public administration doesn't prevent one from also mastering the fine art of slicing fish.
"I was working at an architecture firm doing work for Wolfgang Puck and Daily Grill, which is where my appetite for cooking started," says Ye. He left to pursue his culinary degree at Le Cordon Bleu in Pasadena. For his required internship, he moved to New York and started in the famed Japanese kitchen, where he stayed for seven years, then expanded his repertoire at The Fat Duck in England. "If Nobu taught me technique and discipline, The Fat Duck added another layer, like an AP course," he says. Now the Executive Chef at NYC's Harlow (check out the Warhol before you sit at the chef's counter), Ye is every bit the hip rising New York chef nobody probably predicted he'd end up back in South Central.
But the Trojan network is strong — I happen to be one myself — and USC grads stay true to their roots: if you can cook, you tailgate. If you can't cook, learn to make carne asada tacos and you're pretty much set. Ye hooked us up real good with his time-tested recipe and will be tailgating during this weekend's Stanford game. Their mascot is so dumb. Especially next to ours.
What were tailgating parties at USC like?
The first tailgate freshman year straight out of the dorm involved KFC fried chicken, a 12-pack of beer and sitting on the steps somewhere. But as our horizons broadened and we got a little more serious about tailgating, the food developed, whether it was tacos or kalbi short ribs. But, obviously, you'd drink heavily the night before, make your way to campus really early to stake your claim and set up the tent. Over the years as our income increased, our savviness for tailgating and the whole USC pageantry has bettered. Now we have a satellite dish and stuff. Most of my buddies are season ticket holders and I still carry on the tradition and go out there to see a game at least once a year. 
When are you going this year? What are you cooking? 
I'm going for the Stanford game, and on the menu is prime rib sandwiches, menudo and maybe some chicken wings. Menudo is no-muss, no-fuss, get it done ahead of time. When you're drinking out in the hot sun all day what's better than menudo? Then the prime ribs we'll cook ahead of time and just put them on the grill at the end, slice 'em down and make sandwiches. And yeah, maybe wings too.
What's your advice for tailgating like a professional?
You need to plan ahead because who knows what you'll be missing on the day of. One year, one of our knucklehead friends forgot he was in charge of ice, and that's a major party foul. That SoCal sun is definitely something to be endured so we needed to get ice. Luckily, some enterprising young fellows were going around campus selling ice, but it was like, $20 a bag. Like a good boy scout, be prepared. And don't forget ice.
How do you feel about the ghetto dogs they sell outside the Coliseum?
Those dirty dogs are the best. Every part of it is so good: the mayo, the bacon, the onions and jalapeños, but more than anything for me as a cook what I love is the ingenuity of the rig they cook on. It's literally a sheet tray sitting on top of a propane burner — a Bunsen burner essentially — rigged onto a shopping cart or whatever, and I think it's so gangster. Someone's gotta market the dirty dog cart. I'm sure plenty of people would park it in their backyard.
Go-to tailgating dish?
Carne asada tacos. It's so easy, such a staple for Southern California and it tastes so damn good. Can't beat onions, cilantro, lime and some good tortillas and skirt steak. 
What are some of your favorite places to eat around campus?
Downtown LA has changed so much, it's unrecognizable now. But if I think back to the old days, definitely Chano's. K-town was so close that we'd go and do Korean BBQ a lot, even on tailgating days. I'm sure people do the LA Live thing now, but to me if I'm thinking quintessential eating on game day, Chano's, El Torino, K-town BBQ.
Any predictions for this year's team? It's been a rough year.
It has been a rough year, but the silver lining is we got rid of Mr. Lane Kiffin. Unceremonriously. And I kind of liked it that way. On balance, the defense is pretty good and we have flashes of briliance. We're not chasing a championship this year, but if we look at it as a rebuilding year, Coach O [interim head coach Ed Orgeron], who was around even in the Pete Carroll days, is an awesome motivator. He has the raspiest voice in town, but he's a really good leader who rallies those kids. That Notre Dame game was terrible, but as long as we beat UCLA, nothing else matters to me.
Carne Asada Tacos With Salsa Roja
Carne Asada
5 pounds skirt steak or anything that can be sliced thin
1 medium red onion
1 green jalapeño
2 limes
2 garlic cloves
1 tablespoon coriander seed
2 tablespoons ground cumin
2 tablespoons black pepper
6 tablespoons Kosher salt
1 tablespoon chili powder
Salsa Roja
1 small jar chipotle chile en adobo
1 small onion
1 clove stick
2 tablespoons coriander seed
2 tablespoons ground cumin
3 tablespoons Kosher salt
3 tablespoons black peppercorn
2 garlic cloves
2 limes (juice only)
1 red tomato
1 red bell pepper
Accoutrements
1 large bag really good corn tortillas
1 bunch red radishes
6 lime wedges
mixed and chopped white onions and cilantro, as needed
pickled jalapeños, carrots and onions, as needed
Directions:
Getting your beef in marinade is priority number one. 
Season the beef with the dry ingredients.
Chop onions, garlic and lime, mix and dress meat. Let sit for at least 1 hour (the longer the better).
Grill your garlic, tomato and red bell pepper; once charred place in blender along with all the dry ingredients. Chop onion and juice limes and add to the blender.
Drain chipotle chiles from the jar and add the adobo sauce to the blender with the rest of your ingredients. Add 1-2 chipotle chiles to the mix (add more to amp up the spice factor). Blend the mix until smooth and set aside.
Chop up the onions and cilantro for your garnish and set aside in a bowl.
Place lime wedges, red radishes and pickled jalapenos, onions and carrots on a plate.
Warm tortillas on the grill and set aside.
Grill carne asada over charcoal, let rest and chop up the beef.
Assemble tacos and garnish as you wish with all the fixings and be sure to have a ice cold modelo in your hand, fight on!
Read more Proud Alum columns on Food Republic: