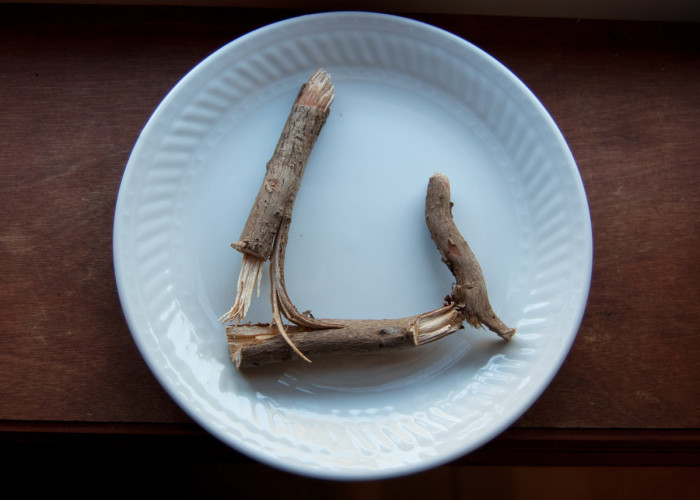 As a kid, I wasn't much one for soda: I'd pass up a sugary-sweet Coke for a nice glass of lemonade — or an extra-dark chocolate milk — any day. But when it came to carbonated drinks, I did have one weakness: ice cold root beer. There was something inscrutable about the murky-colored, exotic-tasting liquid — with its layered flavors of licorice, anise and clove. The beverage's name, too, was the essence of mystery: root beer? How could such a lip-smackingly delicious drink come from a root? And where could I find one?
It only took me two decades to find the answers to those questions. A few weeks ago, I joined a group of about 60 wild foods-lovers on a foraging jaunt through a public park near my Brooklyn home. The black walnuts, kumquats and lamb's quarters we found were all well and good, but my ears really perked up when our guide pointed us towards a glen of sassafras trees and instructed us to get out our trowels.
Sassafras? I thought. That sounds familiar. Turns out this deciduous tree, with its bright green, three-pronged leaves, is the source of the highly fragrant, essential-oil-packed root that traditionally flavors root beer.
Related: Betony's Eamon Rockey Is Fermenting His Own Root Beer
I didn't have to hear any more. I hacked off a five-inch chunk of sassafras root and headed for my kitchen, where I simmered my prize in water with coriander, star anise and cloves, along with plenty of sugar and a touch of molasses, creating a sweet, highly concentrated syrup.
Here's the thing about discovering sassafras as an adult: my tastes have evolved beyond root beer. Sure, I still enjoy a cold one from time to time, but these days, I'd much rather stir this syrup into a bracing whisky cocktail. And, at the end of a rough day, that's exactly what I do: sassafras syrup makes the best damn Old Fashioned I've ever sipped in my life. A dash of orange bitters and a lemon twist bring balance and freshness to this dark, herbal quaff, which goes down real easy. But if you'd rather revisit your childhood, never fear: a spoonful or two of sassafras syrup stirred into a cold glass of seltzer water yields the tastiest soda you'll ever drink.
Sassafras Syrup
Serving size: 3 1/2 cups
Ingredients
6 cups water
3 ounces fresh sassafras root, or use 3 ounces dried sassafras root bark (available on Amazon)
1 teaspoon coriander seeds
1 whole star anise
1 whole clove
1/4 cup dark molasses
4-5 fresh mint leaves
3 cups granulated sugar
Directions:
In a large saucepan, combine water, sassafras, coriander, star anise and clove. Set pot over high heat and bring to a boil, then drop heat to low and simmer for 15 minutes.
Add molasses, stir to combine, and simmer for 5 more minutes. Remove saucepan from heat, add mint leaves, cover pot with a tight-fitting lid, and let cool completely.
Place a fine-meshed sieve over a large measuring cup or bowl with a pour spout and pour syrup through. Let drain completely and discard roots and spices.
Return liquid to saucepan, add sugar and bring the syrup to a boil. Drop heat to low and simmer for 5 minutes.
Pour the syrup into a large, clean, dry ball jar with lid, cover and let cool. Store syrup in refrigerator for up to a year.
Sassafras Old Fashioned
Serving size: 1 cocktail
Ingredients:
3 ounces bourbon whisky
1 tablespoon sassafras syrup
5-6 dashes orange bitters
Lemon twist
Directions:
Fill a cocktail shaker with ice and add bourbon, syrup and bitters. Shake until frothy, then strain into a highball glass filled with one large ice cube. Garnish with lemon twist and serve.
Read more How To columns on Food Republic: