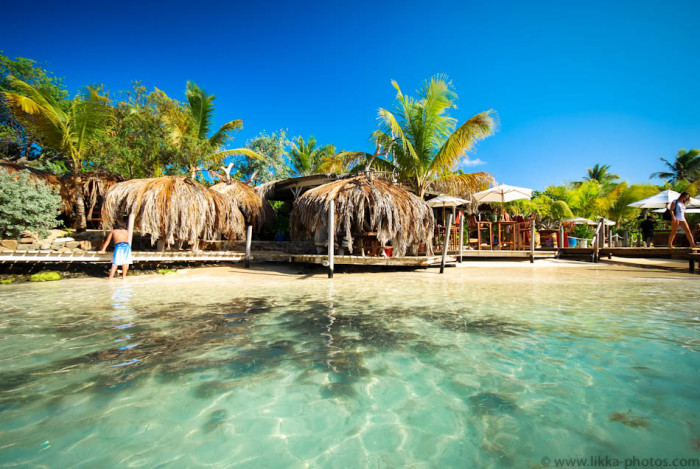 Worlds collide on St Martin (also called St Maarten), an island just south of Anguilla with white sand beaches and European élan to spare. Divided between Dutch and French territories, the Caribbean outpost has had a split personality since 1648. As a result, it dishes out some of the best multicultural cuisine in the islands. Think beachside ceviche made with freshly caught mahi mahi, duck breast braised in locally pressed papaya juice and elegant tasting menus paired with the best Chablis this side of Burgundy. Here are six places to try island-style fusion.
L'Auberge Gourmande
In the northern reaches of the French side of the island, Boulevard Grand Case is dotted with high-end restaurants, thumping bars and small beach boutiques. For over 20 years, Grand Case institution L'Auberge Gourmande has served refined Provencal cuisine in one of the oldest Creole houses on the island. Request a table on the porch for breezy ambiance and solid people watching, and choose from menu items like herb-crusted lamb with garlicky shallot sauce, pan-seared foie gras with caramelized pears, and Dover sole amandine. For a sweet finale, order a glass of the gregarious owners' house-made, banana-infused rum. You won't regret it. 89 Boulevard Grand Case, 97150. +590 590 87 73 37
Enoch's
Marigot, the capital of the French side of the island, is a bustling port with 6,000 inhabitants, all of whom tend to navigate its winding roadways at terrifying speeds. Fasten your seatbelt, then head to Marigot Market, an open-air bazaar selling everything from freshly caught mahi mahi to Brazilian soccer jerseys. Enoch's, a food stand on the waterfront, is a great spot to try the island's signature johnnycakes, or savory pastries stuffed with saltfish. At $1.50 a pop, it's one of the best deals in the Caribbean. Marigot Market, beneath Fort St. Louis on the Marigot Harbor waterfront.
Karibuni
Off the northeastern coast of St Martin is a tiny island named Pinel, which is home to superlative beaches and a great place for adventurous pursuits like boating and light hiking. Catch a ferry over from the Cul-de-Sac pier, or rent a kayak and paddle for about 30 minutes to arrive in sporty style. The better of the island's two beachfront eateries is Karibuni, which has a thatched roof, open-air seating and impressively fruitful lobster traps in the lapping Caribbean surf. Fish is the word here, as in seared tuna topped with local mangoes, or freshly caught mahi mahi, diced and served with lime and a splash of coconut milk for a tropical take on ceviche. Order a planter's punch or cold Corona towards the end of the meal, and the thoughtful staff will deliver it to your beach chair, or even carry a tray into the water. No rules, just right. Isle Pinel, Cul-de-Sac. +590 690 39 67 00
La Cave
The island's swankiest resort is La Samanna, an Orient-Express property on the French-Dutch border. Call at least one week in advance to reserve a private meal at La Cave, the ridiculously romantic wine vault that transports diners from the beachfront hotel bar to a candlelit Burgundian cellar in two short staircases. Four-course tasting menus include the likes of citrus-marinated duck breast, chilled melon soup and macarons made from local fruits. For truly baller status, opt for the wine pairings from incredible head sommelier Christian Mirande, whose 12,000-bottle selection spans Chilean Carmenere to Beaune Premier Cru Clos des Mouches. La Samanna, PO Box 4077, 97064. +590 590 87 64 00
Chez Yvette
This perennially popular restaurant serves Creole home cooking from a private residence on an Orleans side street. Its eponymous chef, the now-deceased Yvette Hyman, began by selling meals from her car in 1983. As her popularity grew, she upgraded to three tables in her living room. Now, her husband recreates her recipes for up to 60 diners at a time from their family home. The crowd is a mix of locals and long-time regulars from France and the U.S., all of whom eagerly tuck into plates of stewed chicken with peas and rice, and conch and dumplings spiked with generous amounts of black pepper. Servers are typically Yvette's grown children, plus some cousins who live next door. Orleans, Quartier Francaise. +590 590 87 32 03
La Sucrière
Bakeries on St Martin inspire intense devotion. While many travelers sing the praises of Sarafina's, a French patissier in Marigot with ample English-language signage, locals tend to give top ranking to La Sucrière. Located in Philipsburg, the capital of Dutch St Maarten, this café has outdoor seating on Simpson Bay, strong French press coffee and an impeccable selection of breads, brioches and baked sweets. Arrive early in the day for the best breakfast you'll ever have near a cruise port, or swing through en route to the international airport and pick up a baguette to go. Your seatmates will be jealous. Boulevard de France, Simpson Bay. +590 590 879 471
---
Read more about Caribbean food and drink on Food Republic: