The Pho Place Sent Too Much Mint And Basil. Asian Pesto Time!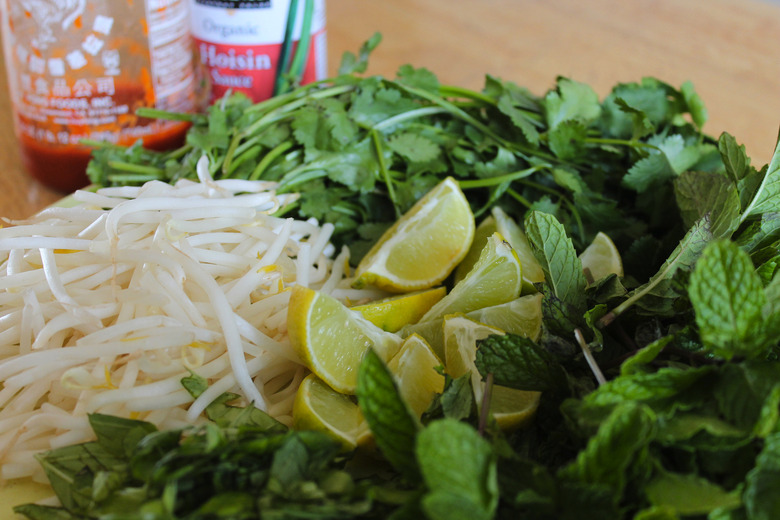 I ordered pho with a few friends the other night and received, like, five plastic bags packed with fresh herbs we each used a teeny handful of. There was so much basil, mint, cilantro, lime wedges and sliced jalapeños left over.
::dog whistle:: Yoo-hoo! Blenda the Good Witch! (those are all the times I've mentioned my pet food processor, Blenda, plus a spicy salsa recipe I don't know what is doing in that search field).
Alright well she didn't come running, but BOY was she just sitting there when everyone left and I crammed all that good green stuff in with a clove of garlic, small hunk of peeled chopped ginger, fresh-squeezed lime juice, equal parts extra virgin olive and toasted sesame oil, about eight cashews and a squirt of sriracha. Beautiful thing: the ratios of each ingredient don't matter as much as you think. Work with what you've got, don't over-oil and you've got pesto.
I tossed this exceptional concoction with wide rice noodles and a little extra sesame oil, plus some chili flakes, scallions, the bean sprouts that were also in the bags and a little baked tofu for a spicy, vegetarian, vegan, gluten-free, basically just super-healthy and awesome lunch. Actually, like, three lunches, there was a ton of pesto. I would have included a photo of it but frankly darling, it's not terrible photogenic. Either way, it's easily tweaked to anyone's preferences (add steak, that would be delicious), it tastes great at any temperature and guys, I made lunch for like, 80 cents.
And like the Chinese takeout sauce packet hack, the Vietnamese pho pesto hack was born. The clouds parted, the light shone through and lunch was good.
More easy hacks for lunch on Food Republic: