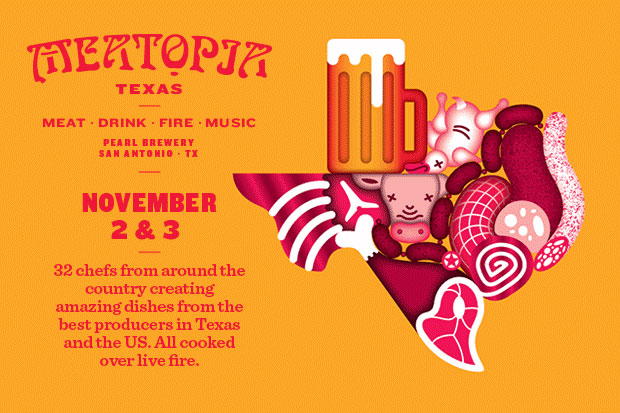 Fans of meat, mushrooms or omelets (or all three), this is your week! Sample exotic mushrooms at Mendocino County's Mushroom, and for those repressed meat-lovers surrounded by vegetarians, San Antonio's Meatopia offers the perfect venue for fervent bone-licking barbecue consumption. If you can't finish a diner-sized brunch portion, you may want to build up your appetite before attending Abeville's 5,000-egg Giant Omelet Celebration. Check out the week's food events below.
Mendocino County Mushroom, Wine & Beer Fest
Mendocino County, CA
Nov. 1-11
Grape harvesters in California's wine country are giving us reason to celebrate both the fruit of the vine and those camouflaged gems hidden in the forest floor. Mendocino's Mushroom, Wine & Beer Fest celebrates their annual autumn mushroom crop. Hunt down chanterelles, porcinis, morels, hedgehogs and the rare maple-flavored candy cap mushroom. Events include mushroom-themed dinners, wine and beer pairing workshops, exhibits and foraging walks. So snag a ticket, indulge your senses, and avoid the consequences of unsupervised mushrooming by taking advantage of expert guides.
Denver International Wine Festival
Denver, CO
Nov. 6-10
The 9th annual Denver International Wine Festival kicks off with a Vintner's Dinner. On the menu: baby octopus agrodolce, beurre rouge, Sicilian chili and charred bread and a harvest apple and olive oil tart, paired with Perducci Winery's finest varietals. The festival continues with a food and wine pairing competition, a grand tasting of international wines and seminars where you can learn how to differentiate between champagne styles or which foods to pair with Belgian beers. The weekend ends with a Julia Child champagne tribute luncheon and auction.
Meatopia
San Antonio, TX
Nov. 2-3
Meatopia is a carnivore's dream of a festival. Usually held annually in New York, the festival will come to Texas for the first time this year bringing 32 of the country's most talented chefs (Adam Perry Lang, Paul Qui, and Andrew Weissman, to name a few) in its wake. On Saturday, the chefs will grill up some off the rarest cuts of prime rib and serve the meat with libations from Diageo, Corona, Modelo and Shiner beer bars with Guinness on tap. On Sunday, in addition to beef, guests can fill up their plates with pork, veal, chicken, duck, quail, bison, and virtually any other barbecue-able critter. (We'll be there, will you?)
Abbeville's '5,000 Egg' Giant Omelette Celebration
Abbeville, LA
Nov. 2-3
Attend this festival, and you may think you've stepped into a scene from Cloudy With a Chance of Meatballs. But pinch yourself, and you'll realize this is real life and these men in white chefs hats really are cooking a 5,000-egg Cajun omelet on a giant skillet measuring 12 feet in diameter. The recipe for this communal feast calls for 52 pounds of butter, 6 ½ gallons of milk and 15 pounds of Louisiana crawfish tails. Suddenly that "giant" 4-egg omelet you ordered at brunch and had to take home in a doggy bag is looking pretty puny. Alongside copious egg consumption, the weekend's celebrations include a charity walk, art exhibits, live music, and a "tractor cracking contest" where you can try your hand at backing a tractor into an egg.
Upcoming:
Sip, Savor, Stomp
Royal Oak, MI
Nov. 9
Each year, Real Detroit Weekly hosts an evening of wine-tasting at a different venue to benefit a different Detroit-based charity. The 2013 event will be held at the Royal Oak farmers market and proceeds will benefit AIDS Walk Detroit. The event offers both a VIP wine tasting and a Grand Tasting featuring more than 100 wines from around the world. Because no tasting is complete without a soundtrack, there's live music from Ben Sharkey. If you're worried about sipping, savoring and stomping on an empty stomach, never fear. Bread, cheese, chocolate, coffee and various wine-inspired cuisine will be served throughout the event.
NY Taste
New York, NY
Nov. 11
This year's 15th annual NY Taste festival, held at Manhattan's historic Waterfront building, brings together forty of the city's best chefs and mixologists to whip up a menu curated by culinary editor Gillian Duffy. Chef superstars include pastry chef Dominique Ansel, Emma Bengtsson of Aquavit, former Top Chef contestant Dale Talde, and Iron Chef's Masaharu Morimoto.
Savannah Food & Wine Festival
Savannah, GA
Nov. 11-17
The Savannah Food & Wine festival celebrates Southern hospitality, and the event-packed six-day itinerary will makes guest feel right at home. The festival kicks off with a "Farm to Table" Wine Dinner featuring Chef Elizabeth Terry and Master Sommelier Robert Jones, and continues with cooking classes, movie screenings, grand tastings and silent auctions. Explore the city's charm with a River Street wine stroll featuring wines, spirits, Stella Artois beer and small bites, and a riverboat wine & dinner cruise with a menu from Food Network's Anthony Lamas and Vintner Joy Sterling of Iron Horse Vineyards.