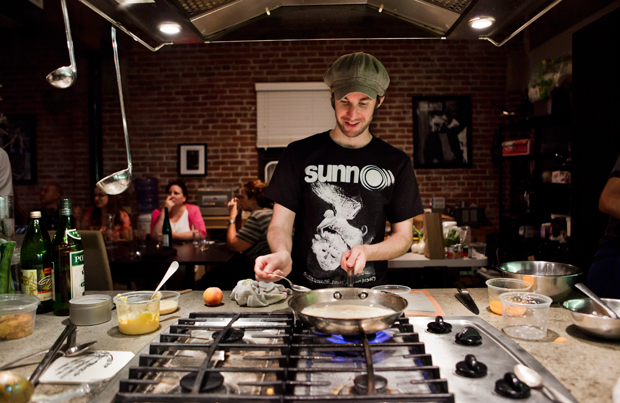 Travel is rich with discovery. Whether you're unearthing a virgin beach or finally locating that supermarket that sells the good mayonnaise, it's hard not to feel like a modern-day Magellan (er, minus the colonial tendencies) when you're on the road. It's no surprise then that supper clubs have taken some of the world's hottest destinations by (quiet) storm. At these underground eateries, intrepid travelers and stylish locals alike can get unfettered access to rogue chefs in culinary capitals from Berlin to Buenos Aires. For the inside scoop on some of our favorite secret societies and invitation-only dinner parties, look no further. Here are the world's 11 best supper clubs.
Chicago: Sunday Dinner
For six years, Joshua Kulp and Christine Cikowski, of Blackbird and Milk & Honey fame, have hosted a weekly supper club at private homes around the city. Now, the success of Sunday Dinner has allowed them to open their first brick-and-mortar restaurant as well. Honey Butter Fried Chicken, named for one of the club's more popular creations, opened in Avondale in September.
Vancouver: NFA
These Vancouver dinners are hosted in the private home of Chef Steve, a former lawyer with no last name (like Madonna!) or formal culinary training. His kitchen skills have nonetheless kept Vancouverites coming back to his 800-square-foot loft for years, tucking into seasonal fare like soy-marinated duck breast with coconut-yam mash, olive oil-poached halibut in saffron emulsion and honeyed crème brulée for a mere $65 per person.
Buenos Aires: Casa Saltshaker
Billing itself as a puertas cerradas (closed door) restaurant, these 10-guest dinners are hosted in the home of local sommelier and food writer Dan Perelman. His globetrotting fare includes homemade pappardelle with walnuts and butter beans, chili and prawn salad and incredibly on-point wine pairings.
Washington DC: Hush
Admittance to this U-Street dining society hinges on an application process and mandatory photo submission (this is not a joke). The good-looking, initiated few are then treated to intimate, 10-person dinners of elegant, Gujarati Jain home cooking. Now in its third year, Hush offers the occasional Indian cooking class out of its DC digs and recently launched a dinner series in Chicago as well.
Paris: Chez Jim
For more than 30 years, the man London's The Guardian called "the godfather of social networking" has hosted 50-person dinner parties in his 14th arrondissement home. Now in his eighties, Jim Haynes is an American ex-pat and Parisian fixture who recruits friends to do the cooking. He requests a mere €25 donation for the pleasure of a three-hour Sunday supper and a remarkably convivial environment that makes fast friends of elderly Australians, American twenty-somethings and Lisbon hipsters.
New York: Bunna Café
Based in Bushwick, New York's newest pop-up dishes out Ethiopian vegan fare at parties and festivals like the BK Night Bazaar. The recently launched dinner series, Habesha Nights, is held at clandestine venues throughout Brooklyn and Manhattan. Prices, locations and times vary, but all include Chef Kedija Ali's crowd-pleasing cooking, like slow-simmered sweet vegetable keysir and spicy red lentils in berbere sauce.
Berlin: Muse Berlin
The newest debut in a city that knows nightlife, Muse opened in Prenzlauer Berg last month. It's basically the supergroup of supper clubs: founded by the owners of eastern Berlin's secret stalwarts Zuhause and Thyme Supper Club, Muse's weekend dinners are prepared by the hosts and a slew of local guest chefs.
Portland: Holdfast Dining
After cutting his teeth at Le Pigeon and Park Kitchen, 29-year-old Will Preisch opened this 10-stool chef's counter in mid-July. Eight-course tasting menus, loosely themed "Spain" or "the American South," include the likes of green-grape gazpacho drizzled with squid's ink, vibrant wasabi pea soup and a devastating corn bread madeleine topped with a thin smear of lardo, flaked parmesan and a cube of honeycomb.
Hong Kong: Once Upon a Table
HK's first secret dining society, Once Upon a Table has been serving five-course tasting menus with sommelier-led wine pairings since 2010. Formed by four friends with a passion for home cooking, the formerly invitation-only club now has limited seats open to the public. Try your luck by emailing onceuponatable@gmail.com.
Melbourne: Zingara Cucina
One of the hottest tickets in town since 2007, the only way to gain access to Zingara Cucina is by personal referral. The roving supper club has hosted pop-up meals serving its home-style Italian fare in alleyways, on rooftops and in the private homes of its molto secretive hosts. There is no cost to attend, though an optional ingredients donation is appreciated.
Los Angeles: Wolvesmouth
Nabbing a seat at 31-year-old chef Craig Thornton's 24-person, nightly dinner parties in Little Tokyo can take up to a year, but his genre-busting cooking makes patient lambs out of hungry Angelenos. Wolvesmouth counts Ludo Lefebvre and most UFC champion fighters as fans. This summer, Thornton admitted to eyeing New York as well, hoping to create a Big Apple-based mobile kitchen for small-scale parties and intimate events.