Sushi Dojo: An Omakase Worth Shelling Out The Not-So-Big Bucks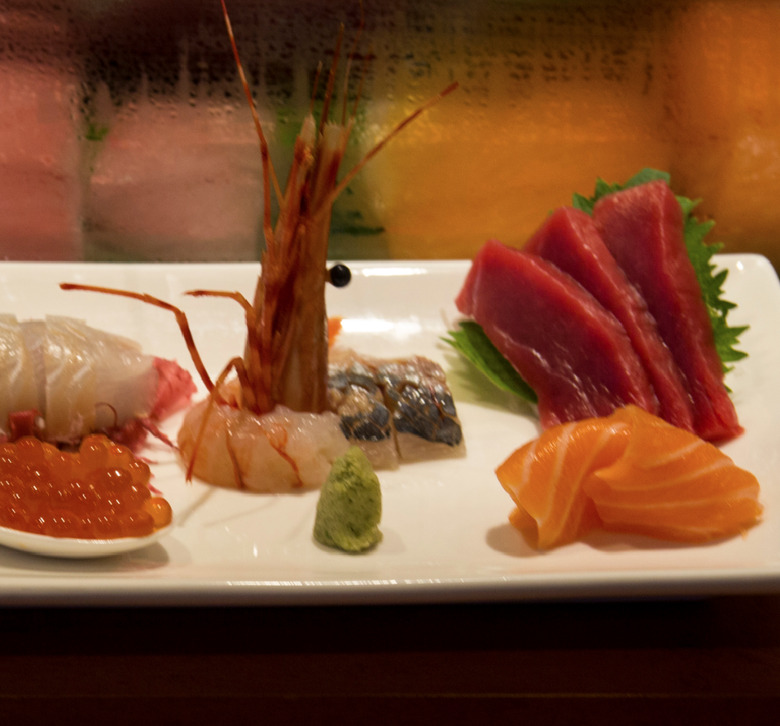 There's a bit of a divide when it comes to sushi in New York City. There are the neighborhood joints that shamelessly dish out colossal globs of spicy mayo (extra $1.25, mind you) to top off California rolls and deep-fried shrimp. There are the trendy "girls night out" restaurants, complete with loud music, vibrant bar scenes and $21 flavor-bomb rolls (think: nine ingredients, including mango and black truffles). Finally, there are the established, yet simplistic, Japanese oases that make you wish you had grown up in Tokyo. Everything is sublime, except for the hundreds of dollars that a meal here will set you back.
Yes, finding an authentic sushi restaurant that doesn't break the bank is an ongoing struggle in this city. This was my goal as I set out to try dinner at Sushi Dojo in the East Village.
Background
Any traditionalist will probably tell you that it is essential for the head sushi chef to be of Japanese descent. You won't find that at Sushi Dojo, which opened its doors in June. Executive chef David Bouhadana is a 27 year-old Jewish kid from Florida. His mother is Moroccan and his father is French. If you watch the hit comedy show The League, you're probably thinking about a certain episode right about now. But Bouhadana is legit. He's a Morimoto alum who began studying the art of sushi preparation in his teens and spent years following this dream in Japan. And yes, he speaks fluent Japanese. Also behind the bar is Hiromi Suzuki, one of New York's only female sushi chefs.
Setting
A mere block away from the chaos of St. Mark's Place, Sushi Dojo occupies an unassuming spot in the middle of First Avenue. You wouldn't be blamed for missing it entirely – or for not associating the East Village with quality sushi. Upon entering, you are transported to a different world: there's a sense of basic tranquility within its cozy, L-shaped confines. The sushi bar makes up almost half of the 36-seat restaurant.
Food and Drink
There's a small menu with hot and cold plates from the kitchen available, and a couple of classic Japanese delicacies that we order are good, if unspectacular. But that's not the draw here, nor does it pretend to be. The item to order is the Omakase, which begins at a modest $45 for ten pieces. Those who come in hungry may opt for 15 pieces plus one hand roll for $80. These plates are priced at a fraction of the cost of chef's selections at some of the city's more renowned sushi meccas.
A seat at the sushi counter is as much an educational experience as it is a gustatory one. The meal is served piece-by-piece and methodically, and as tradition calls from white fish to colored fish to silver fish to shellfish. Different types of snapper begin the meal – Bouhadana shaves mineral salt on one piece, squirts a drop of lemon on another and carefully sears a third with a blowtorch for two seconds – no less, no more. The majority of pieces are delicately brushed with a soy sauce glaze and finished with a touch of freshly grated wasabi. The colored fish offerings include the rare yet richly flavored Tasmanian trout.
Accompanying the silver fish portion of the meal is the realization that mackerel can be neither "smelly" nor "fishy." Enjoy amaebi (sweet shrimp)? Prepare to be amazed by a piece that can best be described as "microscopic amaebi." Consisting of tiny, delightfully slimy shrimp around 1/20th of the size of the usual variety, it would be clichéd yet perfectly frank to declare it 20 times as good. The lengthy meal continues with two types of uni (sea urchin) – including an especially creamy Santa Barbara variety – and a trio of tunas, with the arrival of o-toro (fatty tuna) last. Often the indicator of an Omakase's quality, this generous sliver does not disappoint. Full of healthy streaks of marble and a deep, buttery flavor, the piece just may be the All-Star of a meal that consists of high-caliber role players.
Equally as impressive as the food at Sushi Dojo is the extensive list of sake, offered by the glass or bottle. An in-house sake sommelier, a Ukrainian named Max Lidukhover, listens to our flavor preferences and is quick to recommend a can of sake, which is covered in Japanese print. "This is a sake to take on a train with you. When a cop pulls you over, tell him it's lemonade," he muses. It pairs superbly with the meal. And at 19% ABV, it's one hell of a lemonade.
The Bottom Line
Sushi Dojo is a long-awaited answer to those searching for a generally affordable, top-notch sushi experience in New York City. Bouhadana has the potential to be mentioned in the same class as those serving the city's freshest fish. The best part? The secret is not out...yet.
Sushi Dojo
110 1st Avenue
New York, NY 10009
More NYC restaurant field reports on Food Republic: