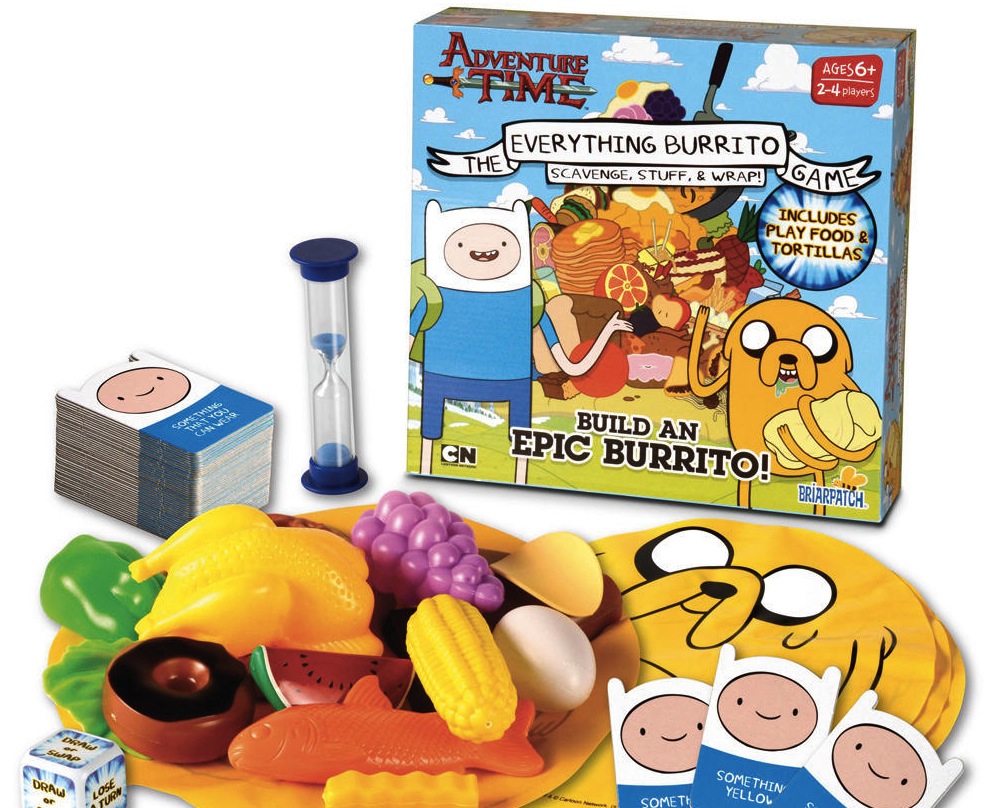 It's time to write the first of what I suspect/fear to be many follow-up posts on my column about Adventure Time's 12-Step Time Sandwich. The clear-cut winner, what with the recent influx of gift guide suggestions to my largely anti-gift guide work email, is this interactive Adventure Time Everything Burrito Game.
Your goal is simple: wrap the included plastic food your pet will almost certainly run away with (plus items found around the house) into an epic burrito. Well, seeing as this is a game for like, 4 to 6-year-olds with precocious senses of humor (and the heroic parents who instilled it in them), when playing with friends your goal might be to get drunk first. Watch it transition seamlessly into a Cards Against Humanity vibe. Examples:
Find something that begins with a B: Oh hey, it's last 4th of July's banana hammock.
Find something red: Well I don't want to pour a shot of Red Label into this burrito, so I'll just drink it.
…screw this game, let's watch the one with the kingdom of cats in boxes and drink Scotch in star-spangled thongs.
Still not tickled pink? Fine, play the farting Jake game, or engage in more age-appropriate activities, see if I give a baked bean.
Adventure Time Everything Burrito Game, $19.99 on Amazon
More fun and games on Food Republic: