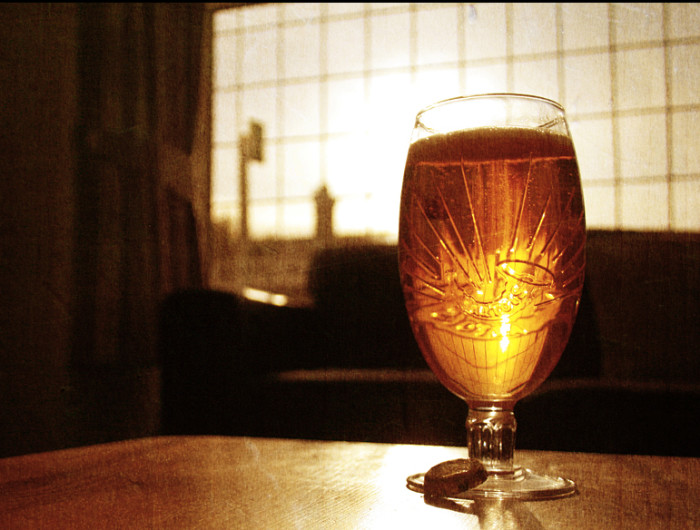 It's October, and we're in the thick of it. New York Cider Week, that is! Though Cider Week started on October 18th, you still have three more days to take advantage of some great events in the city including tastings, brunch and of course, Applepalooza. Check out the Cider Week homepage for the full scoop.
We love hard cider because of its versatility: it can be still and fruity like wine or sparkling like champagne. Spanish ciders from Asturias can be tart and thirst-quenching, reminiscent of Belgian lambic or German Berliner Weisse. Thanks to the experimentation of cideries like Former Goose Island Brewmaster Greg Hall's Virtue Ciders, we get to experience ciders inoculated with funky brettanomyces and aged in brett-positive wine barrels rejected by wineries. I tasted two last night — Percheron (the brett-infected one) and Mitten (aged in Heaven Hill whiskey barrels) — over dinner with Hall at chef April Bloomfield's Spotted Pig and am glad to report that, to quote Greg Hall, "Cider is hot and it's not gonna go away."
While cider making is serious business, at its core (ha!) Hall says it's about tradition.
"When I did my tour of France, I realized some of these families have been doing it for five or even 10 generations. There's hardly anything that goes back 10 generations in the States, so I was really romanced by that." While America might not have such a long history, did you know cider was actually the preferred drink of the pilgrims? Yes, there a ton of cool facts about cider. And if you're looking for some great suggestions — it IS Cider Week, after all — we've got you covered with 10 great ones you should be drinking right now.
More Weekend Drinking Assignment on Food Republic: