Food Events This Weekend: Film Food Festival, LES Pickle Day, Sriracha Festival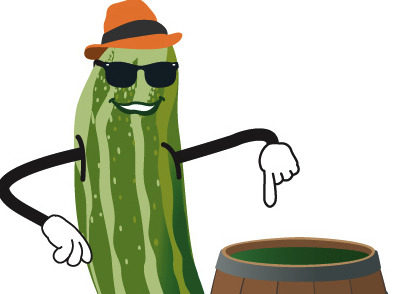 This week's festival menu offers something for everyone. Trek out to Maine for the best in coastal cuisine (read: lobster), while those going traif-free can indulge guiltlessly at Kosherfest in Secaucus, NJ. The cinephile can chow down on dumplings at the NYC Food Film Festival, and for those that prefer the sparkle of street lights to the dimly-lit theater, Vegas' Life Is Beautiful serves up food that lives up to the city's glitzy reputation. Sriracha cult fans and pickle fiends will also find their niche in this jam-packed agenda of culinary mirth. So follow your taste buds — even if they take you cross-country. You won't regret it.
Portland, ME
Oct. 23-26
The 6th annual Harvest on the Harbor festival is a toast to the bounty of Maine's harvest season, and coastal Portland — home of five James Beard Award winners — is the perfect place to celebrate. The festival kicks off with the Grand Tasting on the Harbor, which will feature 29 beer, wine and spirit vendors offering over 100 varietals, plus a seafood and raw bar, coffee, gelato, whoopee pies, and more of the state's trademark bites. Take it all in to the sound of sweet jazz from the Fogcutters Duo and stick around on Friday to bear witness to the Maine Lobster Chef of the Year competition. Saturday, participate in the Down East Insider Wine-Tasting Experience where you can play the part of the winemaker and blend your own varietal.
New York, NY
Oct. 23-27
If you're one of those folks who believe the concession stand is the best part of the movie, you're in for a serious treat. The 7th annual Food Film Festival gives guests something (actually delicious) to chew on while they watch a compelling lineup of short films involving food. Feast on Indian food while watching a stunning documentary of volunteers feeding 50,000 people at the Golden Temple in Amritsar, or watch "One Macaron At A Time" while indulging in the pastry yourself. Check out our full low-down on the event here.
Las Vegas, NV
Oct. 26-27
What's the point of making a Vegas trip if not to be completely overwhelmed? This weekend, the city will offer all the unabashed glitz of sensory overload at the Culinary Village at the Life is Beautiful Festival. The bazaar will feature more than 50 restaurants offering gourmet dishes à la carte for $10 or less. The weekend will also host a lineup of chefs including Tom Colicchio, Jonathan Waxman and Cat Cora who will take the stage giving demos on how to create their most celebrated dishes. After a full day of food tours and lectures, be sure to relax at the Alchemy Garden with sips from brewers, winemakers and spirit distillers.
Los Angeles, CA
Oct. 27
It's about time this cult condiment got a day of its own. At the 1st annual Sriracha Festival held in L.A.'s Arts District, guests can sample an assortment of Sriracha-themed dishes from the city's most creative chefs, like Eric Greenspan of The Foundry on Melrose and Ernesto Uchimura of Plan Check Kitchen + Bar. After you've had your fill of hot sauce, dance to tunes from a live DJ and assuage the spice with drinks from Eagle Rock Brewery, Beachwood BBQ & Brewing, and Los Angeles Ale Works.
New York, NY
Oct. 27
We'd say an event as fun as this is more sweet than sour, but then again that really depends on your pickle preference. The event will cover three city blocks and feature 15 world renowned pickle vendors and over thirty other Lower East Side food vendors. Visit the stands to stock up on your kimchi, sauerkraut and classic bread and butter pickles, and then stick around for a home-pickling contest where esteemed judges (among which are Gothamist's Nell Casey and Russ & Daughters' Niki Russ-Federman) will assess both "pickled pickles" and "pickled others."
Secaucus, NJ
Oct. 29-30
Food festivals aren't just about lobster rolls and barbecue pork cook-offs. This event celebrates the best of kosher products and cuisine. Along with educational seminars, discussions and book readings contesting the future of kosher, the festival features a smorgasbord of food-focused events. "A Taste of Israel" culinary presentation highlights the most delicious innovations in Israeli cuisine. On Wednesday, make sure to catch the Kosherfest Culinary Competition where kosher chefs will face off to see who can whip up the tastiest dish while keeping the milk and meat separate.
Upcoming:
Denver International Wine Festival
Denver, CO
Nov. 6-10
The 9th annual Denver International Wine Festival kicks off with a special Vintner's Dinner. On the menu: baby octopus agrodolce, beurre rouge, Sicilian chili and charred bread. That's all after artisanal cheese and charcuterie and before the harvest apple and olive oil Tart. And all this is paired with Perducci Winery's finest vareitals, of course. The festival continues with a food and wine pairing competition, a grand tasting of international wines and educational seminars that will teach guests how to differentiate between champagne styles and what foods to pair with Belgian beers. The weekend ends with a Julia Child champagne tribute luncheon and auction.
San Antonio, TX
Nov. 2-3
Meatopia is a carnivore's dream of a festival. Usually held annually in New York, the festival will come to Texas for the first time this year bringing 32 of the country's most talented chefs (Adam Perry Lang, Paul Qui, and Andrew Weissman, to name a few) in its wake. On Saturday, the chefs will grill up some off the rarest cuts of prime rib and serve the meat with libations from Diageo, Corona, Modelo and Shiner beer bars with Guinness on tap. On Sunday, in addition to beef, guests can fill up their plates with pork, veal, chicken, duck, quail, bison, and virtually any other barbecue-able critter. (We'll be there, will you?)
Abbeville's '5,000 Egg' Giant Omelette Celebration
Abbeville, LA
Nov. 2-3
Attend this festival, and you may think you've stepped into a scene from Cloudy With a Chance of Meatballs. But pinch yourself, and you'll realize this is real life and these men in white chefs hats really are cooking a 5,000-egg Cajun omelet on a giant skillet measuring 12 feet in diameter. The recipe for this communal feast calls for 52 pounds of butter, 6 ½ gallons of milk and 15 pounds of Louisiana crawfish tails. Suddenly that "giant" 4-egg omelet you ordered at brunch and had to take home in a doggy bag is looking pretty puny. Alongside copious egg consumption, the weekend's celebrations include a charity walk, art exhibits, live music, and a "tractor cracking contest" where you can try your hand at backing a tractor into an egg.