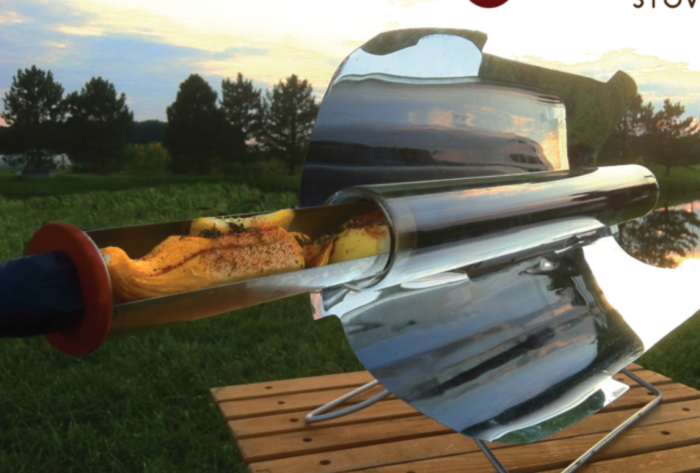 We're big fans of Kickstarter here at Food Republic. The website is the world's largest funding platform for creative projects, allowing users (dreamers?) to outline ambitious projects, along with a requested total donation amount from visitors, who are often able to give as little as $1. Ideas are only funded if the required amount is reached by a set time, and users get their money back if the goal is not attained.
Check this out. The GoSun Stove is a practical and fuel-free cooking solution that has received early positive reviews from several publications and websites. Promising to naturally heat up to 550-degrees F and cook a meal in as little as 20 minutes, the portable device uses the sun to bake, boil or fry foods without any sort of fuel. It's so Breaking Bad. The versatile gadget does not even need much adjusting to keep track of the sun, automatically focusing the majority light that enters its footprint.
While the GoSun Stove has already been fully funded – it has received over four times its initial goal of $40,000 – individuals can still secure one of the first available units through additional donations. A pledge of roughly $200 gets you the full basic stove package, estimated for delivery in December. Just in time for the holidays.
Still not convinced? Check out the video below, which explains how the GoSun Stove works and how it just might revolutionize the way we think about solar cooking. And be sure to act quickly. We're logging on to PayPal as we write this.
Try out these grilling recipes with your new solar-powered stove: