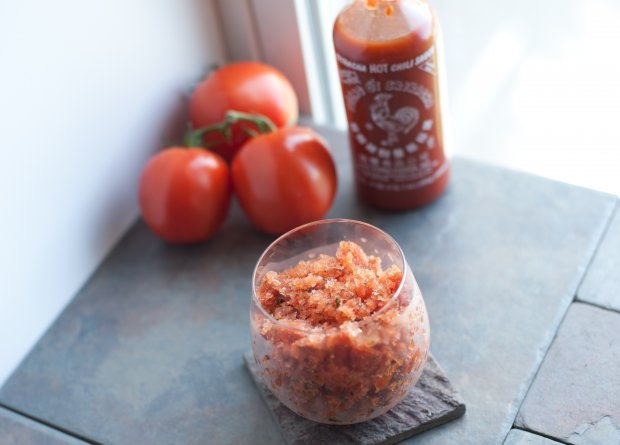 I've kind of got a thing for Sriracha. The flavor, the heat, the backstory — I love it all. And when I got this crazy idea back in 2009 to write a cookbook about it, I had no idea where it would take me. In the years since, I've come across all kinds of interesting things by simply reading a steady stream of Google alerts for mentions of Sriracha, many of which were inventive dishes that chefs all over the country were creating with the beloved "rooster sauce."
Likewise, in my dining out adventures across SoCal, I was coming across all kinds of crazy good dishes that incorporated it and I wondered: "Could I put together an entire festival dedicated to my favorite condiment?" The answer, thankfully for all of us, was a strong, resounding "HELL YES!"
But I couldn't do it alone. I needed a Hall to my Oates. A Bert to my Ernie. A Laverne to my Shirley! That's when I called up my buddy Josh Lurie from FoodGPS.com. Besides being a friend for several years, he's also pulled off similar events like the L.A. Fried Chicken Fest, and he knows how to keep track of all the pieces that — for someone who's never hosted a festival before — are way too easy to overlook. Sure, I had some stellar chefs and breweries I wanted to reach out to, but that's the simple part. There was still finding a venue, getting event insurance, sourcing compostable plates and cups and forks and napkins, hiring a DJ, getting sponsors, designing a logo, making signs, drafting participation agreements, and…well, you get the point.
It's a lot of work. But I can't even begin to tell you how much I'm looking forward to it! It's a little surreal to see the lineup of extremely talented chefs that will be making Sriracha-laced dishes for a happy crowd of fellow addicts. Neal Fraser? Seriously? Weren't you on Top Chef Masters? And you wanna come cook at my event? Thinking about it makes me all warm and tingly inside.
Even beyond the stellar food from all 11 of our restaurant partners, I'm also very excited about the drinks we'll have to wash it down. Craft beers from Beachwood BBQ & Brewing, Eagle Rock Brewery, and Firestone Walker Brewing Co., a refreshing pineapple-citrus-ginger soda (with or without Sriracha) from Los Angeles Ale Works, and some spicy libations from cocktail wizards Matthew Biancaniello and Josh Goldman.
Other reasons why I think it's going to be be awesome? Well, David Tran will be there. As in David Tran, founder of Huy Fong Foods and creator of their ubiquitous Sriracha that we all know and love. So if you've ever wanted to meet him, here's your chance!
And speaking on a larger scale, all of the decisions have been guided by one simple principle: will attendees enjoy this? It's never been a matter of "How much money can we make on this event?" or "What if we cut just a little corner here?" Never. We want to throw the best damn event we can, and as soon as this one's done, we'll look at how we can do even better for next year's. Excited? I am. Hope to see you there!
The 1st Annual L.A. Sriracha Festival is taking place on Sunday, October 27, from 3 p.m. to 6 p.m. at LOT 613 in the downtown L.A. Arts District. This chef-driven, all-inclusive, 21+ event spotlights the world's most iconic hot sauce in a casual industrial setting. Multiple stations allow guests to enjoy a variety of Sriracha themed dishes, including desserts, at their own pace. Local craft beer, cocktails, and sodas help tame the heat while a live DJ set helps create a fun and unforgettable food and drink experience. Tickets are available here.
---
Randy Clemens is a freelance food & drink writer based in Los Angeles. He's the author of The Sriracha Cookbook and The Veggie-Lover's Sriracha Cookbook. He also writes about beer for Los Angeles magazine, West Coaster, and Edible Westside. You can follow his musings on Twitter: @RandyClemensEsq.
More Sriracha on Food Republic: