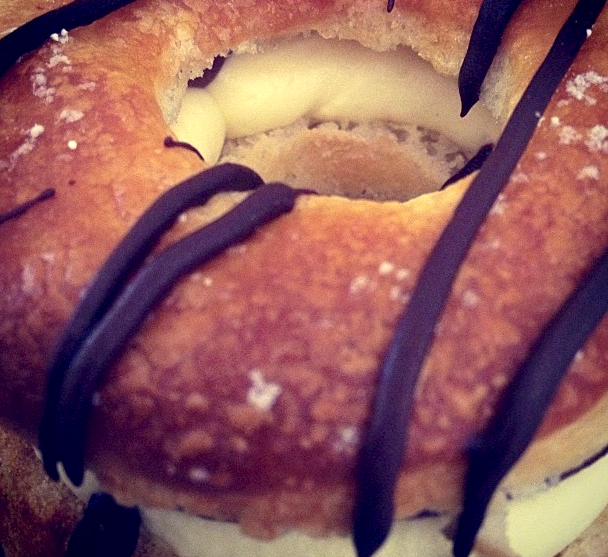 City Harvest is one of New York's many hugely important charities, feeding more than a million hungry New Yorkers every year by "rescuing" extra food from restaurants, supermarkets, cafeterias, farms and other outlets that would otherwise go to waste. The program's fleet of refrigerated trucks and cargo bikes delivers the food throughout the five boroughs, supported by 4,000 volunteers.
Last night was City Harvest's annual Bid Against Hunger tasting and auction, with 70+ New York restaurants crafting dishes from classic Hudson Valley foie gras torchon and steak tartare to Stephen Starr and Questlove's more contemporary "Puff the Magic Biscuit" (check this video). My favorite was Pok Pok's coconut prawn rice noodles. The tastings were really spectacular, then when everyone was good and sauced, the live auction began. And Dominique Ansel, creator of the freakishly popular to the point of exclusionary cronut, took the stage to auction off a dozen of his prime, freshly baked confections. What began as $100 per treat quickly escalated to more than $1000. That's right, the end price was a cool $14k for a dozen cronuts.
To compare: intimate dinners (for 10) with wine pairings by (and in some cases, with) some of the nation's most renowned celebrity chefs — Eric Ripert, Marcus Samuelsson, Amanda Freitag — went for only slightly more. So…cronuts, yeah.
Donate to City Harvest here, and hit next year's Bid Against Hunger to support the chefs and programs that are helping to alleviate food insecurity in New York.
More worthy causes on Food Republic: