Taste-Tested: California Pizza Kitchen's New Gluten-Free Pizza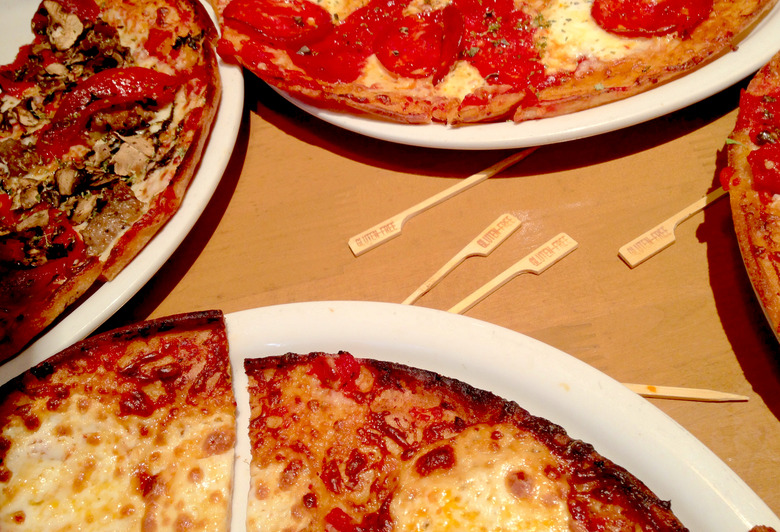 Pizza is a sad thing when it comes to the gluten-free life. What once had a flavor and texture worthy of being covered in melted mozzarella is now brittle, soggy, too chewy, totally flavorless and more often than not frozen first. It's hard to find good gluten-free pizza. Consolation prize: California Pizza Kitchen, a pizza chain found pretty much everywhere, just launched a line of their signature pizzas on gluten-free crusts.
CPK takes cross contamination seriously, keeping all gluten-free operations within a designated area and using separate cutting boards and wheels. Little do they know, they just opened their doors to a massive population either seriously or totally fakingly "doing the gluten-free thing." Or maybe they knew that this diet trend isn't going anywhere anytime soon and decided to run with it. Either way, good call, because I hadn't had one of those BBQ chicken pizzas since college.
The gluten-free crusts are flavorful, crisp and chewy, with no crumbly nonsense. They can withstand the weight of such toppings as mushroom, pepperoni and sausage or again, tons of chicken and barbecue sauce. The standout was the margherita, which almost reminded me of Neapolitan-style pizza thanks to a thin, crisp crust and fresh tomato, mozzarella and basil. You know, almost. CPK's totally acceptable offerings are a step in the right direction, but can we maybe approve some sort of grant in New York to fund the discovery of a passable gluten-free city slice? Just run that right up the ladder?
More gluten-free life on Food Republic: